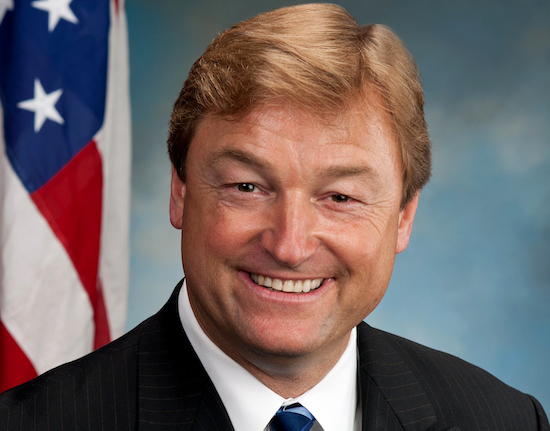 Hours before the first Senate vote on the Employment Non-Discrimination Act in 17 years, the bill gained its latest Republican supporter Monday.
Sen. Dean Heller (R-Nev.) announced his support for ENDA in a move that appears to have given the bill its critical 60th yes vote.
"After listening to Nevadans' concerns about this issue from a variety of viewpoints and after numerous conversations with my colleagues, I feel that supporting this legislation is the right thing to do," Heller said in a statement.
Heller noted workplace protections that have already been enacted in Nevada have established a "solid foundation of anti-discrimination laws."
"This legislation raises the federal standards to match what we have come to expect in Nevada, which is that discrimination must not be tolerated under any circumstance," Heller said.
Heller's support comes as ENDA supporters have voiced confidence that they will secure the necessary 60 votes for the legislation's passage and avoid a Republican filibuster. ENDA will face its first test Monday evening with a procedural vote in the Senate to proceed to debate. The bill has support of every Democratic senator, and is co-sponsored by Republican Sens. Mark Kirk (Ill.) and Susan Collins (Maine). Republican Sens. Orrin Hatch (Utah) and Lisa Murkowski (Alaska) voted for the bill in committee.
The Senate has not voted on ENDA since 1996, when the bill failed by one vote the day after the same chamber approved the Defense of Marriage Act. Although the Democratically controlled House of Representatives passed ENDA in 2007, it contained no protections for transgender Americans.
While a successful Senate vote on ENDA would be a major LGBT-rights victory, there remains no clear path for passage in the Republican-controlled House of Representatives. Speaker John Boehner threw cold water on ENDA's prospects in the House when he came out against the bill on Monday.
"The Speaker believes this legislation will increase frivolous litigation and cost American jobs, especially small business jobs," Boehner spokesman Michael Steel said in a statement. Without Boehner's support, it will be increasingly difficult for ENDA to be brought to the House floor.
President Barack Obama urged both houses of Congress to pass ENDA in a blog post published by The Huffington Post Sunday evening.
"In America of all places, people should be judged on the merits: on the contributions they make in their workplaces and communities, and on what Martin Luther King Jr. called 'the content of their character.' That's what ENDA helps us do," Obama wrote. "When Congress passes it, I will sign it into law, and our nation will be fairer and stronger for generations to come."
[Photo: Dean Heller. Credit: U.S. Senate.]