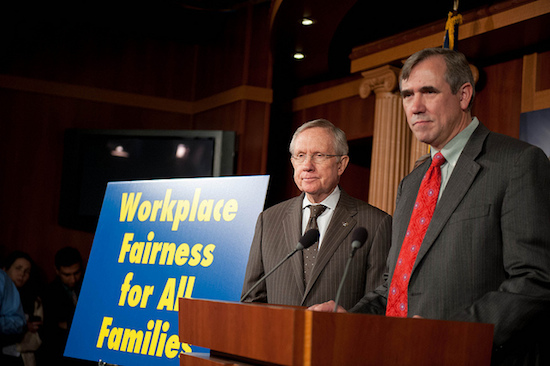 The United States Senate approved the Employment Non-Discrimination Act with a 64-32 vote Thursday afternoon.
The vote on the landmark LGBT-rights bill comes 17 years after a version of ENDA failed by one vote in 1996, the day after the same chamber approved the Defense of Marriage Act.
Republican Sens. Kelly Ayotte, Susan Collins, Jeff Flake, Orrin Hatch, Dean Heller, Mark Kirk, John McCain, Lisa Murkowski, Rob Portman and Pat Toomey joined Senate Democrats in passing the bill, which prohibits most employers from discriminating on the basis of sexual orientation and gender identity.
The Senate vote marks the first time either house of Congress has considered a version of ENDA that protects transgender Americans.
"Today's vote was a historic vote for equality and freedom," said lead Senate sponsor Jeff Merkley (D-Ore.). "Deeply embedded in the Constitution are notions of freedom and liberty, and discrimination is the antithesis of those founding values. Everyone should have the right to work hard and earn a living. No one should be fired for who they are or who they love. The Senate said today in a strong bipartisan voice that discrimination is just plain wrong. We are one step closer to equality for our LGBT friends and family."
Advocates hailed the bipartisan vote as a major moment for the LGBT-rights movement and for a piece of legislation that has languished in Congress for decades.
"Today, a strong bipartisan majority of the United States Senate made history by standing up for a fundamental American truth," said Human Rights Campaign President Chad Griffin. "Each and every American worker should be judged based on the work they do, and never based on who they are. This broad Senate coalition has sent a vital message that civil rights legislation should never be tied up by partisan political games."
The bill now heads to the Republican-controlled House of Representatives, where leadership may prevent the bill from even coming to the floor for a vote.
"Our fight now moves to the House of Representatives where Speaker Boehner and the Republican Conference will have to decide which side of history they want to stand on," said Freedom to Work President Tico Almeida.
This story is developing. Check back for more updates.
[Photo: Jeff Merkley (right) and Harry Reid. Credit: Senate Democrats.]