"Sophie, are you okay?" Phillip asks at the end of The Argument. Alexandra Gersten-Vassilaros's 90-minute drama is about an unexpected pregnancy and a woman's right to choose. It's not revealing too much to say here that the play doesn't end well. Is it even possible to have a happy ending when an unwanted pregnancy is involved?
Surely it is, but The Argument, at Theater J, is only interested in exploring that hot-button issue so far. The ultimate goal is to provoke broader thoughts and conversations about how all too easy it is for humans to become intractable in opinions and decisions, and how quickly love can turn to hate — particularly when a short-term issue is allowed to run roughshod over long-term goals and desires. In that way, the play speaks to even those patrons, including gay men, who by default don't have to worry firsthand about causing an unwanted pregnancy. Anyone who's ever been in a long-term relationship will no doubt see bits and pieces of themselves reflected here.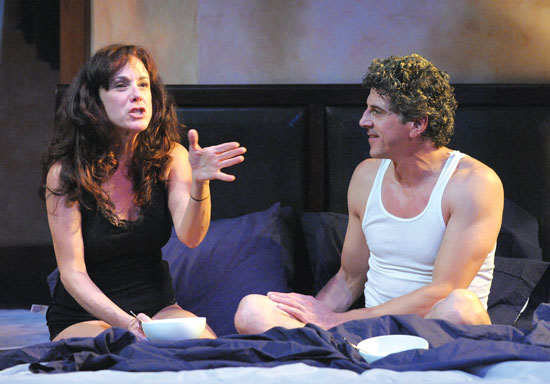 The Argument
(Photo by Stan Barouh)
We first meet Sophie and Phillip on their very first night together, having left a party drunk to get intimate at Phillip's spacious studio apartment. The two 40-somethings spend that first night together, and seemingly most nights after for the next 10 blissful months. We start to see cracks here and there in the relationship, as the partners' differences start to emerge, but it isn't until Phillip learns that Sophie is pregnant that a dark cloud forms and heated discussion begins. Maybe things would have turned out better if only Sophie and Phillip had broached the subject of parenting before the piss hit the home-pregnancy test. And, really, the problem at its base, as ever, is a lack of communication and empathy even between two people who seem made for each other.
The Argument



-1/2
To Dec. 2
Theater J
$35 to $65
800-494-TIXS
TheaterJ.org
The Argument might prove to be too unsettling for some, but even those dismayed by the story's soured relationship and unresolved conflict in the end will admire the work of the two lead actors cast by director Shirley Serotsky. It seems impossible not to fall for and side with Susan Rome as Sophie, played with full heart, but also full head. But James Whalen doesn't take the easy out and play Phillip as unlikeable or monstrous. In fact, aside from minor flaws with the play's exact turn of events, the only real hiccup is the minor role of Herb, a relationship therapist Sophie hires as a last-ditch effort. Jefferson A. Russell does what he can to make the part funny, dead-panning in psychological jargon and gibberish. But it doesn't provoke real laughter or even lighten the mood in a way I think Gersten-Vassilaros intended. Instead, the result is to make a joke out of the idea that therapy could work in this case. And Sophie's choice is as unwinnable as ever.
IT'D BE OVERSELLING THINGS TO SAY THAT the choices made in Crossing add up to a winning new musical. But composer and lyricist Matt Conner and librettist Grace Barnes have sparked interest. They've devised an unconventional and clever conceit for their latest collaboration, now in its world premiere at Signature Theatre.
Crossing


-1/2
To Nov. 24
Signature Theatre
4200 Campbell Ave.
Arlington
703-820-9771
www.signature-theatre.org
Crossing focuses on the chance meetings of eight people from different walks of life, all waiting on the platform at a train station. Actually, we're talking impossible chance meetings, since every character comes from a different decade over the past two centuries of American history. There's the slave woman seeking a better, freer life via the Underground Railroad; the young Army recruit and his mother as he sets off for overseas fighting in World War I; and the wanderlust backpacker from a high-tech today. And then there's the oddly placed Nova Y. Payton as an "Unknown Woman," who interacts with the characters as they share their stories and struggles and engage each other.
Director Eric Schaeffer has assembled a strong cast with many familiar faces from the Signature stable — from Tracy Lynn Olivera to Chris Sizemore to Florence Lacey — performing perfectly pleasant but largely forgettable songs all about universal themes of struggling, searching, sensing. They do the best they can to add life to the production, which is a bit too straightforward and stilted for its own good. The train never reaches the station before the play ends. You can't help wish for more action in this intermission-less show — even just a hint of an argument, or budding passion, between two characters would help. Mostly, we're left waiting and wanting.