As Washington's LGBT community puts the final touches on a ceremony marking the Transgender Day of Remembrance, Nov. 20, the mood of this year's D.C. event is likely to be underscored by the abrupt closure earlier this year of one of the city's most critical organizations serving the transgender community.
The Transgender Day of Remembrance, an annual event honoring those who have lost their lives because of transphobia and to spur the LGBT community to take action to prevent anti-transgender violence, will be marked locally at the Metropolitan Community Church.
Transgender activist Earline Budd, one of the chief organizers of the event, says several musical groups, including the Gay Men's Chorus of Washington's a cappella group Potomac Fever, gospel singer Shirley Hughes and Company, and the AGAPE choir of Unity Fellowship Church, will participate in the three-hour service.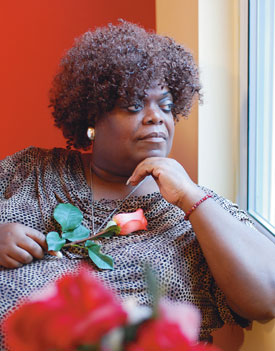 Earline Budd
(File Photo/Todd Franson)
Organizers have also confirmed that Mayor Vincent Gray (D) and D.C. Fire Chief Ken Ellerbe will also attend, as will Alvin Bethea and Judean Jones, the parents of Deoni Jones, a young transgender woman killed while waiting at a Northeast D.C. bus stop in February 2012. The service will make special mention of the JaParker Deoni Jones Birth Certificate Equality Amendment Act, which was signed into law by Gray, and will honor the D.C. Council and advocates who helped to pass the law providing residents more control over their official documents with regard to gender identity.
D.C. easily had its share of anti-transgender violence in 2013, including a transgender woman suffering a non-fatal attack in June in which she was stabbed nearly 40 times. Aside from the violence, however, concerns about the challenges facing the transgender community are especially acute in light of the recent closure of one of the community's chief service providers, Transgender Health Empowerment (THE). THE shut its doors in April after the organization filed for bankruptcy as a result of mismanagement, failure to pay federal employee payroll taxes, and failure to pay employees for hours worked.
According to bankruptcy filing documents, THE, under the leadership of Executive Director Anthony Hall, has a little more than $37,000 in assets, yet owes $386,266.75 to creditors holding "priority" claims, including $264,248 in employee federal payroll taxes from 2008 to 2013 to the Internal Revenue Service, as well as unpaid wages to multiple former employees. The organization also owes $180,277.55 to creditors holding "non-priority" claims, mostly relating to the day-to-day operations of THE.
THE's closure meant an end to its drop-in center, where transgender individuals could seek temporary shelter, have meals, find clothing and receive counseling or HIV testing and medical referrals. Budd says that many of the clients who were previously served by THE, located at 1414 North Capitol St. NW, have not found replacement services.
"I think some of our girls didn't end up going anywhere," she says. "They're not going to trek up to Georgia Avenue. So they're probably not receiving any services."
The Wanda Alston House, transitional housing for otherwise homeless LGBT youth, began as a program of THE, but has since formed its own foundation and board of directors to manage its affairs, with LGBT community center Casa Ruby, acting as its fiscal agent. Neither the Wanda Alston House nor the Wanda Alston Foundation is involved in THE's bankruptcy proceedings.
Notably, Casa Ruby will also be holding a Transgender Day of Action event Friday, Nov. 22, at The Next Step Charter School in Columbia Heights. This event, featuring the documentary film Trans, will focus discussion on transgender homelessness and under-employment. It will also serve as a fundraiser for Casa Ruby's new Career and Employment Services Program.
Budd says she and other advocates are trying to open another drop-in center to continue the services THE offered. In the meantime, the Transgender Day of Remembrance will highlight the scarcity of resources available to D.C.'s transgender population.
The Transgender Day of Remembrance, Nov. 20, will be marked in D.C. with a service at the Metropolitan Community Church of Washington, D.C., 474 Ridge St. NW, at 6 p.m. For more information, call 202-638-7373 or visit mccdc.com. The Casa Ruby Transgender Day of Action is Friday, Nov. 22, from 6 to 9 p.m. at The Next Step Charter School, 3047 15th St. NW. For more information, email corado@casaruby.org.