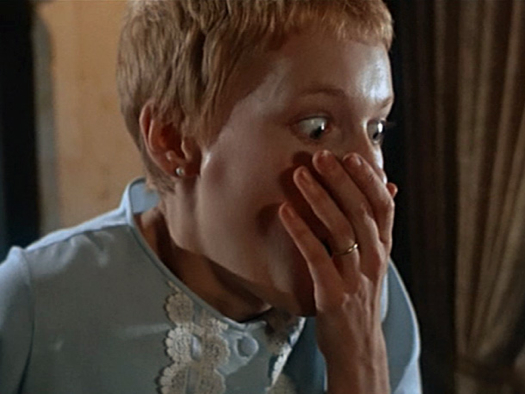 I'm most certainly not going to say I was jumping up and down with anything remotely resembling joy when I read that NBC was moving forward with a Rosemary's Baby mini-series. The 1968 Roman Polanski film remains one of the creepiest horror films of all time, an exercise in pure paranoia. Mia Farrow gives a pitch-perfect performance as a naive young housewife who comes to believe she's carrying the spawn of the devil. And John Cassavetes, whose good looks had dark and sinister built right in, is the perfect spousal foil, calmly yet firmly assuring his increasingly petrified wife that there's no demon in his seed. But the film really belongs to the elderly set: Ruth Gordon, Sidney Blackmer, Maurice Evans, Ralph Bellamy, all of whom swarm around poor Rosemary like a murder of ravenous crows.
It might have been bad enough if they were remaking the film itself, but a mini-series? What good can possibly come of that? Let's take a taut narrative and paaaaaad it out as much as we can. The story has been transplanted from Manhattan to Paris, so there's that little nugget of novelty. The possible saving grace? Agnieszka Holland (Treme, Europa Europa) has been hand-plucked to direct.
But who will star as the hapless, harried, heavy-with-devil-baby Rosemary? I offer NBC five suggestions:
Britney Spears — Just get her to shave her head again and run around, acting all amok. It's an Emmy just waiting to be delivered.

Amy Poehler — Because anything starring Amy Poehler is worth watching. Anything.

Chloe Grace Moretz — She may be a little young, but she has tremendous experience with horror remakes from the era, including The Amityville Horror, Dark Shadows, Carrie. She's like the bad remake queen.

Jenna Malone — Quite frankly, she kicked ass in Hunger Games: Catching Fire and could easily put a spin on this story, turning Rosemary from victim to victor. Why, she'd bite the head right off that uncuddly little creature. And then chow down on the afterbirth for kicks.

Amanda Seyfried — Actually, she'd be pretty good. Let's go with her. Hey, NBC, you paying attention here?