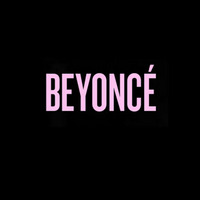 Beyoncé surprised fans early this morning by releasing an entirely new studio album available exclusively via iTunes with no advance warning or promotion. Titled Beyoncé with a simple cover of black with her name written across the center in pink, it's an edgy collection of pop & R&B with a plethora of A-list guest artists including her husband Jay Z, former Destiny's Child colleagues Kelly Rowland and Michelle Williams, in addition to Justin Timberlake, Frank Ocean, Drake and Pharrell Williams.
The 14-song collection shows the sexier and edgier side of Beyoncé. Six of the songs are marked with the "explicit" label, unusual for an artist who usually appeals to a broader audience. The first impulse is to think she may be trying to out-sex the younger pop-tarts currently ruling the charts, but that would be a completely erroneous assumption. Beyoncé is a mature collection of strong songwriting and production, and she delivers her finest vocal peformances to date.
On album opener "Pretty Hurts" she begins with a simple statement of her aspiration in life: "to be happy." "Pretty Hurts" is one of the more commercial-sounding tracks on the collection, with a soaring chorus that effectively reminds us just what a great vocalist Beyoncé really is.
"Haunted" is a long, complex track with an edgy, hypnotic minimalist beat with Beyoncé alternating between breathless spoken-word verses to a darkly melodic chorus.  The song builds in emotion and intensity as it goes, and ultimately is quite a powerful piece — a definite high point on the album. "Drunk in Love" is another funky track with a hard-edged electronic beat, with a rap segment by Jay Z and a powerful, intense vocal delivery by Beyoncé.
"Blow" is a sexy track, with an effective call and response vocal structure and a nice old-school R&B flavor. It's one of the few tracks on Beyoncé that sounds like it might have worked on her previous albums, and a track that radio should embrace. The ultra funky "Partition," with another minimalist rhythm and a wonderfully slippery bass-line, feature a very un- Beyoncé-like — half-spoken vocal performance. "Partition" is edgy, unusually structured, and creative.
"Jealous" is a wonderfully melodic track, with Beyoncé dipping into her lower register during the excellent chorus. Like all the rest of the album, the production and arrangement is stellar.  Another high point. "Rocket" is an old-school R&B ballad with a sensual, swinging beat and another great vocal arrangement. "Mine," featuring a guest spot by rapper Drake, is a hypnotic mid-tempo number that once again surprises with an unpredictable structure.
"XO" has an up-tempo, rock vibe that brings a nice change of pace after the long, generally mellow "Mine.""Flawless," with its refrain of "bow down bitches," is a powerful statement of empowerment with a killer beat. The ballad "Superpower," featuring Frank Ocean, is yet another winner. Beyoncé vocal performance is nuanced and strong, and once again the arrangement is incredibly effective. Ocean's voice complements Beyoncé's with perfection, so much so that the only regret is that they don't harmonize more on the song.
"Heaven" is the album's big ballad, and it's a sad one."I just can't stand to see you leaving, but heaven couldn't wait for you." Beyoncé sings in a deep, beautiful voice above a gorgeous piano. "Heaven" is far more substantial than the typical pop ballad tailor-made for radio. She is able to convey powerful emotion with a rather simple song. A stunner of a track.
Like the sunrise breaking through the dark skies, she follows the emotional "Heaven" with the joyful "Blue," a breezy, lovely ode to her daughter, featuring a snippet of vocal from Blue Ivy herself. It's a great way to end the album. 
Beyoncé sounds like a declaration of independence of sorts. It's a personal statement as much as it is an album. Beyoncé has been through the music industry machine for years, first as a member of Desinty's Child, then as a solo artist. She's had years of being told what to do by managers, producers, and record company executives. Beyoncé feels like a personal album and a statement that she's no longer going to play the game as it's usually played, and perhaps the unusual method of its release, with no prior buildup, hype or warning, is part of that. While it's undeniably far different than anything she's done in the past, it feels genuine and liberating; a surprise release, but a very pleasant one. There are no typical pop songs on this album — everything on it follows an unexpected path which keeps the listener intrigued. It's loaded with sensuality, both lyrically and musically. It's an adult album: sexy, smart, and well-conceived. Beyoncé is a bomb dropped on the music industry late in the year, and a powerful one at that.  She's delivered a killer album and shows once again why she is one of the great pop artists of the last nearly-20 years. Consider Beyoncé an honorary mention addition to the Top 30 Albums of 2013.