One of the more frustrating aspects of the annual media rite of "Year in Review" stories is that they start hitting around Dec. 1, which means that the people creating them either don't know or don't care that there are a good three to four weeks left in the actual year. Granted, this annoys me in large part because I happen to be a Christmastime baby, born Dec. 29 shortly before the clock ran out on 1967.
Lacking a manger or a group of strange men bearing presents, my birth wasn't exactly an example of an auspicious event (though my decision to debut at 12:01 a.m. probably made an impression on my mother). Still, a lot can happen in the final days of the year. Phil Robertson, the patriarchal star of a redneck reality show of dubious "reality," Duck Dynasty, can set off a national controversy by comparing homosexuality to bestiality and murder, then reminiscing about how blacks used to be so happy under Jim Crow. Then a failed former governor and vice presidential candidate can jump to his defense against the "hatin' intolerants" — seriously, Sarah Palin's gusto for torturing the English language is Cheney-esque — only to have to admit to a Fox News interviewer that she hadn't actually read any of his words.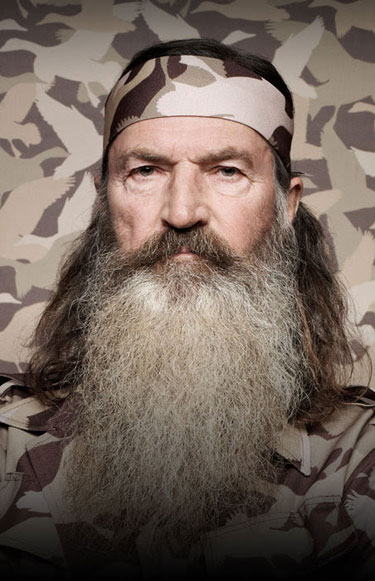 Phil Robertson of "Duck Dynasty"
(Photo courtesy of A&E)
To be fair, Robertson did use some larger words that generally only come from Palin through a ghostwriter, so expectations were already low.
The point is that expectations shouldn't be low for interesting events in December. The year doesn't end with the last punch thrown at a Wal-Mart Black Friday sale. Just ask The Advocate, the national gay magazine that named Pope Francis "person of the year" in early December based on the pope's groundbreaking statement about homosexuals, "Who am I to judge?"
Again, a case of expectations already being low. In essence, The Advocate bestowed the honor on Pope Francis in light of what they thought he might do in the future. Funny enough, 2013 hadn't yet ended when that future arrived with the pope being "shocked" at the idea of gays adopting children, encouraging the bishop of Malta to campaign against legislation that would allow it. As I've said before, this is the problem with writing "person of the year" stories in the future tense.
The final days of 2013 weren't all crotchety rednecks, problematic popes and the War on Christmas. There were also huge marriage victories in court, as redder-than-red (and Mormon-iest of the Mormon) Utah became the latest state where same-sex couples can enjoy the same marriage rights as heterosexuals and Ohio learned that it can no longer refuse to recognize same-sex marriages performed in other states.
So gays married in Utah can now move to Ohio and still remain legally married, which means we are living in a topsy-turvy world. Also, since both court decisions relied on this year's Supreme Court decision on marriage equality, Windsor v. United States, and signal that national marriage equality is probably even closer than we thought, it's ever more apparent that some magazine editors really misunderstood which people had the biggest impact on LGBT lives in 2013.
All this is just a reminder that a year isn't over until it actually ends. The arbitrary nature of a "year" aside, news and history keep on happening. At the risk of being a bit too on-the-nose, it's also a reminder that despite a wonderful year of victories for marriage equality, the fight for equality isn't over. Phil Robertson will stay on television because there are massive numbers of Americans who agree with his vile thoughts on homosexuals and African-Americans or, perhaps worse, just don't care.
A lot more is going to happen between here and the finish line.
Sean Bugg is editor emeritus of Metro Weekly. He can be reached at seanbugg@gmailcom. Follow him on Twitter @seanbugg.