"For us there can be no happiness," Hero says, direly, to the woman he loves, Philia, in A Funny Thing Happened on the Way to the Forum.
But thankfully this is the opposite of a tragedy — specifically, it's a farce, one that humorously pokes fun at the whole tragic oeuvre from Roman times. And so Philia's response is uproariously delightful.
"And we must learn, to be happy, without it," Lora Lee Gayer deadpans, doing her absolute best Madeline Kahn impersonation.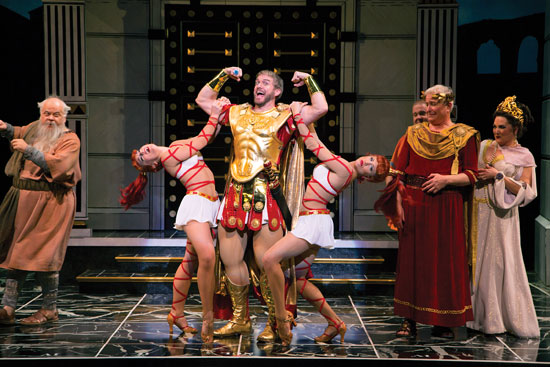 A Funny Thing Happened on the Way to the Forum
(Photo by T. Charles Erickson)
Of course, Forum is also a Broadway musical, a Tony winner dating to 1962. So you just know the two lovers will not only learn to be happy, but will also find happiness in the end. Forum is a Sondheim musical, no less, so there are smart and sharp treats all around. Especially so in the Shakespeare Theatre Company's production, a foray into Sondheim that only sounds unusual until you see it. The show, with a Tony-winning book by Burt Shevelove and Larry Gelbart inspired by the works of the ancient Roman playwright Plautus, contains all manner of farcical elements you'll remember from Shakespearean comedies, from an abundance of witty wordplay, to multiple cases of mistaken identity and deceitful disguises, to satirical swipes at social standing.
Bruce Dow, who was a delight in STC's A Midsummer Night's Dream last year playing the over-the-top Bottom, is our all-winking, showy guide through this farce, first as the narrator welcoming us to "Comedy Tonight," before taking on the role of the slave Pseudolus. Once his master Hero (Nick Verina) professes his desire for Philia, Pseudolus doesn't skip a beat, seizing on an opportunity for freedom. Indeed, Hero agrees to free Pseudolus if he can procure Philia, a virgin who has ended up at Marcus Lycus's house of ill-repute, full of courtesans. It's this quest for love and freedom that sets in motion the play's chain of events, all revolving around ways to stymie the plans of the warrior Miles Gloriosus (Edward Watts), who has already paid Lycus (an adept Danny Rutigliano) a hefty fee for Philia. Gloriosus plans to wed the damsel as soon as he returns to Rome.
A Funny Thing Happened on the Way to the Forum




-1/2
To Jan. 5
Shakespeare Theatre's Harman Hall
$20 to $110
202-547-1122
shakespearetheatre.org

Director Alan Paul has done a remarkable job of staging and casting here — everything moves as it should, with little delights and surprises scattered throughout. Here and there the production might strike you as a tad too cartoony, whether it be James Noone's set of Monopoly-styled houses or David C. Woolard's almost circus-like costumes. Even so, you won't leave Harman Hall disappointed. Chances are you'll even leave smitten — if not with Gayer's "pretty princess" Philia, smartly played as a deceptively dumb blonde, then with Edward Watts's Gloriosus, a fetching hunk of bearded beefcake, an only slightly exaggerated version of the Roman ideal.
RIGHT NOW ARENA STAGE PRESENTS ANOTHER SHOW that also earned classic status in the 1960s. Though in this case we're talking about a film, Guess Who's Coming to Dinner. Playwright Todd Kreidler has only now adapted the screenplay for the stage, 46 years after Spencer Tracy, Sidney Poitier and Katherine Hepburn captivated us with a story about an interracial coupling and the heated reactions it elicits from their families.
Kreidler's play, set in the same '60s era, is especially rewarding because it adds several layers of knowing comedy. Malcolm-Jamal Warner, best known as Theo Huxtable from The Cosby Show, does a serviceable job filling Poitier's shoes as renowned doctor John Prentice. Early upon meeting his beloved's wealthy mother, Christina Drayton, winsomely played by Tess Malis Kincaid, he warns her to brace herself for their news. "I'm a doctor, so I hope you don't think I'm being presumptuous," he says, "but I think you better sit down." Several variations on that amusing line are tossed out as the play goes on. And when John's father, the sturdy Eugene Lee, first learns of the relationship, he retorts, "Is this Candid Camera? Where is the smiling white guy?"
Guess Who's Coming to Dinner



-1/2
To Jan. 5
Arena Stage
$40 to $90
202-488-3300
www.arenastage.org
David Esbjornson directs Arena's production, which is further burnished by a satisfyingly strong full cast, with several supporting players offering needed levity and relief to the central dramatic tension — chiefly, Valerie Leonard as a bigoted busybody, Michael Russotto as a sardonic priest and Lynda Gravatt as the sassy housekeeper.
Interracial marriage may not be the bugaboo in 2013 it was in 1967, but it's still no walk in the park. Even if you don't think of the parallels between today's same-sex marriage controversies — and of course, you really should — sitting through Guess Who's Coming to Dinner will remind you of how much progress we've made — but also how much more progress we've yet to achieve.