There's a menace poisoning the modern Hollywood drama. It's wearing an unfamiliar face, but the symptoms are easily identified. The lazy use of narrative cliché. A flat story propped up by superficial metaphor. The persistent suggestion that place can instill purpose. These are the fatal flaws in many a drama, and now, they've become essential components of the Gritty Blue-Collar Drama.
You know the movie. Something something, family matters, blah blah, small-time crooks in over their heads, on and on and on until a scowling protagonist avenges his brother's death on the mean streets of Worchester. Or settles his father's debt in the back room of a Pittsburgh dive. Or does something else — anything that sheds blood, really — to justify a hyper-masculine vigilantism.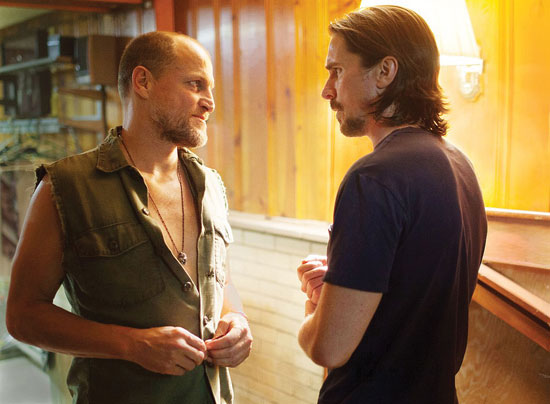 Out of the Furnace: Harrelson and Bale
Out of the Furnace, to its credit, nearly pivots away from this fate. Russell (an excellent Christian Bale) and Rodney Jr. (Casey Affleck, struggling to keep up) are the products of Rust Belt culture. They grew up in a small town — almost certainly inspired by director Scott Cooper's own hometown in the Blue Ridge Mountains — and for better and worse, that town has become them. Russell works in the steel mill, just as Rodney Sr. did, while Junior enlists in the Army. Russell goes to prison, Rodney falls deep into debt with the local heavy (Willem Dafoe). A lunatic (Woody Harrelson) stalks along the edges of their lives. On and on, this grim-faced merry-go-round turns.
The biggest problem? Cooper thinks he has a killer story to tell, so he doesn't linger on the genuine conflict buried at the heart of his movie. Out of the Furnace shouldn't be a movie about vengeance, or hard living in the Rust Belt, or the obligations of family. It should scrutinize the tension inherent within Russell and Rodney's positions. The central struggle is not between men, but between ideas. Is it better to embrace a reckless impulse to act, or a naive faith in the system to act for you?
OUT OF THE FURNACE


Starring Christian Bale, Casey Affleck
Rated R
116 minutes
Opens Friday
Area theaters
Out of the Furnace doesn't dare consider the implications of this question, in no small part thanks to a bewildering ending that undoes just about every thoughtful moment that comes before it. Despite a talented cast, a befitting affinity for the setting, and a compelling philosophical conflict, Cooper never quite shapes this into a decent movie. Sure, it has its moments. When the credits roll, though, it looks awfully familiar.