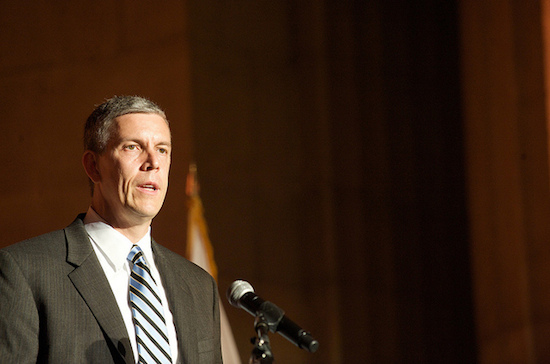 The nation's federal student-aid programs will receive an update to better reflect the post-DOMA legal environment, the U.S. Department of Education announced Friday.
Under the new guidance, the Department of Education will recognize a student or parent as married if the couple was legally married in any jurisdiction that recognizes same-sex marriage, regardless of whether they currently live in a state that recognizes same-sex marriage or if the student attends school in a state that recognizes same-sex marriage. The new guidance will impact all questions concerning marriage and marital status for federal student-aid programs, including the federal student aid form, FAFSA.
"We must continue to ensure that every single American is treated equally in the eyes of the law, and this important guidance for students is another step forward in that effort," said Secretary of Education Arne Duncan said in a statement. "As students fill out their FAFSA this coming year, I'm thrilled they'll be able to do so in a way that is more fair and just."
The updated policy comes after the Supreme Court's June decision in U.S. v. Windsor, which struck down Section 3 of the Defense of Marriage Act, defining marriage as between a man and a woman. Under DOMA, the Department of Education interpreted all provisions of Title IV of the Higher Education Act authorizing the federal student-aid programs as being consistent with the federal government's definitions of "marriage" and "spouse."
The Department of Education announced in April that the incomes of both parents in a same-sex relationship would begin to be counted by the federal government when determining student aid. Beginning with the 2014-2015 Free Application for Federal Student Aid (FAFSA), gender-specific terms like "mother" and "father" have been replaced with terms like "Parent 1 (father/mother/stepparent)" and "Parent 2 (father/mother/stepparent)." The updated form also provides an option for students to describe their parents' marital status as "unmarried and both parents living together."
The guidance announced Friday goes further to treat students with a same-sex spouse the same as married straight students when it comes to the student-loan application process.
Brenda Dann-Messier, acting assistant secretary for postsecondary education, formally announced the decision in a letter posted on the department's website.
"Consistent with Windsor, legally married same-sex couples will be treated as married for all FAFSA and EFC calculation purposes," Dann-Messier wrote.
[Photo: Arne Duncan. Credit: U.S. Department of Education.]