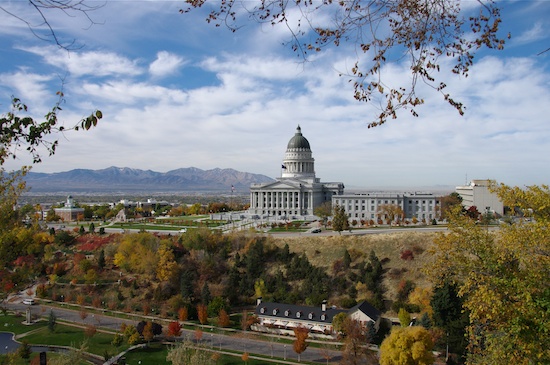 A federal judge declared Utah's ban on same-sex marriage unconstitutional Friday.
U.S District Court Judge Robert J. Shelby ruled that while marriage law has traditionally been and remains a state responsibility, "any regulation adopted by a state, whether related to marriage or any other interest, must comply with the Constitution of the United States."
"Applying the law as it is required to do, the court holds that Utah's prohibition on same-sex marriage conflicts with the United States Constitution's guarantees of equal protection and due process under the law," Shelby wrote. "The State's current laws deny its gay and lesbian citizens their fundamental right to marry and, in so doing, demean the dignity of these same-sex couples for no rational reason. Accordingly, the court finds that these laws are unconstitutional."
According to the decision, the state provided no evidence that opposite-sex marriage will be affected by same-sex marriage.
"In the absence of such evidence, the State's unsupported fears and speculations are insufficient to justify the State's refusal to dignify the family relationships of its gay and lesbian citizens. Moreover, the Constitution protects the Plaintiffs' fundamental rights, which include the right to marry and the right to have that marriage recognized by their government," the ruling states. "These rights would be meaningless if the Constitution did not also prevent the government from interfering with the intensely personal choices an individual makes when that person decides to make a solemn commitment to another human being. The Constitution therefore protects the choice of one's partner for all citizens, regardless of their sexual identity."
The case was brought by three same-sex couples challenging Utah's same-sex marriage ban, either because they sought to be married in Utah or were legally married in another state and wanted Utah to recognize their marriage. Utah voters approved a constitutional amendment banning same-sex marriage in 2004.
Shelby's decision comes just 16 days after he heard arguments in the case and marks the first court ruling addressing same-sex marriage bans since the Supreme Court struck down Section 3 of the Defense of Marriage Act in June.
Although the decision could be appealed, the ruling would make Utah the 18th state, plus D.C., to legalize marriage equality. Just yesterday the Supreme Court of New Mexico declared same-sex marriage legal in that state.
[Photo: Utah State Capitol. Credit: Scott Catron/Wikimedia Commons.]