Not long ago, I submitted myself to a full physical at my doctor's office after much concerned haranguing from husband and family. It's heartwarming that so many were concerned for me as I entered my prime heart-attack years of middle age.
I wasn't particularly nervous given that my primary health problems come down to tennis-related knee and arm pain, along with stress levels that occasionally push me into drama queen territory. But the blood pressure was fine and the heart seemed strong, so I was feeling relaxed until near the end when we got to the blood draw and my doctor mentioned all the different things I would be tested for.
I was getting an HIV test. And that's the moment I stopped being relaxed.
Just to be clear, the routinization of HIV testing as part of our everyday medical care is something I deeply believe in and have diligently worked for in the past. Getting the test myself should be as routine for me as it should be for the entire medical system.
But it's not.
Thinking about it rationally, I know I shouldn't be reverting to my early 1990's emotional state at the idea of having an HIV test. The test should have been just another box checked on the list, along with liver function and a prostate exam, two things I actually should be more worried about at this point in my life.
But a part of me has always been irrational about getting an HIV test because a part of me believes that I'm supposed to have HIV.
Shortly after World AIDS Day on Sunday, a transcript of an October 1982 press conference at the Reagan White House made the rounds on Facebook. Responding to a reporter's question on the emerging AIDS epidemic, press secretary Larry Speakes kicked off a series of jokes about homosexuals, to the merriment of much of the White House press corps. Because fags dying from an unknown disease was then the height of Washingtonian, inside-the-Beltway humor. And it happened more than once.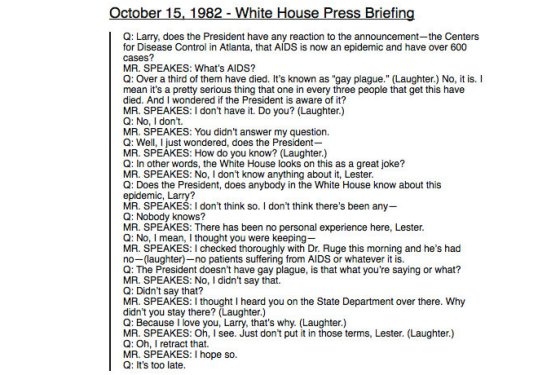 Transcript of 1982 White House press conference
As sickening as it is read from a distance of 30 years, it was even harder to hear those things at the time they happened. I was a 14-year-old, closeted, high school student in rural Kentucky when Ronald Reagan's top spokesman responded to a plague with a fag joke. Those same jokes and more — "What's 'gay' stand for? Got AIDS Yet?" — from my government, my school, my friends and even sometimes my family drilled the message deep into me: To be gay is to be diseased.
So getting tested in the 1990s was always a fearful experience for me, not only because I knew I had done things at times that put me at risk, but because over the years so many of my friends seroconverted. Too many of them died. No matter how much I worked in HIV prevention, no matter the progress I made in maturing into a happy homosexual man, some part of me has always thought of HIV as inevitable. After all, that's what I'd always been told.
In response to that White House transcript, I mentioned on Facebook that it's a miracle my generation grew up even halfway normal, at least those of us who got the chance to grow up. That's why I'm so incredibly thankful for the changes we've seen over the past decade and to live in a time when, despite the many challenges that remain, men like Larry Speakes and the 1982 White House press corps have been left behind in history — today's LGBT kids will learn much different lessons than I did.
And perhaps after another decade or two, that small part of me stuck in the past will finally accept that nothing is inevitable.
Sean Bugg is the editor emeritus of Metro Weekly. He can be reached at . Follow him on Twitter at @seanbugg.