The Gay Men's Chorus of Washington will sing an ode to garland this weekend — and we're not just talking about gay icon Judy.
Yes, indeed, it's that time of year again, time for the chorus's annual holiday concert, including the song "It Wouldn't Be Christmas Without Garland."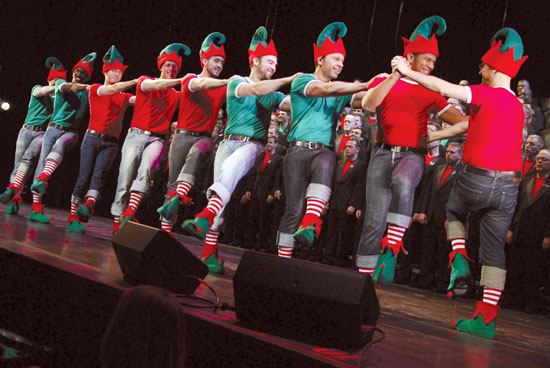 GMCW Christmas
(Photo by Michael Patrick Key)
"You can definitely expect to get that feeling that you always get around the holidays," says Chase Maggiano, the chorus's new executive director. This year's concert, Sparkle, Jingle, Joy, features the great gay singer-songwriter Matt Alber. Alber made his name as part of the renowned all-male a cappella group The Chanticleers and first performed with GMCW at its Valentine's Day concert earlier this year. "He's going to be performing holiday songs — some on his own and then some with us, too," Maggiano says. "He and the chorus just gel really well."
Maggiano, who came on board three months ago, is particularly looking forward to the remainder of this season, which ends with A Gay Man's Guide to Broadway, featuring "songs from some of the best musicals from every decade" since the 1940s. The concert will feature Broadway's Laura Benanti, who just played the Baroness Elsa Schrader in NBC's The Sound of Music Live! It was Maggiano's idea for GMCW to host a viewing party for the broadcast at the Lincoln Theatre earlier this month. "We are doing a gay parody of The Sound of Music in the spring called Von Trapped," says Maggiano, who called the NBC tie-in perfect, adding: "Our nuns in drag at the Lincoln Theatre will be featured in our 'Hallelujah' chorus this weekend."
The holiday concert will also include other gay twists for which the chorus is well known, but Maggiano is quick to call these "tasteful twists. I don't want anyone to think that this is going to be bawdy." But then he points out one song the ensemble will sing that at least skirts the bawdy edge. "We are singing a cute song about that fabled yellow snow," he says, referring to the kind your mother warned you not to eat. "It's really funny."
The Gay Men's Chorus of Washington performs Friday, Dec. 20, at 8 p.m., and Saturday, Dec. 21, at 3 and 8 p.m. Lisner Auditorium, The George Washington University, 730 21st St. NW. Tickets are $54. Call 202-293-1548 or visit lisner.org or gmcw.org.