"And that's the time I bought the gun."
Rita Lyons drops that hysterical bombshell in the midst of recounting a sordid family story in Nicky Silver's The Lyons, a black comedy full of devilishly delivered barbs and unexpected twists and turns. It's all bright wit and dark humor. You should consider the production at the Round House Theatre in Bethesda the company's dystopian holiday treat for 2013. Every member of the show's seriously dysfunctional Lyons family wishes for a better life and lineage. You know, your standard-issue affair. But fate is a bitch, and so is Rita Lyons.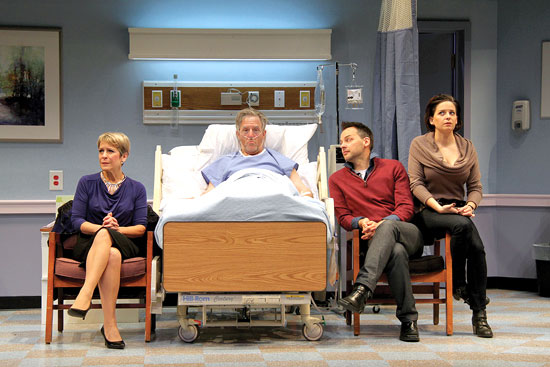 The Lyons
(Photo by Danisha Crosby)
Surely your mother isn't quite as much of a monster as Rita, played with exacting precision by Naomi Jacobson. For decades Lyons has wished the husband she never loved would finally croak — even once entertaining the idea of murdering him by firepower. Now that Ben Lyons (John Lescault) is on his deathbed, in a body riddled with cancer and a mouth full of potty, all she has to do is wait for death to take him away and leave her in peace. In the meantime she hopes to rekindle ties with her gay son and alcoholic daughter. In theory it shouldn't be hard, because they're all incredibly lonely people. But everything's a struggle in the Lyons family.
Silver, a gay playwright whose work is familiar to Woolly Mammoth patrons, has said that he doesn't set out to make likeable characters, only those who show a sense that "they are fighting for their survival." Director John Vreeke seems to have drilled that into his ensemble here. These Lyons are all lions to one degree or another. Jacobson is the queen of the jungle, portraying Rita as an utterly indomitable force, one who doesn't back down even when she knows she's said or done something wrong. Toward the end of Act 1, Rita reveals a vulnerable side in a soliloquy addressed to her sleeping husband about just how terrified she is of being alone. While that proves to be merely a momentary lapse of fortitude, it does help give us a fuller picture of the woman. It also allows Jacobson to show off her incredible range as an actor. She never stumbles in the demanding role.
But then Jacobson is in stellar company here. Lescault plays Ben as a thoroughly defeated man who nonetheless rages as if there were still hope, still love to be found with his wife. Marcus Kyd and Kimberly Gilbert are the Lyons' offspring, both horribly scarred by a lack of love and respect shown between, and from, their parents — and yet both still showing signs that they are capable of giving love and respect. You'll be both charmed and distraught by Kyd's performance as an imaginative, intelligent Curtis, who keeps getting tripped up by a real life that was stunted far too early — age 7, to be exact — upon rejection by his homophobic father.
The Lyons




-1/2
To Dec. 22
Round House Theatre
$10 to $45
240-644-1100
www.roundhousetheatre.org
And, as expected, if you've ever had the pleasure of seeing her onstage before, you won't be able to take your eyes off Gilbert. This incredibly expressive local actor puts her whole body into a role, with every physical movement and gesture adding to her portrayal. Gilbert as Lisa is well dressed (in stylish costumes by Rosemary Pardee), but a barely contained bundle of nerves and energy. She's a woman, full of greater potential, who can't seem to do the right thing, but also one who doesn't let that stop her from putting herself out there — so unlike her brother.
The Lyons ends with a hint of resolution, with widowed mother Rita preparing for a getaway to the Caribbean and each Lyons kid trying to bond with an unlikely stranger. Even excepting for a few subplot twists better left as a surprise, these are signs that the future for this family might be better than its past. It wouldn't take much.