Jerry Houston considers his high school days in Baltimore essentially as practice for how he now spends his days.
"Every chance I could get behind the microphone in high school I would," says Houston. "And I always did the morning announcements, all four years."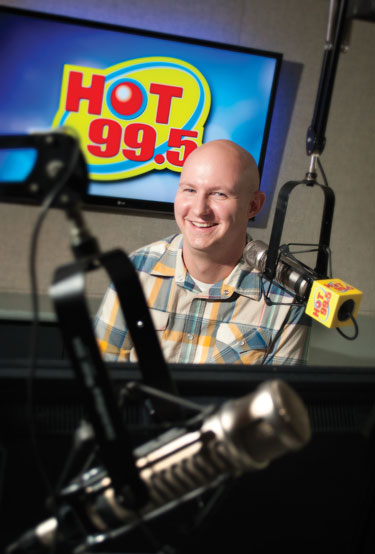 Jerry Houston
(Photo by Todd Franson)
These days DJ Houston is behind the microphone for hours each day on two radio stations in the Clear Channel family: every day on Pride Radio, on the company's "iHeartRadio" app, a digital radio service, and on select HD radio stations around the country, including 99.5's HD2, as well as a weekday fill-in and weekend host on Hot 99.5 FM. He also helps oversee outreach online and in social media by the area's leading pop station as its digital content coordinator. This year he also became the entertainment coordinator for the Capital Pride Festival, which Hot 99.5 sponsors.
The 36-year-old Houston — whose given name is actually Huster — got his start in 1998 with the company's Baltimore-based country station, WPOC 93.1 FM. Interestingly enough, 99.5 broadcasts out of Rockville, where Houston also makes his home — directly next door to the station. That "super-easy commute" comes in handy, given that Houston often works 10-hour days, six days a week.
"There's a certain passion that you have to have for radio because of the long hours," Houston concedes. "It's not all stars and glamour."
METRO WEEKLY: How did you get into the radio business?
DJ HOUSTON: It's one of those things I always wanted to do. I always wanted to be in broadcasting. When I was little – this is gonna sound funny – I grew up watching game shows and I always wanted to be either on a game show or a game-show host. And then I wanted to be on television news, and I focused a lot on journalism in high school. Once I got to college [at Towson University] I started getting into radio and television, and managed to get an internship at a radio station in Baltimore during my junior year of college. That turned into a part-time job, which then became a full-time job. That was in Baltimore at WPOC.
MW: What is it about radio that captivated you? The music?
HOUSTON: Not really so much the music as it was the chance to make a connection with people. And by people I mean listeners, to get to know them better and sort of make them part of the experience. One of the things that I've always liked about radio is the contests that we do. I love giving stuff away to people. It's a chance for me to make someone happy. Something that a normal job doesn't always let you do.
I do love the music at Hot 99.5. I'll be honest, it took a little while to get used to country music. I never listened to it. When I started there I had to kind of dive in deep and learn the music and learn about the artists and everything.
Mainstream music, which is what I prefer to listen to — Top 40, which what 99.5 is, and dance music, which is what we play on our Pride Radio channel — that music is more what speaks to me personally. That's what I like to listen to. You don't have the sense of community that you do with country music, but you do have more of the energy and party atmosphere with Top 40/mainstream music that I personally identify with – because I'm always about having fun. I love to hang out with friends, or go out for a drink or something like that — and that's the music that's playing. That's the music that energizes everybody.
MW: How much control do you have over the songs you play?
HOUSTON: I am actually the music director and assistant program director for Pride Radio, so I have a good amount of control over the music being played there. Each station has a music programmer that takes a great deal of care in selecting the music that their listeners will really enjoy.
MW: That means you have control over the music there?
HOUSTON: Absolutely I do. It's nice to have that. With that being such a niche format to begin with, it's nice to be able to super-serve that segment of the audience. We get feedback all the time on social media, people requesting some really obscure dance songs, but we're able to do it because we're so honed in to the LGBT community, and we're supported a lot by iHeartRadio.
MW: Pride Radio focuses strictly on dance music?
HOUSTON: It's dance and pop. We'll play dance remixes of Top 40 songs. Anything by Rihanna, Miley Cyrus. You name it, we're playing it, but dance mixes of it though. So it's a nice alternative to the standard mainstream station that you would listen to.
MW: Why is that gays and dance music seem to go hand in hand?
HOUSTON: [Laughs.] That's the million-dollar question! Pride Radio has been around since 2006 and had gone through different variations before I came on board with it, at the end of 2009 or the beginning of 2010. It had made the transition to dance before I got involved. Early on it was a mix of pop and also a lot of, I guess you would call it alternative/granola-ish music. It was such an eclectic mix of music that it was hard for people to listen to. So it slowly made a transition as dance music became more popular on its own.
MW: Is Pride Radio a nationwide thing?
HOUSTON: That's the beauty of iHeartRadio — listeners can access the station wherever they are around the country. Every DJ that's on Pride Radio is in a different area. We have folks in San Francisco, San Diego. We have somebody in Tampa. And myself.
MW: This is one way Clear Channel specifically reaches out to the LGBT community?
HOUSTON: Exactly. Clear Channel is a really supportive company. That's why I've been with this company for so long, because I've always been supported being who I am and what I do. We've gotten so much support from the company for Pride Radio. That's why we sponsor Pride events around the country, really.
We actually started with DJs on Pride Radio just about a year ago, and I was the first DJ on the station. Prior to that it had just been music and segues and stuff like that.
MW: To try to interject some personality into the mix?
HOUSTON: Absolutely, yeah. And it's brought a whole new life to the station. Our interaction with listeners was okay before, but now we're able to get more information out there about pride events around the country, things that may affect the LGBT community directly, like the marriage-equality movement, the situation in Russia and all of that. We want people to know that we're there for them. Because we reach people who are in cities where gays may not be as accepted as they are here in D.C. Maybe someone in the middle of Nebraska, who feels completely isolated from the outside world, but they have us and they can count on us to bring them information, to make them feel like part of the community that they belong to.
MW: Explain more about your involvement with Capital Pride.
HOUSTON: It's been great. This past one was either my fourth or fifth Pride. At Hot 99.5, we started by joining the parade, then the next year we increased our involvement a little bit more, as I hosted some of the stuff on the main page. Then I was invited back to host the entire main stage, and Hot 99.5 became a presenting sponsor. Over the past year I also became the entertainment coordinator, helping identify the artists for the festival.
Like I said, I've been so floored by just how supportive the radio station has been of the LGBT community here in town. That's why I know I'm home. I know I'm in the right place.
MW: As the entertainment coordinator for the 2013 Capital Pride Festival, I guess we have you to thank for Icona Pop, Emeli Sandé and Cher Lloyd as the headliners?
HOUSTON: [Laughs.] Yeah, it's directly because of my involvement. That was the best Pride I think that we could have had. We wanted to really reach out to the youth at Pride. That's one of the missions of Capital Pride and also one of 99.5.
MW: And you're on board to do it next year, too. Not to put too much pressure on you, but hopefully lightning can strike twice.
HOUSTON: [Laughs.] I know we have a lot to live up to.
MW: If people want to give you ideas, should they feel free?
HOUSTON: Oh, absolutely. We welcome the ideas. We don't want to tell people what they should like, we want them to tell us what they like so we can make it better and give them what they want.
MW: Do you make a special effort to play out artists?
HOUSTON: Oh, yeah, absolutely. We focus on either out artists or artists that are strong allies for the community. That's why you won't hear an artist on Pride radio that is not a friend or ally of the community, if they're not themselves in the community. I don't want to say anyone specifically, but there are certain artists that we know would be controversial and don't support the community in any way — or not that we've seen publicly.
As an example of an out artist, we have Adam Barta, who's based in New York. He's an artist in the community that wouldn't be known to mainstream folks, but we had him play at Pride last year. He has a few dance songs out.
MW: I imagine there are songs or artists you have to play but would rather not because you don't like them.
HOUSTON: Well, yeah, you're always going to have a song that you're like, "Oh, my God, why do I have to hear it again?" [Laughs.] But, honestly, I do love the music that we play.
MW: Is that true with news too: Do you ever get tired of celebrity news, and the latest about Kim and Kanye?
HOUSTON: No, I don't, actually. It's amazing the amount of crazy stuff that celebrities do. [Laughs.] I don't get tired of it because it's great content for me, for all the different shows that I do.
Especially those celebrities that people love to hate like "Tan Mom," or even Kanye West and the Kardashians. It's these celebrities that are just an endless treasure trove of news stories.
MW: Finally, let's get a little personal. Do you have a partner?
HOUSTON: Yes, I do. His name is Chris. He is my connection to "normal-person world." [Laughs.]
MW: Are you meaning to suggest that radio people aren't normal?
HOUSTON: Well, I mean we're all special in our own little ways. But it's easy to get caught up in the entertainment aspect of things. And he keeps me grounded. He keeps me in check. He's my reference point to make sure that I don't ever lose sight of what is important to people. Because it's funny, with radio, and I think with entertainment in general, it's easy to lose sight. I always try to stay grounded and he helps me a lot. Radio is a very busy business. There's a lot going on. It's long hours, but it's really great work.
For more about DJ Houston, visit prideradio.com.
Take to the radio waves, streams and podcasts with some of D.C.'s intriguing audio talents
Aisha and Danielle Moodie-Mills sound off on politics and pop culture
Sheila Alexander-Reid brings the LGBT community to the FM dial