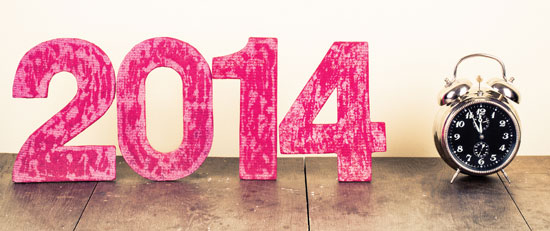 This year New Year's Eve falls on a Tuesday — which is a boon to bars and clubs, since it means they'll be packing 'em in on what is, for most, usually a slow night.
But hey there, Buttercup, it can be sunshine and lollipops — and of course party favors — for you, too. Just think: Not only does a midweek holiday break up the workweek, it means we'll ring in 2014 on a Wednesday. Putting the hump in Hump Day, on the first day of the year? Now there's a resolution!
And why not resolve to do something out of the ordinary for the occasion, such as going dancing on a Tuesday night? Popular local DJ/party promoter Shea Van Horn offers your not-a-school-night dancing fuel at Town Danceboutique in conjunction with the venue's own Ed Bailey upstairs, while downstairs resident DJ Wess offers a 2013 music-video countdown. All that plus decor by Miami's wild and wonderful Kidd Madonny, party favors and noisemakers, a live performance by Team Peaches DC and a special edition of the weekly drag show featuring Ba'Naka, Tatianna, Epiphany, Shi-Queeta Lee and Lena Lett — and all for $20.
Meanwhile, Cobalt isn't just offering an out of the ordinary night, but one it's billing as "the biggest New Year's Eve Party in the history of Cobalt!!!!!" Yes that's right, the club is giving itself five exclamation points for its verily impressive lineup: Willam and Detox from RuPaul's Drag Race perform "Boy Is A Bottom," their gay hit with fellow drag artist and bottom-spotter Vicky Vox. Joining to assist the girls in the midnight countdown is Cobalt drag staple Sherry Vine. But wait, there's more: EDM singer-songwriter and onetime American Idol finalist Blake Lewis runs the rest of the show as the DJ upstairs, while local DJ Keenan Orr offers tunes with an R&B/hip-hop tip downstairs. Cover is $20.
The original Phase 1 offers dancing to the music of DJ Jay Von Tease as well as other goodies including champagne splits, and all for a cover of $10. Mova plays host to an all-gender-inclusive sci-fi dance party called "Blastoff," presented by the queer blog Where The Girls Go. The party features intergalactic beats by DJs Junebullet, Alex DB and Natty Boom, a photo booth, blow-up toys, glow-in-the-dark souvenirs and a whole lot more, including, of course, a free champagne toast, which you can enjoy on the venue's heated roof deck. All for $10.
Green Lantern offers a special edition of the monthly Bears Can Dance party presented by 495 Bears, with free champagne, party favors — and coffee and donuts at 1 a.m., for $10. Freddie's Beach Bar presents Steven Andrade performing as Cher, music by DJ Nat, special New Year's Eve cocktails as well as free champagne and favors, all for $35. (And of course the venue known for its brunches offers a special New Year's Day Brunch for only $19.99, minus $5 with NYE ticket stub.) But if you're looking for more, well… "charm" while dancing, you gotta go north, Hon. Club Hippo features D.C.'s sharp DJ Sean Morris, as well as free champagne and lots and lots of noisemakers — after all, it's never a quiet night in Baltimore clubland. The venue even offers pastry, fruit and coffee, served after ringing in the new year, and all for $10.
At the Ziegfeld's/Secrets complex, everyone gets their own split of champagne for the midnight toast, and there will be cash balloon drops on both floors. Ella Fitzgerald leads her Ladies of Illusion downstairs with music by DJ Joey-O, and the Men of Secrets offer buff delights upstairs, with DJ Steve Henderson.
For lower-energy and lower-priced — aka free — toasts: Number Nine offers two-for-one happy hour drinks until 9 p.m. and complimentary champagne at midnight, to the tune of music courtesy of Aaron Riggins and Justin Morse. Nellie's Sports Bar has DJ Jesse "Madscience" Jackson and other noisemakers. Finally, you can never go wrong ringing in the new at JR.'s Bar & Grill, though it might be especially poignant to do it at the DC Eagle, set to soon move out of its longtime New York Avenue location. Talk about for Auld Lang Syne.
For more info on these and other area gay bars, visit MetroWeekly.com/nightlife.