It's been over a month since Google unleashed its latest smartphone on the world. Even now, stock levels are wiped out as soon as they're available — venture onto Google's Play Store to order a handset and you'll have to wait. The extreme popularity of the contract-free device is attributable to two factors: the Nexus 5 ships with some of the most up-to-date internals of any smartphone, and costs just $349.
If we're talking bang for buck, the Nexus 5 is an atom bomb. Google and LG — who manufacture the device for the search giant — have collaborated to produce a handset bursting with technology. It's powered by Qualcomm's Snapdragon 800, a quad-core chip paired with an Adreno 330 GPU and 2GB of RAM. That puts the Nexus 5 in the same power leagues as the Galaxy Note 3, Sony Xperia Z1 and its cousin, the LG G2. Similarly, the Nexus 5 shares with its peers a Full HD screen, stretching the resolution over a 4.95-inch IPS display coated in tough Gorilla Glass 3. NFC and wireless charging are both on-board, helping users to cut out the numerous wires that clog up our daily lives, while storage available in either 16 or 32GB flavors attempts to carry your entire music collection. It may struggle, though, as there is no MicroSD card option for expanding storage.
Hardware
Externally, the Nexus 5 is an exercise in tactility. Google markets the polycarbonate shell of the Nexus as having a "silky" feel. It sounds incredibly cheesy — but by George, I think they've got it. I own a Lumia 1020 in matte yellow. Nokia's build quality and dense, smooth plastic was, until I received the Nexus 5, the best a plastic phone has ever felt. No more. If you've handled the "unashamedly plastic" iPhone 5C, you'll know how rubbery and cheap its polycarbonate body feels — this is the other end of the spectrum. Simply stroking the Nexus — and avoiding concerned stares — is a very pleasing experience, it feels beautifully soft to the touch. It also helps that the device is incredibly easy to hold. Its large screen takes up most of the front of the device, with slim bezels helping to keep its overall form factor rather slender. Weighing in at 4.6 ounces and measuring just 0.35 inches around its waist, the Nexus is svelte without being uncomfortable and light without feeling like it could shatter. Indeed, I accidentally launched my device across the room while getting out of bed — an impressive feat, I know — and there isn't a scratch on it.
While the overall design of the handset is restrained, almost unassuming, there are four style choices that help it to stand out. The first is the speaker grille — a small hole drilled into the glass above the screen. Buy the Nexus 5 in black, and it's unnoticeable. In white, though, it's painted to match the bright rear casing, and stands out on the front without looking out of place. It's a nice touch. Next are the ceramic power and volume keys, which flank the right and left sides of the Nexus respectively. They feel more solid than plastic buttons, and their subtle, almost metallic, sheen contrasts with the matte polycorbonate. On the back are the two biggest interruptions to the Nexus' design. For starters, the "nexus" logo is placed vertically, recessed into the casing and given a glossy finish, matched by a small LG logo underneath. It looks very understated and premium in person, and offers extra grip for fingers when holding the otherwise smooth phone. In the top left sits the most controversial design choice — the camera housing. A protruding glass circle, ringed in polycarbonate, it juts out of the rear of the device. This results in a slight rocking should you place the Nexus on a flat surface, and heightens fears that the camera lens could scratch. It's an odd choice, though I don't dislike it as much as some other critics have.
Camera
What I could criticize is the camera beneath that lens. Eschewing the current Android standard of 13MP cameras — or 21MP, if you get the Xperia Z1 — the Nexus 5 makes do with just 8MP. However, those megapixels have optical image stabilization attached to reduce camera shake and hand vibrations — and the iPhone 5S has just 8MP and it rivals the best of the Android bunch for quality. The Nexus, when it launched, sadly couldn't. Despite the LED flash and Google's HDR+ mode, which takes 5 images and stitches them together to create a detailed, balanaced image, the Nexus 5 struggled in almost every aspect of photography. Autofocus was slow, details were fuzzy, fast-moving objects were blurred, low-light photography was grainy and even in perfect conditions images were generally average. HDR+ mode was capable of producing some detailed images, but was too slow for everyday photography.
Note my use of past tense — the camera is now significantly better. Google has updated the Nexus 5 to Android KitKat 4.4.1, and with that have vastly overhauled the camera software. It's now faster to open, faster to focus, can handle fast moving objects, reduces motion blur and takes low-light photos that better reflect the capabilities of its OIS technology. It's still not perfect, but you now won't wish you had another camera with you for taking a quick snap. Video, with the optical image stabilization reducing hand shake, is smooth and crisp, though audio isn't as strong as some competitors.
One thing that hasn't changed with the update is the camera app's terrible UI. It's incredibly clean, yes, but the floating menu, navigated by tapping or sliding, is just frustrating to use. I wish Google would borrow inspiration from OEM partners — Sony's camera UI is fantastic, for instance.
Software
While KitKat 4.4.1 is a minor update, its predecessor, 4.4 KitKat was the main talking point at the Nexus 5's launch. It's a vast overhaul to Android, bringing a host of new features.
First is voice-activation, just say "Ok Google" to activate Google's speech-recognition service to search, send messages, get directions or play music. That music will look great on the lock screen, which now displays album art (just like Windows Phone 8) and playback controls. An all-new immersive mode hides OS elements, including the on-screen navigation buttons and status bar, when not needed — such as while reading a book, watching a film or playing a game — with the ability to bring them back with a swipe from the edge of the screen. Memory in KitKat is now optimized for even faster multitasking — something that should benefit budget devices that launch with KitKat on board. An all-new dialer prioritizes contacts to present your most-called people first, with the ability to search through contacts and businesses on your phone and online. Caller ID is improved, displaying information for any number calling — if it isn't recognized on your phone, Android will search online to find a match and let you know who is trying to reach you.
Android's messaging app is gone, replaced by Hangouts, which now handles SMS. Hangouts has been updated to support greater sharing options — including GIFs, which is excellent for those addicted to memes. Another update for text addicts is system-wide support for emoji, something iOS and Windows Phone users have enjoyed for a while now. Power users are also catered to, with system-wide wireless printing supported, the ability to save files to the cloud — Google Drive and other services are supported — and the ability to create and edit documents including powerpoints and presentations.
Performance
Phew. So, a lot has changed. How does it all run on the Nexus 5, then? Beautifully. Anyone who was ever turned off by Android's tendency to lag or bog down — even on powerful hardware — will love KitKat. The Nexus 5 screams through every action thrown at it. Multitasking, opening and closing apps, playing games, watching videos, streaming music — even just flicking between homescreen — all are accomplished with supercar levels of performance. Android has never felt this fast or this fluid. It's also never looked better. Say what you will about UI customizations — Samsung's TouchWiz or HTC's Blinkfeed, for example — but I'm one of those who prefers pure, stock Android, and the Nexus 5 really lets the OS sing. As a window into Google's services, it's never been stronger. Swipe left on the homescreen and you're taken straight to Google Now, Google's companion app that learns your habits and presents useful information throughout the day — subway stations and train times, restaurants nearby on your lunchbreak, sports scores as they happen. Press the home button and rather than take you back to the homescreen, it sends you to Google Now first — the focus on Google products is evident throughout the device.
Battery
All of this power, as every superhero has taught us, comes at a price. Whereas the Galaxy Note 3 and LG G2 can comfortably last up to two days, the Nexus 5 struggles to make it through a day with its 2,300mAh battery. Unplug in the morning and spend your day responding to emails, checking the web, taking a few photos and listening to music on the commute home and you'll be in need of a charging pad as soon as you get home. Video seems particularly taxing — watch a lot of YouTube or stream a couple of films and the Nexus struggles to last half a day. The screen is the culprit here, with autobrightness seeming to prefer a setting slightly higher than ambient lighting requires — though this is something that can be fixed in future updates.
Screen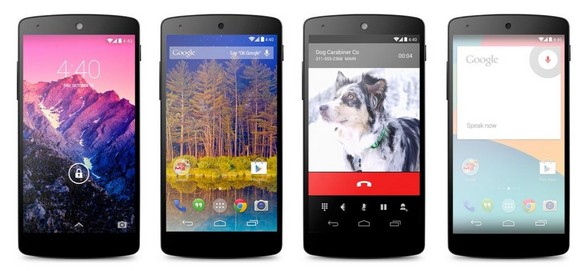 The screen itself is a winner. It's not as vibrant as the Note 3 and it's not as good as the similar panel in LG's G2, but for the price it's incredible. Dense, bright, good viewing angles, great contrast and perfectly fine for watching content and viewing images on. Upgrade from an iPhone or similarly small device and you'll see what Android users love their large smartphones. Responsiveness is great, too. I had the occasional hiccup while typing, but the majority of the time, the screen is sensitive and quick to react to every touch.
To buy, or not to buy?
Ultimately, it's hard to criticize the Nexus 5. It's not impossible, certainly, but it's difficult, and that's because you always come back to price — $349 for a phone that matches and bests the best-in-class for performance, a camera that, after the update, is perfectly capable (though far from a leader), a build that has held up to knocks and bumps and manages to be unassuming yet classy, and a screen that is dense, vibrant and wonderful for accessing all of Google's content. Really, the only major downside is a speaker that, even on maximum volume, is quiet and tinny.
What Google and LG have achieved with the Nexus 5 is remarkable. This staid handset, with its budget price and off-contract ambitions, manages to rival and in some areas — particularly performance and software — best the Android flagships, while costing not much more than its peers would with a two-year contract. If you want the latest and greatest version of Android that will be updated frequently, it's perfect. If you want a phone without the contract, but don't want to sacrifice specs, it's perfect. If you want a classy, well-made handset that will do everything well — though not everything as well as it could — it's perfect. Yes, there are phones that can do more, offer more, and are made from aluminum or stuffed with fancy software tricks. None of them, however, can do this much for this little. $349? It's the bargain of the year.