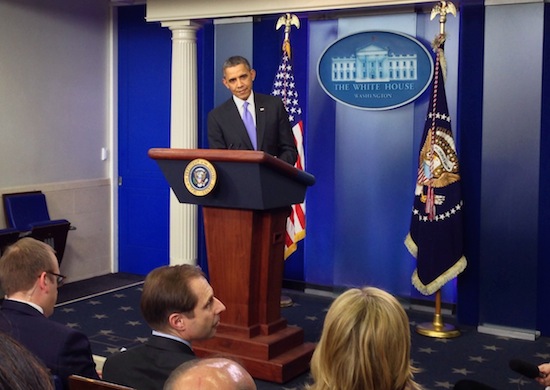 President Obama said Friday that the composition of the U.S. delegation to the Winter Olympics in Sochi, Russia, "speaks for itself," while specifically naming two of the three out athletes who are part of the delegation.
Asked during a Friday press conference what message is sent by his choice not to attend the Olympic Games, Obama noted he has not attended the Olympics in the past. But on the makeup of the U.S. delegations, which will include three out athletes — Billie Jean King, Caitlin Cahow and Brian Boitano — Obama was direct.
"I think the delegation speaks for itself," Obama said. "You've got outstanding Americans, outstanding athletes, people who will represent us extraordinarily well. The fact that we've got folks like Billie Jean King or Brian Boitano, who themselves have been world-class athletes that everybody acknowledges for their excellence but also for their character who also happen to be members of the LGBT community, you should take that for what it's worth."
Neither President Obama and first lady Michelle Obama, Vice President Joe Biden and Dr. Jill Biden, nor any current members of Obama's cabinet will attend the games.
In 2012, Michelle Obama led the U.S. delegation to the Summer Olympics in London. The Bidens attended the 2010 Winter Olympics in Vancouver, British Columbia, and in 2008 President George W. Bush attended the Summer Olympics in Beijing.
Obama and his administration have been critical of Russia's enactment of an anti-LGBT law prohibiting "propaganda of nontraditional sexual relations."
"When it comes to the Olympics and athletic performance, we don't make distinctions on the basis of sexual orientation," Obama said Friday. "We judge people on how they perform both on the court and off the court, on the field and off the field. And that's a value that I think is at the heart of not just America, but American sports."
[Photo: Barack Obama speaking to reporters Friday. Credit: Justin Snow/Metro Weekly.]