Donna Summer made it sound so alluring.
It sounded really loud
They said it really loud
On the radio whoa oh oh
Of course, back when Summer's song entered the Top 10 in January of 1980, radio was a simpler affair. FM or AM, take your pick. Or, for something a bit more exotic, CB radios were still fashionable, good buddy.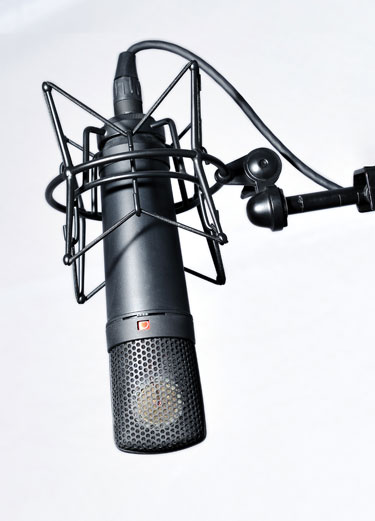 Today, we've still got good 'ol "terrestrial radio," but it's been joined by live-streaming online, podcasts, satellite radio – a bevy of "audio platforms." There are the upper echelons of corporate radio, and the Internet-enabled podcasts that might come out of a professional studio or dedicated spot in someone's basement. Our ears have never had it so good.
LGBT ears can certainly claim their fair share, too. From the D.C.-based XM Satellite Radio – merged with Sirius Satellite Radio to create Sirius XM Radio – there's "OutQ Gay & Lesbian Radio." Listen to Derek Hartley and Romaine Patterson's show for loads of queer perspective. Or Michelangelo Signorile. The "iHeartRadio" app will have you plugged into all sorts of beats from gay clubland on its "Pride Radio" channel. Pink sounds abound, from talk to tunes.
With it all being so wonderfully accessible now, some might even get the idea that it's easy. But look to Swish Edition, the local gay podcast that was once going strong. The fun fellahs behind Swish – Dale Blades, Scott Wallis and Steven J. Walker – announced a hiatus in August, writing, in part, "The boys may or may not return as a threesome to the Secret Underground Studio in the Heart of Washington, DC, but the show – in one form or another – will continue."
Consuella Lopez makes the same commitment, referring to insighT, her transgender-themed talk show that ran weekly Sunday evenings for three months from late 2012 to early 2013. She vows to bring the show back, live-streamed from WLVS radio on Georgia Avenue, touting its growing popularity while lamenting that other demands got in the way. In other words, as easy and fun as it might seem to take to the waves, Lopez offers a dose of reality.
"It is not easy at all," she warns. "On top of having a full-time job, it takes hours of planning. I would get up at 8 a.m. on Sunday and start working on the show – even after planning it all week. I had all these ideas. But it's money — time is money. It was taking time away from my business. I just had to let it go. But would I do it again, yes."
And with WLVS eagerly standing by, Lopez may well return with transgender topics. Her commitment also tempers her warning – hard as it may be, Lopez definitely wants to get back behind that microphone.
In the meantime, give your ears a rest and let your eyes do the work reading about some on-air personalities in the D.C. area who are giving their all to wave the LGBT flag in the audio arena.
DJ Jerry Houston has found his home with 99.5, Pride Radio, Capital Pride and a partner who keeps him grounded
Aisha and Danielle Moodie-Mills sound off on politics and pop culture
Sheila Alexander-Reid brings the LGBT community to the FM dial