When it comes to "institutions," D.C. has plenty that are completely removed from Congress, the White House, the Smithsonian or all the other icons recognized globally. At the grassroots level, a few are the Washington City Paper; WPFW, 89.3 FM, the public station offering "jazz and justice"; and Sheila Alexander-Reid, longtime activist and promoter in the LGBT community. Throw those grassroots institutions together and what do you get? In 2008, the answer was Inside Out, even if it has since become Sheila Alexander-Reid Live.
"A friend of mine was a program director at WPFW," says Alexander-Reid, who works by day as Washington City Paper's business manager. "His name was Bobby Hill. Because City Paper and the station were in the same building, we would see each other coming in and out. He asked me one day, 'I'm thinking about changing the programming, and one of the shows we'd like to have on there would be an LGBT show. I know you're too busy, but can you think of somebody who would be a good host and producer?'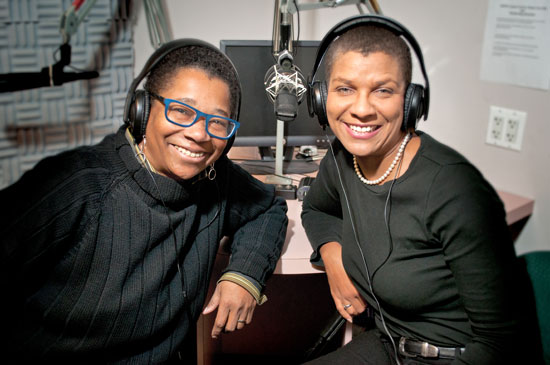 Sheila Alexander-Reid and Dr. Nicole Cutts
(Photo by Todd Franson)
"The best way to get me to do something is to ask me for a referral. Very clever. If you ask me directly, I'll probably say, 'I'm too busy.' But when you ask for a referral, I think I would be perfect! So I'm on this radio show because he asked me if I know of anybody who would be good."
With that, Inside Out made its debut April 14, 2008, with Lisa Joyner serving as associate producer. In the years following, Alexander-Reid has worked with various producers, different schedules and now the new title.
"First it was called Inside Out, like going inside the out community," she says, adding that the show originally aired monthly, then every other week, and now weekly on Tuesday from 1 to 2 p.m. "I got so many people asking me what that meant and being confused, so I just decided to go with my name. That happened in January with the new timeslot."
Having a new timeslot is the simplest way of putting it. At WPFW, however, the politics aren't necessarily limited to the station's talk shows. The latest scheduling changes gave Alexander-Reid that weekly Tuesday slot, but others were kicked off altogether.
"They were taken off the air with very little notice," she says. "I support the fact that they were treated badly and that they need to be treated better. But I also benefited from that. I'm torn. I like my timeslot, but if they deem it necessary to put one of the programs back on and move my show to another slot, I'm okay with that. I just like to have a voice and be heard. Whenever they can squeeze me in, I'm just happy to be there."
That's a very good thing, too, as Alexander-Reid certainly isn't making any money off her show. Instead, she's got to ensure that her listeners enjoy her show enough to be willing to donate to the nonprofit, public WPFW if she wants to stay on the air.
"If you have an underperforming show when it comes to the pledge drive, you're at risk for being cut," she says, adding, with a laugh, "The next one is in December. There's always one coming up, trust me. … WPFW is operating from always just one step ahead of being broke. I have to create an audience for my show, and that audience has to come through. You have to really build the community around your show, a community of supporters. … The fact that this is D.C.'s only LGBT radio show on the FM dial makes it that much more important, that gives it one leg up. I don't necessarily need to meet every goal, but I need to be showing that I have some support out there. It's community-based radio, membership-based radio. If you don't show that you have some support, I don't care how rare or what niche community you represent, you gotta go."
Today, Alexander-Reid is building that supportive audience with Nicole Cutts, a licensed clinical psychologist, success coach and organizational consultant. Cutts's psychology skills may be of particular use when the show fields hostile calls – an inevitability, says Alexander-Reid. But Dr. Cutts, as they say, is on-call.
"My background and experience equip me to remain calm in the face of people acting kind of psychotic," Cutts promises. "And to understand that this person is expressing their views, their opinions. We try to engage them in a way that's respectful. Not calling them names or lashing back, but speaking to them in a calm, sane way."
Most of the time, however, Alexander-Reid and Cutts are able to engage the audience in positive ways, interviewing interesting folks from the local LGBT community, talking to newer entertainers who'd like to introduce themselves to the community, and taking on political topics.
Like Alexander-Reid, Cutts says that contributing to this dialogue is a labor of love.
"I get really inspired and learn a lot from the different guests we have on," says Cutts. "I also feel that what Sheila's doing with her show is to get information out there and understanding in the larger world about gay, lesbian, bisexual, trans and queer issues. With radio, it's comfortable for the listeners to take in information, to get more of an understanding, and that's what combats heterosexism and homophobia. Hopefully, by hearing Sheila and often myself on a weekly basis, they probably start to feel like they know us."
In an age of various "audio platforms," Alexander-Reid emphasizes that being on old-fashioned terrestrial radio is crucial in that mission of reaching listeners who wouldn't necessarily seek out information about the LGBT community. Sandwiched between music shows, many listeners looking for jazz tunes instead get LGBT talk.
"People will come across it by accident," Alexander-Reid says of her show. "With blogs, things like that, people typically have to go there on purpose. I want this message to get out to someone who just happens to be looking for jazz, or just skimming the radio looking for the news or whatever. I like reaching people by accident, because sometimes they may not be open enough to go there on purpose. People [tuning to WPFW] are typically looking for jazz. The station's mission is 'jazz and justice.' My public affairs show gives you the 'justice' portion of that combo."
Whether or not Alexander-Reid will be the one behind the microphone with WPFW's LGBT programming for the foreseeable future, however, remains to be seen. There is power in passing the torch, and Alexander-Reid is fully aware.
"I would like to let somebody inherit it," she doesn't mind admitting. "I think the whole point of having these co-hosts is to sort of groom them to be able to take over. I don't expect to do any of this forever."
But she and Cutts are happy doing it for now, every Tuesday at 1 p.m., delivering the LGBT goods on your local FM dial.
Listen to Sheila Alexander-Reid Live Tuesdays from 1 to 2 p.m. on WPFW, 89.3 FM. Several weeks of shows are available in the station's online archive at wpfwfm.org.
Take to the radio waves, streams and podcasts with some of D.C.'s intriguing audio talents
DJ Jerry Houston has found his home with 99.5, Pride Radio, Capital Pride and a partner who keeps him grounded
Aisha and Danielle Moodie-Mills sound off on politics and pop culture