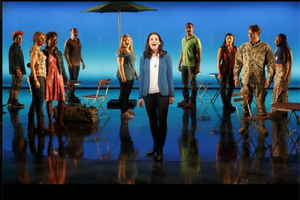 The creators of the new musical If/Then have given D.C. theatergoers many reasons to be thankful, I wrote in a Thanksgiving week review for Metro Weekly. The most obvious three: a grand return for Idina Menzel, in a demanding new role that proves she's still got her powerful, pristine pipes and seasoned acting chops last seen in her Tony-winning turn in Wicked a decade ago; an equally celebratory return for LaChanze, who won the lead-actress Tony two years after Menzel for her work in The Color Purple and here gives a strong, standout performance in a truly supporting role; and of course the fact that If/Then is being staged here first, giving Washingtonians the right of first assessment.
But that assessment? Not very good. After you reflect on and talk up Menzel and LaChanze — and there's Rent's Anthony Rapp among the cast, too — you'll get mired in the muck of what is a confusing show, with a convoluted plot and mostly overwrought music to match. It's a struggle just to make sense of writer/lyricist Brian Yorkey's overly ambitious plot, which zigzags back and forth between several possible paths for Elizabeth. And aside from a few numbers, you won't be singing many praises for Tom Kitt's music. Or, at least, several awkward leaps and disjointed passages throughout will trip you up in your appreciation. It often seems complicated simply for the sake of being complicated.
Closes this Sunday, Dec. 8. National Theatre, 1321 Pennsylvania Ave. NW. Tickets are $53 to $178. Call 202-628-6161 or visit thenationaldc.org.