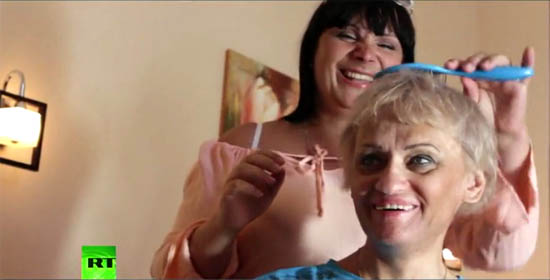 "I'm convinced that our thoughts materialze. If you're afraid of something, sooner or later you'll have to face it. There's no point hiding. And why do that anyway? I want to live openly, freely. Just live. Being transsexual is a temporary state. I am a woman, and very happy about that."
Occasionally Russia's television network, RT, breaks away from its criticisms of western governments long enough to share documentaries of notable content. This weekend, RT takes a look at the struggles of one transgender woman with "His Name Is Julia."
This interesting, half-hour documentary follows Julia Solovyova, a middle-aged, former sports writer who is learning to deal with the fears of her elderly parents, her own past decisions, and the difficulties encountered while seeking a legal change of identity.
Julia is seen spending endless amounts of energy trying to explain to her mother why she is no longer a man. The documentary also follows her to a doctor for a consultation about having gender reassignment surgery. The doctor seems sympathetic, but is quoted as using the word "disease" to describe Julia's situation. It's not entirely clear that he has done the procedure before or dealt with hormone replacement. They settle on orchiectomy as a first step, which Julia desperately explains to her mother as being the technical name for "castration."
Later, the filmmakers interview one of the children Julia had before becoming a woman. When she was known as Yury Ovodov, there were two marriages to women which resulted in the birth of one girl and one boy. Unfortunately, the relationship Julia has with her son is strained, and the teenager says he feels shame and anger at his father's decision to live as a woman. While people wish Julia happiness and health, misunderstanding and a lack of support are a large part of her story.
In the end, we see Julia go through a self-acceptance ceremony. She also discusses what it means to be a woman, and how she is determined to maintain a strong will to rise above suicidal feelings and adversity. The documentary is worth taking a look, though it is not exactly politically correct.
Watch it below, or online at RT.com Documentaries, or catch it in rotation on your local RT broadcast channel. (MHz4 in the DC area.)