For many LGBT people, religious faith can be tricky. And that may be more true as we catapult into Christmastime, when everything seems to be done up in silver and gold, red and green, and it's hard to imagine that anyone could possibly think Christmas is losing any so-called "war." In the U.S., Eid and Hanukkah can't really hold a candle, so to speak, to all the pageantry of Christmas pop culture.
The Rev. Cedric Harmon, however, views the season through a more contemplative lens.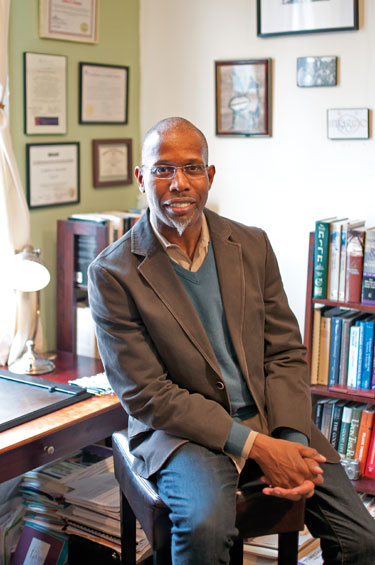 Rev. Cedric A. Harmon of Many Voices
(Photo by Todd Franson)
"The messages of Advent are generally about the journey towards the future, also looking at the past," says Harmon, who identifies as same-gender loving. "But the holidays are difficult for many people for many reasons. Gay and lesbian people who are not out can feel the strain of absence of family. If they happen to be in a religious setting that stigmatizes and discriminates and excludes, it can be very difficult no matter the time on the Christian calendar – but this can be a particularly challenging time if that is the case. The good news is that many congregations now are more open and the 'fire and brimstone' messages are not as prevalent, I think, in 2013 as they may have been five or 10 years ago."
That's where Harmon's work comes in. As co-director of Many Voices, he's working to make historically black churches more welcoming of LGBT parishioners. In the words of the D.C.-based nonprofit itself, "As a Black church movement for gay and transgender justice, we envision a community that embraces the diversity of the human family and ensures that all are treated with love, compassion, and justice."
In Harmon's mind, this should not necessarily be a difficult journey, explaining that black churches have long been steeped in issues of social justice. In his own small-town Illinois upbringing in a Missionary Baptist church, the 47-year-old Harmon adds that he never felt any secret shame as he came to terms with his sexual orientation, that his faith experience always emphasized the positive. He's hoping that Many Voices can help bring that experience to others by giving those church leaders who may be questioning what they thought they knew about LGBT people tools to help them explore this ecclesiastical question.
"African-American religious settings have been dealing with a host of other sociological, economic, political issues. There has not been this huge focus on a dialogue about the presence of gay and lesbian people within our churches," says Harmon, explaining that public support from President Obama and the NAACP for marriage equality has made it easier to bring up LGBT issues in black churches.
"I see the willingness to be open to talking about 'What does this mean?' 'How do we minister?"' says Harmon of clergy in black churches. "Our work is designed to share the lived experiences of gay and lesbian persons who are people of faith, and also to equip church leaders and pastors to be able to have the dialogue to explore, to ask questions, to get knowledge and understanding and theological reflection time."
Harmon's strongest message for the season, however, may be directly to those LGBT Christians in the pews.
"It is my hope that those who are experiencing stigma will find places that are supportive if their church is not giving them reinforcement of their value and their worth, and that they are indeed the apple of God's eye."
For more information about Many Voices, visit manyvoices.org or follow on Twitter @ManyVoicesOrg.