"D.C.'s so wound-up and uptight," Mark Chalfant says. "Improv classes are really doing a world of good for the people who find us."
And people are indeed finding Chalfant and the Washington Improv Theater he directs. Similar to New York's Upright Citizens Brigade or Chicago's Second City, WIT has helped nurture what Chalfant calls "an army of improvisers." There are now more than 120 "improv players" affiliated with WIT — 55 of them part of the company — which just celebrated its 15th anniversary.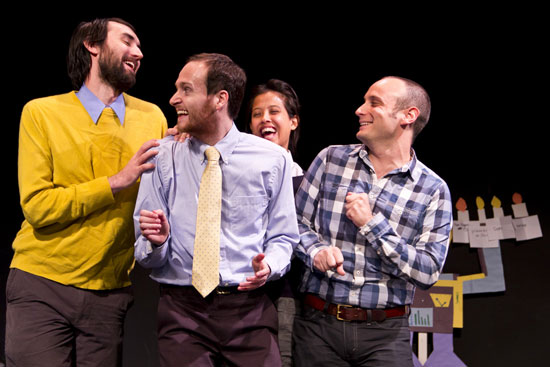 WIT "Seasonal Disorder": Jonathan Murphy, Jeff Huber, Sara Rouhi and Dan Miller
WIT offers improv classes, helping Washingtonians find humor, in part, by simply being more observant of each other. But the company is probably best known for its shows allowing already established improv experts to shine. Right now WIT is offering what Chalfant calls "an annual rite of passage," the Seasonal Disorder program, now in its seventh year.
"It's a huge smorgasbord of different comedy shows," he explains, "all of which have some sort of angle or theme related to the holidays." No two programs or even two sketches are alike, as each pivots off of a suggestion or theme from the audience for that particular show. From there, the WIT players concoct characters, story, theme, pattern — "all the things they're trained to do as improvisers." Seasonal Disorder is popular with performers as well as audiences. "It's just a great time to share this craft of improv with audiences out looking for a fun holiday event," says Chalfant. And it doesn't require much on the part of patrons, who only have to dress up if they really want to.
Says Chalfant, "Anyone wearing an ugly holiday sweater is especially appreciated."
WIT's Seasonal Disorder runs weekends to Dec. 28. Source Theater, 1835 14th St. NW. Tickets are $12 online in advance, or $15 at the door. Call 202-204-7770 or visit washingtonimprovtheater.com.