This was a strange, strange year for movies. Every big summer release fell short of expectations — I'm looking at you Pacific Rim, Man of Steel and The Great Gatsby — while theaters were positively stuffed with great movies once autumn began. It's not unusual to see the year's best during awards season, of course, but 2013 has been backlogged like no other. What follows are my favorites from a lopsided, yet still excellent, year in film.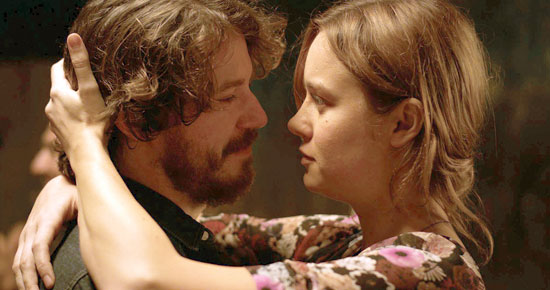 Short Term 12
The Best
1. Short Term 12 — Destin Cretton's Short Term 12 is the best movie of the year. A daring, devastating story about a group of young supervisors at a foster-care facility, it's a reminder of what talented filmmakers can accomplish when they dedicate themselves to ambitious, nuanced, delicate stories about ordinary people. Brie Larson turns in the finest performance of her fledging career — she'll be a star, just wait — while newcomer Keith Stanfield marks his acting debut with raw, remarkable aggression. Short Term 12 is a gift. Don't miss it.
2. 12 Years a Slave — What else needs to be said about Steve McQueen's masterpiece? It's the greatest, most challenging movie ever made about slavery. Based on the memoirs of Solomon Northup (Chiwetel Ejiofor), a free black man who was kidnapped in 1841 and forced into slavery, 12 Years a Slave stands alone for its an unblinking, absolute focus on the cruelties of an American genocide. It is an utterly important movie. It matters. McQueen brings to life our worst history, in all of its terror.
3. Her — Although it won't open in D.C. until Christmas day, no discussion of the year in movies is complete without Spike Jonze's Her. An earnest love story about a man (Joaquin Phoenix) and the artificially intelligent "person" in his electronic device (voiced by Scarlett Johansson), Her is as heartfelt as it is surreal. Jonze has little patience for techno-phobia, thankfully, so the movie is a kinder sort of philosophical romance. What do we look for in our partners? When do we ask for too much? What does it mean to control our love, and be controlled by it? Don't be deceived by the science-fiction premise, Her has a gentle heartbeat.'
4. Inside Llewyn Davis — Inside Llewyn Davis is a rare piece of work for Joel and Ethan Coen. Unlike their dramas and thrillers — which tend to rely on external conflicts driven by eclectic ensembles — Llewyn Davis fits into a quieter, internally taxing class for the Coen brothers. It's a character study of a failure. The title character is a musician perpetually trapped on the cusp of success in 1960s New York. He's doomed to a cycle of promise, self-sabotage and struggle, as if Sisyphus were trapped in a folk song. This is a somber story built from a hundred tiny mysteries — and fortunately, they don't need to be solved to be appreciated.
5. Stories We Tell — Sarah Polley's documentary is not what it appears to be. I don't want to reveal too much about the twists and turns of her family's incredible history — or how she chooses to reveal them — but know this: Stories We Tell is the year's most deliberate movie, skillfully blending style and substance together in a way that amplifies Polley's message. The stories we tell have stories of their own. And those are the ones we need to know.
6. Gravity — Yes, it has a terrible script. And, yes, the metaphors are as overt as they come. Yet Gravity is still a visual masterpiece made by the most technically gifted director in the world. It still uses the grandeur of Earth and the limitlessness of outer space as a three-dimensional canvas for an audacious story about life, rebirth and evolution. It's still a remarkably kinetic movie, dedicated to a physical sort of storytelling that's rarely seen outside of heartless blockbusters. Weaknesses be damned, Gravity is a beautiful movie.
7. Nebraska — Alexander Payne's black-and-white comedy isn't a love letter to the state where he was raised. It's a snapshot of then and now, an artful collision between America's proud past and its sluggish present. (And it's also very, very funny.) Payne's best work has always come from that curious place between humor and truth, and Nebraska plumbs the sad-sack lives of David Grant (Will Forte) and his father Woody (Bruce Dern, inimitably) for deliciously grim laughs.
8. The Act of Killing — I can't think of a word strong enough to describe Joshua Oppenheimer's documentary about the former leaders of an Indonesian death squad. Surreal? Unnerving? Horrific? Oppenheimer invited his subjects to recreate their war crimes on camera. They choose to do so by producing homages to their favorite genres: the Western, the noir gangster flick, and the musical. The Act of Killing is an essential movie about evil humans.
9. Gimme the Loot — A small movie that came and went with little fanfare, Gimme the Loot is the hidden gem of the year. Rookie director Adam Leon tells the story of two teenage graffiti artists, Malcolm (Ty Hickson) and Sophia (Tashiana Washington), who spend a day scheming to tag the "Home Run Apple" at Shea Stadium in Queens. Leon has a crafty eye for New York — a city full of vivid contradictions, as he sees it — and a lot of lighthearted respect for his hustling heroes. Malcolm and Sophia are noisy outlaws, but they're not criminals.
10. All Is Lost — J.C. Chandor's bold, ambitious examination of mortality and the self is most notable for what it doesn't do. It has no dialogue. Robert Redford is the only actor who appears on screen. The entire story takes place at sea. Yes, this is a survival movie — it'd make an excellent double-feature paired with Gravity — but it's concerned with an untraditional question for the genre: How does a person mourn his own death? Chandor won't deliver the answer, though. He knows you must answer yourself.
The Worst
1. R.I.P.D. — Dead on arrival.
2. Movie 43 — Every year, this list always includes a movie that needs no justification. Its mere existence is a stronger indictment than anything I could ever write. It's a movie that's so crude and idiotic, it's best to simply mark it as one of the year's worst, pause a moment to consider its terribleness one last time, and then forget about it forever. Good riddance.
3. Live Free or Die Hard — Please don't make another Die Hard movie. Please don't make another Die Hard movie. Please don't make another Die Hard movie.
4. Runner Runner — Boring, boring. What kind of gambling movie doesn't have a stomach for risk? Runner Runner is the most forgettable movie of 2013, a by-the-numbers crime caper that's even duller than its title suggests.
5. Salinger — A manipulative, pseudo-intellectual biography filled with the sort of Psych 101 babble that would be laughed out of a dorm room, Shane Salerno's documentary claims to offer an "unprecedented" look into J.D. Salinger's inner life. Instead, it just trots out a gaggle of celebrities who drone on and on about how much they loved The Catcher in the Rye. (Guess what? Everybody else does, too.) To borrow a favorite phrase of Holden Caulfield, this thing is a goddam phony.