It's been an interesting year for technology. Whether high-end, budget, or unobtainable, 2013 has given tech fans a raft of reasons to be satisfied. From gaming to gadgetry, streaming to smoke alarms, eyewear to engineering perfection, it's been a bumper year, which gives the unenviable position of trying to distill a year of notable releases into one short list. We think we've compiled the year's best — and some of the worst — so read on and see what you missed in a year overflowing with technology.
Best In Show
1. Sony QX10/QX100 Camera Lenses — Few items on this list are as forward-thinking as Sony's portable smartphone camera lenses. Available in two specifications to suit most budgets, the lenses clip onto a smartphone — using the screen as a viewfinder — and bring compact camera image quality to any handset that supports them. The flexibility of having a smartphone camera for quick snaps and a dedicated lens for more advanced photography could help some aspiring image-takers leave their dedicated camera at home — and that alone is worth the price of entry for many.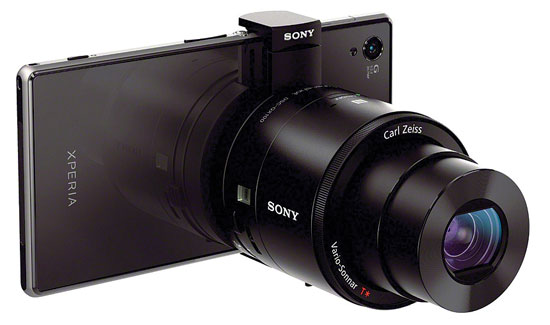 2. Oculus Rift — Ignore how ridiculous you might look while wearing Oculus' virtual reality headset: once you start playing games with it, you'll wonder how you ever felt immersed in a game before. With a separate screen for each eye and motion-tracking built-in, the Rift headset allows the wearer to "see" around their game's virtual world. It not only frees up hands for other functions, it brings a whole new dimension to gaming. It's limited to developers and certain YouTubers, but a commercial version is launching next year for us regular folks.
3. Google Chromecast — Yes, Roku's streaming boxes and Apple's TV box can do more. Google's Chromecast device is limited to streaming from a handful of apps — including Netflix and Google's own Play content store — but what it lacks in functionality it more than makes up for in price. While the competition retail around the $100 mark, the Chromecast costs just $35 — at that price, it's a worry-free impulse buy.
4. Sony Xperia Tablet Z — It's been a bumper year for tablets. Google's second generation Nexus 7 brought better specs for a similar price, Apple put the iPad on a crash diet and tacked on the Air moniker and Microsoft debuted its much-improved Surface 2. Sony's oft-underlooked Tablet Z, however, did something else. It proved that Android tablets could directly compete with Apple. Forget Samsung's cheap 'n' nasty Galaxy Tabs, the Tablet Z is thinner than the anorexic iPad Air and almost as light, features a gorgeous glass and soft-touch plastic design, is fully water- and dust-proof and has a screen that feels like holding a Sony Bravia TV in your hands. Even six months after launch, few tablets can match its blend of capabilities.
5. Nest Protect Smoke Alarm — The Nest could save your life. How's that for a tagline? It's not technically the official one, but Nest should probably consider it. It's a smoke and carbon monoxide detector that connects to your smartphone and WiFi network. When it detects rising levels of smoke or CO, the Nest lights up and a human voice tells you where and when the levels are rising as well as sounding an alarm. Burned the toast? Wave a hand in front of the Nest sensor and it silences. Have a fire in the bedroom? The Nest will tell you so that you can avoid it and evacuate the house. Leave the kids or pets at home? The Nest will alert your smartphone if there's an alarm — invaluable to worried parents and owners, and potentially a lifesaver. Not many gadgets can say that.
6. Grand Theft Auto V — GTA V is the biggest entertainment release of all time. Bigger than Hollywood, bigger than Kanye and Kanye's ego, bigger than 50 Shades, GTA V smashed records left and right when it launched in September. Deservedly so, too, as I listed it as one of the greatest games of all time in my review. A sprawling, technically brilliant and emotionally vibrant experience, it redefined open-world games for every competitor. And that's all before you touch its incredible multiplayer.
7. Nokia Lumia 1020 — Nokia tore the smartphone world apart when it debuted the 41MP, optically stabilized 1020 this year, banishing any claims that a phone would never be able to rival a dedicated camera. With a smart interface and deep manual controls, my matte yellow 1020 was capable of producing images that drew audible gasps from those that viewed them. Putting an instagram filter over the stunning photos it created felt like a cardinal sin.
8. PlayStation 4 & Xbox One — We can argue sales figures and raw power — though the PS4 wins on both counts — but really, both consoles represent a shift in gaming. They're the eighth generation of home consoles and, with their debut, set the new standard for the experiences we'll enjoy over the next seven or so years. Better graphics, deeper immersion, advanced game engines — the future for those lucky enough to snag a console before the holidays looks very rosy indeed.
9. Google Glass — It's a display and camera that you wear on your face, representing a step towards an augmented-reality future. It's a blend of fashion and tech that we've never witnessed before. It's a serious risk to personal privacy. It's a marketing ploy to get Google's name into the news. Call it what you want, but Google Glass is creating a new market and pushing new technological boundaries — it's far more interesting than anything Cupertino or Redmond are currently putting into the market. If Glass is simply Google's way of promoting the brand, I can't wait for the next wave of adverts.
10. Nexus 5 — It's been a Google-ified year, and nowhere is this more evident than the LG-made Nexus 5 smartphone, designed specifically for Google's bespoke Nexus line of devices. Created to showcase Android as Google intends it, free from bloatware and with Google's services front and center, it's a device that blends cutting-edge internals with one of the slickest software experiences of any handheld device. It's bursting with the latest smartphone tech, but the Nexus' raison d'être is it's $349 sticker price. That's an off-contract price, by the way. When its rivals sell for twice that and with Google struggling to keep up with monumental demand, the Nexus is clearly the bargain of the year.
Dishonorable Mentions
1. Nintendo 2DS — I wish I'd been sitting in the meeting that created the 2DS. "Let's take the 3DS, strip away the 3D, remove the convenient folding form-factor, give it a mono speaker, make it heavier, give it less battery life, aim it at younger players and have it cost just $40 less than the 3DS." "Genius, I love it. When can we ship it?" Didn't anyone stop and ask what the hell they were thinking? Evidently not, because the 2DS is very much a thing. Avoid this stillborn nonsense and get its sibling.
2. Blackberry 10 — Blackberry's fall from grace would be laughable were there not jobs at stake — and, indeed, many have sadly already been lost. The management seems completely out of touch with reality, trying desperately to create devices that nobody wants using an operating system that can't compete with iOS and Android. Had Blackberry sucked it up, ignored corporate ego and embraced Android a year or two ago, Blackberry could likely have capitalized on enterprise smartphone sales as well as appealing to consumers — instead, corporate cancer continues to eat away at whatever's left of the once-great smartphone maker.
3. Samsung Galaxy Gear — Answer phone calls, read emails and shoot photos and videos all from your wrist? It sounds the stuff of sci-fi dreams and futuristic cartoons. And, sadly, after Samsung's attempts with the Galaxy Gear, it seems we're still years away from a truly useful smartwatch. Undercooked, underpowered and underwhelming, the Gear failed to offer a compelling reason for looking at your wrist instead of at your phone. Add in a $300 pricetag and the fact that it can't tell the time without a smartphone connected and it's clear there are much better ways to make use of your wrist.
4. iPhone 5C — What do you get if you take an iPhone 5, strip away its beautiful, aluminum body and replace it with cheap, glossy plastic and jack the price up by $100? Why, the new, incredible iPhone 5C, that's what! Designed to be bold and colorful, to match your bold and colorful personalities, it's the perfect phone for you youthful go-getters who love to express yourselves! Well, so long as your favorite way of expressing yourself is by toting a device that is nowhere near as vibrant in color as Apple's advertising would have you believe and whose "unashamedly plastic" body feels like cheap rubber in the hand. Leave beautiful, colorful polycarbonate bodies to Nokia, please, Apple — the iPhone 5C is a nasty imitation.
5. Healthcare.gov — Really, has there been a more ubiquitous — for all the wrong reasons — launch than that of the government's Healthcare.gov insurance website? Overshadowing even Samsung and Apple's launches, who normally dominate either end of the year, Healthcare.gov was a painful exercise in the quagmire of software testing and website development. Both sides engaged in petty name-calling and finger-pointing as the populace struggled to use a website they were legally required to engage with. With a Dec. 23 enrollment deadline looming, Obama's job approval plummeting and meetings still occurring as officials try to fix the buggy mess, it remains to be seen whether Healthcare.gov will ever live up to its lofty ambitions.