MAY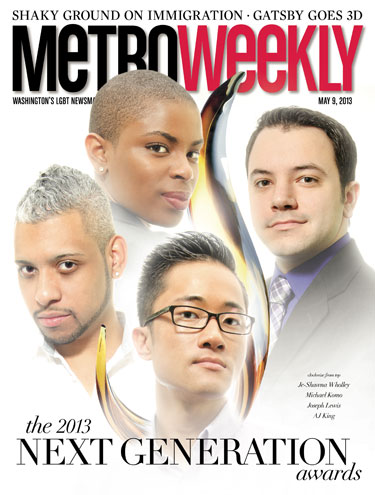 2013 Next Generation Awards cover
Come May, it was like January all over again, but with much nicer weather. The forecast was for nothing but rainbows as Rhode Island got the ball rolling May 2 as Gov. Lincoln Chafee (I) signed marriage equality into law, making Rhode Island the 10th state — along with D.C. — to join the cool kids, with the law taking effect Aug. 1. The Atlantic tide continued with Delaware Gov. Jack Markell (D) signing his seaside state's marriage-equality law May 7, effective July 1. Even Midwestern Minnesota got in on the act with Gov. Mark Dayton (D) signing his state's law May 14, effective Aug. 1.
Some institutions also took some big steps into the 21st century. The pioneering Peace Corps announced May 21 that it would begin allowing same-sex couples to serve together, as it has allowed married opposite-sex couples. "I am proud that the agency is taking this important step forward to allow same-sex domestic partners to serve overseas together," said the corps' Carrie Hessler-Radelet, at the time deputy director, now acting director. Two days later, even the Boy Scouts of America made room for a timely move with an easy majority of the BSA's 1,400 councilmembers voting to allow gay youth to participate. According to the resolution passed in Dallas, effective Jan. 1, 2014, "No youth may be denied membership in the Boy Scouts of America on the basis of sexual orientation or preference alone." As for adults, the ban remains.
There was still more to celebrate in May as Metro Weekly named its four Next Generation awardees: AJ King, Michael Komo, Joseph Lewis and Je-Shawna Wholley. Capital Pride named its 2013 Heroes: Ed Bailey of Town Dancboutique and Number Nine lounge; Barbara Lewis of Whitman-Walker Health; Darren Phelps of Bethel Christian Church D.C.; Maryland state Sen. Jamie Raskin; and Margot Rosen of the Human Rights Campaign. Capital Pride also honored Consuella Lopez for work in the city's Transgender and Gender Identity Respect campaign, Hassan Naveed of Gays and Lesbians Opposing Violence, longtime volunteer Jennifer Hall, and Dignity/Washington.
Of course, May couldn't wrap up properly without a D.C. Black Pride celebration during the Memorial Day weekend. In 2013, the 23rd annual event honored Mayor Vincent Gray, Imani Woody, Courtney Williams, Theara Coleman, Christopher Watson and Donald Burch.