JUNE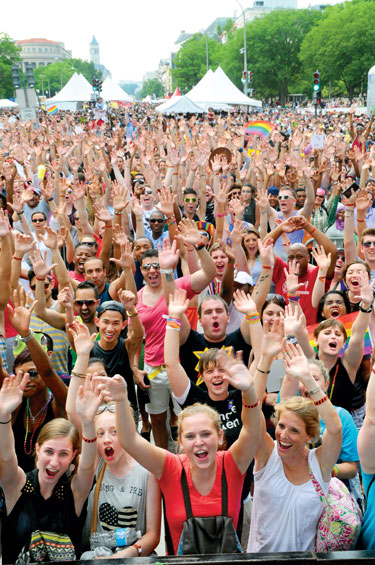 Capital Pride Festival
(Photo by Ward Morrison)
The biggest month on the LGBT calendar arguably outdid itself in 2013, thanks to the Supreme Court's ruling that Section 3 of the Defense of Marriage Act (DOMA) – that weighty bit that blocked the federal government from recognizing legal same-sex marriages – was unconstitutional, affecting everything from immigration to Army bases. And return marriage equality to California? What a great month!
Between the court and the Capital Pride Parade and Festival, June may have seemed like 30 days of bliss. Nothing, however, is ever that cut and dry. Following France's first official same-sex marriage in May, anti-equality protests continued through June. On June 6, A.J. Williams, who appeared as a Metro Weekly Coverboy in February, was killed in a car crash. An unnamed transgender woman survived being shot June 27 in Northeast D.C. On June 21, another transgender woman survived being stabbed 35 to 40 times in Southeast D.C. In October, Michael McBride pleaded guilty to a charge of aggravated assault while armed in that attack. Drag entertainer Miles DeNiro, who performs as Heidi Glüm, was attacked early June 23 at a 14th Street NW takeout spot following a performance at Black Cat in an incident recorded by an onlooker and which shortly after went viral. And Ali M. Jackson, chief assailant in a knife attack on a gay teen outside the Howard Theatre a year earlier, was sentenced June 28 to serve eight years for assault with intent to kill.
And on June 11, the members of the Russian Duma unanimously passed the now-infamous law banning "propaganda of non-traditional sexual relations" as gay-rights activists were attacked outside the legislative building. Russian President Vladimir Putin signed the measure June 30.