After nearly 26 years at its current location, The DC Eagle, D.C.'s main bar catering to the leather/Levi crowd, will close its doors. According to co-owner Ted Clements, the bar will cease to operate at 639 New York Ave. NW on Sunday, Dec. 29.
[UPDATE, Monday, Dec. 16, 1:57 p.m.: Peter Lloyd, a DC Eagle co-owner, reports that the venue's landlord, Douglas Development Corp., today granted an extension of the lease through Jan. 31. While the DC Eagle may not remain open through the entirety of that extension, Lloyd confirms that the bar will be open during the Mid-Atlantic Leather Weekend, Jan. 17 to 20.]
Now in its third reincarnation since first opening in 1971 on 9th Street NW, the DC Eagle will move again to a place in the District, says Clements. But although there is a particular address in mind for the Eagle's fourth roost — made known to a small group of people at the Eagle's 42nd anniversary party — Clements is hesitant to share it, preferring to consult with affected Advisory Neighborhood Commissions before going fully public.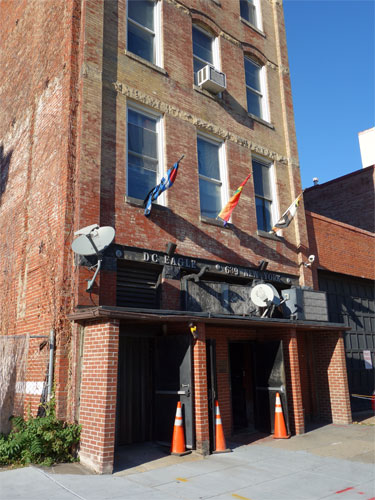 DC Eagle
(Photo by Todd Franson)
"We submitted our ABRA license application," Clements confirms. "But I haven't signed anything. We still don't own it."
The move means the DC Eagle won't be open for a period including the Centaur Motorcycle Club's upcoming Mid-Atlantic Leather Weekend (MAL), Jan. 17 to 20. But Clements hopes to be fully operational in the new space by August. And that new space, larger than current venue, may also offer a restaurant, a separate smoking bar, and a dance floor.
Clements is also trying to get an entertainment endorsement that would allow the bar to play host to musical guests, pageants, and similar events, as well as a patio with outdoor seating.
In the meantime, the Eagle will hold "pop-up parties" in different locations throughout the city, including one during MAL. During the downtime, several leather/Levi clubs and Eagle-based events will need to find alternate venues.
One such event, Otter Crossing, held monthly on the first Friday, hosted its final party in the current venue Dec. 6. David Brown, Otter Crossing organizer, says his party will move to the Green Lantern, near Thomas Circle. He stresses, however, that he hopes to maintain a relationship with the DC Eagle for other events in the future.
"The crowd at Otter Crossing is very fluid," says Brown. "Some of it is people coming from Bear Happy Hour, some are coming from elsewhere. But the Green Lantern has a little bit of the same feel as at the Eagle. It also has longstanding ties to the community, and a history of serving a broad range of clientele, so it's really the perfect place to hold it."
Todd White, president of Centaur MC, says many of the motorcycle clubs like the Centaurs who make the DC Eagle their "home bar" will likely frequent the Green Lantern, considered the backup leather/Levi bar by many of club members. He also foresees the Centaurs and others holding "bar invasions" — visiting a gay venue en masse that is usually not associated with the leather community, dressed in full gear — which he says may raise the clubs' profiles and help with recruiting.
"You pick a bar you wouldn't normally go to," White explains. "Sometimes you don't fit the dress code and stand out. But that's the point: to be seen, to show that [the leather clubs are] a facet of the LGBT community as well."
"It's sort of an exciting time, because it's going to force the leather community to branch out," White continues. "When our club goes out to a venue, we can educate people and show them leather's not 'scary.'"
White says the transition may also prompt less orchestrated outings, with leather enthusiasts also having a greater presence at "bear" events, for instance.
"The unique thing that separates D.C. from other cities is that the leather and bear communities already often interact with each other," says White, noting that the Centaurs are also trying to plan something in conjunction with Town Danceboutique's Friday Bear Happy Hours.
"The point is we're going to find something to do," White promises. "We're not going to hibernate.