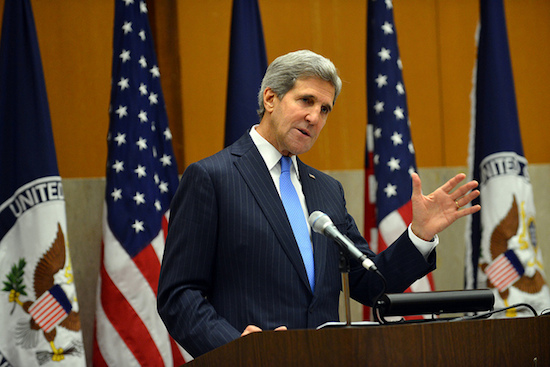 The U.S. State Department criticized a decision by the Supreme Court of India re-criminalizing homosexual conduct yesterday, but gave few hints as to how the decision could impact relations between the world's two largest and oldest democracies.
Speaking to reporters Wednesday, State Department spokesperson Jen Psaki reiterated the Obama administration's commitment to LGBT rights abroad, but offered no specifics on steps the U.S. could take against the court ruling in India.
"The United States places great importance on the protection of human rights and fundamental freedoms of all people. And as you saw and as you referenced in the Secretary's statement yesterday, that includes lesbian, gay, bisexual, and transgender persons around the world," Psaki said, referencing a statement released by Secretary of State John Kerry marking Human Rights Day. "We oppose any action that criminalizes consensual same-sex conduct between adults. LGBT rights are human rights. That's something you've heard Secretary Kerry say, I believe Secretary Clinton say before him, and we call on all governments to advance equality for LGBT individuals around the world."
The Indian Supreme Court ruled Wednesday that only lawmakers could overturn the country's law outlawing gay sex, which dates back to the 1860s. That law, a remnant of British colonial rule over South Asia, states that "whoever voluntarily has carnal intercourse against the order of nature with any man, woman or animal" can face up to 10 years in prison. Although the law was declared a violation of basic human rights by the New Delhi High Court in 2009, the two-judge panel issuing yesterday's decision ruled the law can only be overturned through legislation.
"Any action that criminalizes consensual same-sex conduct between adults that doesn't recognize that fundamental freedoms of people include their right to sexual orientation – those are issues that we certainly would be concerned about, as we are here," Psaki said, adding that the State Department is in regular communication with India on a variety of issues.
Yesterday's ruling makes India the 77th country to criminalize homosexuality and comes as LGBT-rights groups are in the midst of a campaign against a recently enacted anti-LGBT law in Russia in the lead-up to the Sochi Winter Olympics.
"It is incomprehensible that a court of law would take the side of discrimination against LGBT citizens," said Human Rights Campaign Vice President and Chief Foundation Officer Jeff Krehely in a statement. "Criminalizing LGBT relationships leads to dangerous situations, not just for committed couples, but also for LGBT youth, who today received a deeply harmful message that they are less than equal. We call on fair-minded people around the world to show solidarity with India's LGBT community at this critical moment."
According to the Associated Press, India's law minister, Kapil Sibal, said "quick and firm action" must be taken to challenge the Supreme Court decision. While those efforts continue in India, Psaki said there are few options the State Department can take other than continuing to express U.S. support for LGBT rights.
"That's a decision that the Indian Government would make," Psaki said of overturning the ruling. "We obviously don't make decisions on behalf of other governments and their legislation. So I expressed our deep concern about any efforts around the world to not recognize that LGBT rights are human rights, and that's a message we'll continue to convey."
[Photo: John Kerry. Credit: U.S. State Department.]