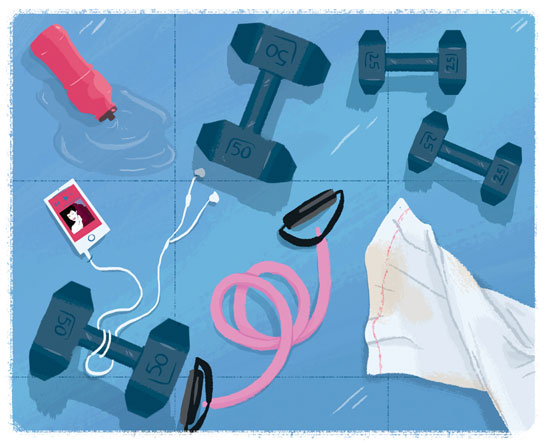 Lose weight. Save money. These are the most popular New Year's resolutions. And, amusingly enough, a gym membership doesn't accomplish either. That doesn't stop herds of new members from flocking to the gym in hopes of ridding themselves of the pounds they gained throughout the holiday season. There are, however, five simple steps you can take to ensure you fit in perfectly fine at your new gym.
1. Re-rack your weights. Walking into a gym on New Year's Day — and for several weeks after — can be an interesting experience. It's always a mess. Weights are left on bars, dumbbells placed in the wrong slots, bands and mats strewn around the gym floor like a child's forgotten toys a week after Christmas. The golden rule applies fully in this situation. I, for one, cannot stand having to take someone else's weights off the bar before I can put mine on. It's frustrating and takes the edge of your first set. Simply putting your weights back in the correct place not only earns respect from fellow gymgoers, but also sets an example for other newbies.
2. Let other people work in. You're not the only one that signed up for that killer "no money down, cheap monthly rate" plan. The gym will be packed — it always is — and machines will be in high demand. There is always a rest between sets, and that's the perfect time to show a bit of compassion. Let the next guy or gal in line work in a few reps. Most machines change weights quickly, and working through the people quickly can help everyone on with their days.
3. Lean on the trainers. Personal trainers are not something I would always recommend, granted. There is not a very rigorous training regimen involved in becoming certified, and those who don't do a lot of homework on their own can fall behind rather quickly in the health industry. In the case of new members, however, they can give you some valuable information on how to use certain machines and what they target. It will also help with your confidence around the gym later on.
4. Watch the olfactory warfare. This does not mean what you think it does. There are some people I want to hose down in the gym, don't get me wrong, but I expect that when moving through a room of 30 sweaty people. The real problem isn't any sweat stink — it's those who try to mask it with copious amounts of cologne. I get it, I really do, and can almost appreciate it. But none of your fellow gym-goers wants to be slapped in the face with the latest Gucci or Ralph Lauren fragrances. Switch those for basic deodorants that simply smell clean. You'll draw no ire for those.
5. Don't be afraid to talk. To this day I still struggle with this. Up until I met some people I was completely comfortable with outside the gym, I couldn't stand working out with other people or talking to other gym-goers. Now that I have some friends who enjoy going just as much as I do, I'm much more motivated. I took the long way around to this solution, but I'm giving you a shortcut. If you don't have any friends that like the gym setting, make some in the most obvious place: the gym. Say hello to people you see regularly. Ask for advice on certain things you see them doing, or inquire about their routines. If you really want to start diving into some in-depth discussion, ask about meals plans and supplements. Do be aware of those who don't like the socializing — you'll usually see them dressed like me (a hoodie and headphones). Don't be afraid to say hello and get to know others.
Image: "Messy Gym by Christopher Cunetto