"For a long time," Ramien Pierre says, "I would surreptitiously look at leather images, watch leather porn and follow it on the Internet." In other words, he enjoyed leather — but only at what he considered a safe remove. "I think I had the same misconceptions that a lot of folks outside the community have: that it's full of people who are frightening, scary, want to hurt you or be hurt, who are into pain and sex."
In fact it was only five years ago that the "very proud 43-year old" shook off those long-held misconceptions. That was when, as he colorfully puts it, "I put on my big-boy pants and walked in the door." It was the D.C. resident's very first leather anything, and it happened to be Mid-Atlantic Leather Weekend 2009. You know, that wild and crazy time when the country's second-largest leather and fetish event coincided with the first Obama inauguration, leaving most of D.C. overjoyed and over-stimulated.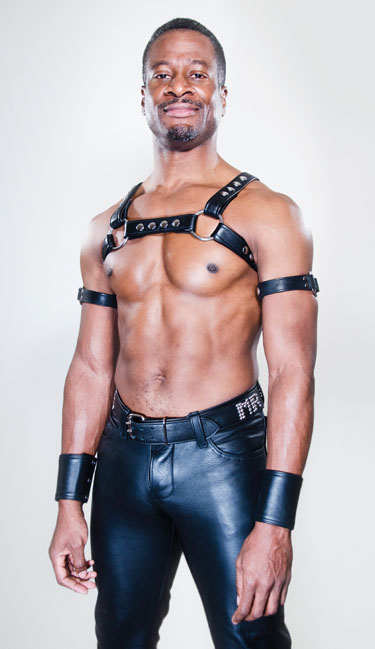 Ramien Pierre
(Photo by Julian Vankim)
"It was an incredibly overwhelming experience," Pierre recalls. "It was wonderful and frightening and sexy." Yes, frightening, though not enough to scare away Pierre, who has since become a member of the leather club Onyx and is now even a leather titleholder: Mr. DC Eagle 2014. "Maybe sometimes they are scary," Pierre laughs about his leather brothers and sisters. "But most times they're just passionate, lovable people. I have found that this is a community of really warm, caring people who are very civic-minded, really smart and funny."
Certainly that description fits Pierre. Raised as an only child in a single-parent home in West Chester, Pa., about 35 minutes west of Philadelphia, Pierre excelled in school. He latched on early to the idea that education was a tool he could use to advance a cause or community, not just for his own self-promotion. "I like learning stuff that I think I can use to help other people. I'm a helper at heart," says Pierre, who has three education-focused college degrees, all from prestigious universities, and is currently working on a doctorate from the George Washington University. A former schoolteacher, Pierre now works to organize training for a government agency. "I've slowly transitioned from working with young people exclusively to working with adults."
In recent years, Pierre has realized he has many kindred spirits all around him. "There are a lot of helpers — and a lot of huggers — in the leather community." As Mr. DC Eagle 2014, Pierre has set as one of his goals helping raise money and awareness for two charities on opposite ends of the age spectrum: the LGBT youth-focused charity SMYAL (Supporting and Mentoring Youth Advocates and Leaders) and the LGBT elder-oriented SAGE. "I think the primary purpose of a community is to take care of its juniors and its elders," he says.
Naturally, with the DC Eagle about to lose its current location and facing an uncertain future — at best, a six-month wait for a new roost — much of Pierre's work as Mr. DC Eagle 2014 will be helping with outreach and visibility on behalf of the bar. But Pierre also sees his role a bit more broadly, as one of an ambassador. So in addition to "just sort of getting and keeping the DC Eagle name out there," Pierre will also try to reach some of those people who, like him, might have otherwise found a community — and a calling — sooner.
"I really want to work to try and make leather and the leather community," says Pierre, "as accessible to those outside the community as possible."