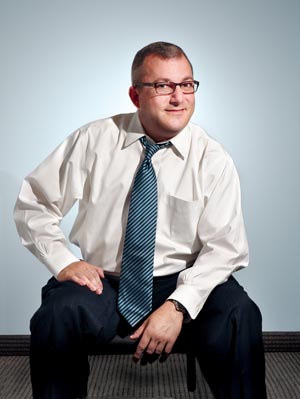 State Sen. Adam Ebbin (D-Alexandria, Arlington, Fairfax counties), Virginia's first and only out gay General Assembly lawmaker, announced Thursday that he has filed paperwork to start campaigning for the Democratic nomination to succeed U.S. Rep. Jim Moran (D-Va.) as the congressman for the state's 8th Congressional District. The primary is scheduled for June 10.
As a member of the House of Delegates beginning in 2004 and a senator since 2012, Ebbin has represented a large portion of the congressional district, which stretches along the Potomac River from McLean down to Fort Belvoir. But Moran's retirement has opened the proverbial floodgates, meaning that Ebbin will face a competitive primary against many of his fellow lawmakers, including Del. Charniele Herring (D-Alexandria), Del. Patrick Hope (D-Arlington Co.) and Del. Mark Sickles (D-Fairfax Co.). Lt. Gov. Don Beyer has also announced his intention to file papers seeking the Democratic nomination, and other local politicos are expected to jump in the race. Another potential candidate is gay public relations executive Bob Witeck, who has said he is weighing whether to enter the race.
"For 23 years, Jim Moran has stood for the progressive values of the people of Northern Virginia," Ebbin said in a statement. "I am proud to have been represented by him in Congress and to have represented him in Richmond."
During his time in the General Assembly, Ebbin has established a reputation as a point person for liberal-leaning groups, earning the support and endorsement of many issue groups for his stances. In announcing his candidacy, he highlighted some of those more progressive policies. Because voters in the 8th District cast their ballots for President Obama by a nearly 2-1 margin, the winner of the Democratic primary is highly favored to win the seat in the November general election.
"Today, I am excited to announce that I will be running to succeed Congressman Moran," Ebbin said in a statement. "For over a decade in Richmond, I've been a strong voice for progressive values who's gotten results. I've fought to end human trafficking, to strengthen protections for seniors and the disabled, to ensure LGBT equality and to expand Medicaid in Virginia."
[Photo: State Sen. Adam Ebbin.]