"Over the holidays, my family and I all got 'onesies,"' Doug Schantz shares. It wasn't long before the owner of Nellie's got the notion he wanted to wear his one-piece cotton outfit everywhere — or at least everywhere in his U Street venue, known for its laidback vibe and easy eats.
"When you wear a onesie you're clearly in a comfort zone," Schantz says. And what could be more comfy than cheap booze and comfort food, from mac and cheese to meatloaf sliders? This Thursday, Jan. 9, Nellie's will reward those who join Schantz in comfy costume — be it traditional long underwear or union suit, military-style jumpsuit or something as frilly as Schantz's sock-monkey onesie — with a menu of $5 comfort food goodies and $1 drinks, be it "$1sie Nellie Beer" or "$1sie comfy shots."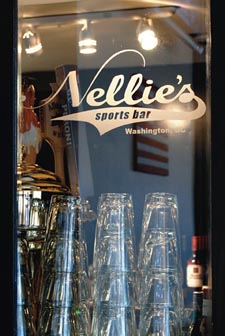 File photo/Todd Franson
But Nellie's isn't the only place encouraging patrons to don a onesie this weekend. Three days later comes Sunday Oneday: A Onesie Party at Number Nine. "We wanted to have an event with a bunch of people in Onesies, who come out drinking, listening to some music by the fireplace at Number Nine," says Number Nine's Aaron Riggins. Those who do so during the party's first hour, starting at 4 p.m., will be rewarded with $1 rail cocktails.
In fact, Riggins planned the Number Nine party to coincide with his inaugural Fantasy Brunch, a guerilla-style affair that will see a group of his friends — and anyone else who wants to join — dining in one-piece outfits at Commissary Sunday, Jan. 12, at 12:30 p.m.
What is it about onesies sparking new interest? Schantz plays up the wintertime comfy aspect to what is, essentially, a pair of pajamas. "It's freezing out, you've gained 10 pounds, and they're like a sleeping bag," Schantz says. "You could just fall over and fall right to sleep." Technically, while brave patrons can stroll right into Nellie's wearing nothing but a onesie Thursday, they can't sleep at the bar. Onesie-wearers will have to find somewhere else for a one-night stand after Nellie's closes.
"I think onesies are fun," adds Riggins. "They can be a little sexy. I think we all like the visual of a bunch of people standing around in onesies." Both Nellie's and Number Nine are intentionally leaving the definition a little loose. If patrons show up in onesies deemed too skimpy, according to Schantz, "We'll cross that bridge" — or, if you will, cover that body part — "when we come to it."
"I'm curious to see how people interpret 'onesies,"' says Riggins. A wrestling singlet would be fine, he says, even a "Snuggie" could work — so long as "you put a belt on it. It's got to look like a onesie."
The Onesie Party is Thursday, Jan. 6, starting at 5 p.m., at Nellie's Sports Bar, 900 U St. NW. Call 202-332-NELL or visit nelliessportsbar.com.
The Sunday Oneday: A Onesie Party is Sunday, Jan. 9, starting at 4 p.m., at Number Nine, 1435 P St. NW. Call 202-986-0999 or visit NumberNineDC.com.
Check out the photos from Number Nine: