Did Rich Morel and Bob Mould come to blows a few months back? Is that why the Blowoff this Saturday, Jan. 18, is the last one?
"There's no dirt. There's no feud or anything like that," Morel says, laughing at the mere thought. Seconds Mould: "It was so great to have 11 years without any kind of drama, so to speak."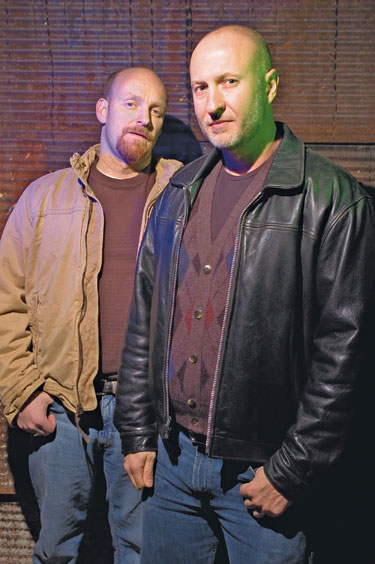 Rich Morel and Bob Mould
(Photo by Todd Franson)
And what an 11 years it was. What started as a small weekly gathering at Velvet Lounge of a few dozen friends and friends of friends, many of them bearded and burly, blew up to a regular dance party at the 9:30 Club and various other hotspots around the country, from New York to San Francisco to Provincetown, Mass. You could call Blowoff the original bear dance party: Among its other successes, the party proved the concept worked, inspiring others to start regular bear dance parties, including several in D.C., at the Green Lantern and Cobalt. Not to mention regular big events catering to the same crowd, such as the runaway success of DC Bear Crue's weekly Friday Bear Happy Hour at Town.
Of course, Morel and Mould have never called Blowoff a bear dance party. "That was never our intent. That's the funny part," Morel says. "We just wanted to have a party, to get together and meet people and play music we like." Even on that more basic level, the two succeeded beyond anything they could have dreamed. "Nobody could have predicted it," Mould says. "It's just one of those things where everything lines up to create something, and then it takes on this life of its own." Both Mould and Morel are quick to give credit to others who helped make the party so successful, most immediately the quirky lighting and visual designs by Nick Lopata and sexy promotional artwork by Linas Garsys. "Everybody collectively helped move the bear ball forward, so to speak," Mould says.
After this Saturday's Blowoff, Mould, who moved to San Francisco a few years ago, will focus most of his time on a 25th anniversary reissue of his debut solo album Workbook and a tour in support. Morel will continue his increasingly busy schedule with his D.C.-based alt-rock band Deathfix, currently touring the West Coast. In fact, Morel will fly home Saturday for Blowoff then fly right back to California Sunday. And it is the duo's increasingly hectic individual work schedules that have provoked this moment in time.
"We just thought this would be a good time to take a break and focus on our other careers," as Morel puts it. That's right, he only called it a break: Both Morel and Mould stop short of calling this the end of the party. "Never say never," Mould says. "But right now, probably nothing in the future."
So for now, Blowoff will go out in the same place where — and when — it first officially blew up and became a true dance party eight years ago: the main floor at the 9:30 Club, the Saturday of Mid-Atlantic Leather Weekend.
"We really wanted to do MAL," Morel says, "because that's always been a big night for us, and it's been a lot of fun."
Blowoff is this Saturday, Jan. 18. Doors at 11:30 p.m. Nightclub 9:30, 815 V St. NW. Tickets are $12. Call 202-265-0930 or visit 930.com or blowoff.us.