Last year it was Dreamgirls. The year before, Hairspray. And now Signature Theatre has staged another holiday season treat, what you might call the mother of them all, Gypsy. All three shows are quintessential American musicals, exploring aspects of mass-produced American culture and entertainment. Gypsy, of course, covers the most ground, from the peak and decline of vaudeville to the rise and enduring popularity of more risqué entertainment forms, such as burlesque. The Arthur Laurents-Jule Styne musical is chiefly inspired by the life of striptease artist Gypsy Rose Lee, with a special focus on her overbearing mother, Mama Rose, who pushed her two daughters June and Louise to be the stars she never was.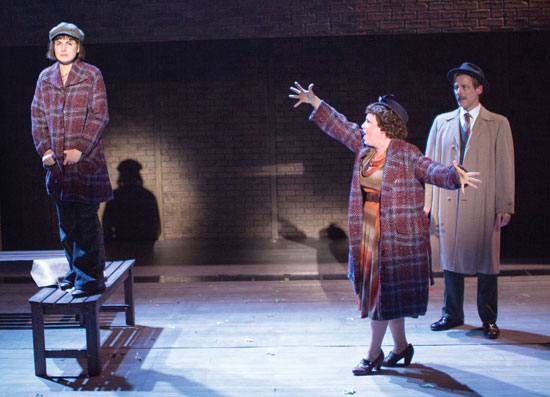 Gypsy: Maria Rizzo, Sherri L. Edelen and Mitchell Hebert
(Photo by Teresa Wood)
For the role of domineering Rose, director Joe Calarco tapped Sherri L. Edelen, who remains the company's greatest performing arsenal. Though not exactly a surprise to anyone who's seen Edelen successfully take on other iconic musical roles — from hit musicals as varied as Sweeney Todd and Les Misérables — her success as Rose was not a foregone conclusion. At least not for those who have seen or heard at least several of the greats who have tackled the complex character of Rose — from Ethel Merman, the woman for whom the part was written, to Bernadette Peters and Patti LuPone, the stars of the two most recent Broadway revivals. There was also Angela Lansbury and Tyne Daly, as well as Rosalind Russell and Bette Midler in filmed versions. Edelen, really and truly, puts her own stamp on the role. From the get-go she's overbearing and you don't much like her, but as the show progresses, you begin to feel for her and see her side of the story. By the time you get to her feverish soliloquy "Rose's Turn," you totally feel her pain as the slighted mother.
That final number wouldn't be nearly as breathtaking in lesser hands, to be sure. Every night Edelen as Rose has a nervous breakdown during the song, and the actress portrays it with such raw intensity, even if you know the score by heart you're still on edge wondering if she'll pull it back together by song's end. And yet, the song is breathtaking as written, as the music shifts quickly and falls apart, with the mood going from a state of sheer bombast to becoming sullen, even scared. Jule Styne wrote several great, amusing songs for Gypsy — "Some People," "Let Me Entertain You," "Together Wherever We Go" among them — which are further enhanced by the dexterous lyrics of Stephen Sondheim.
GYPSY





To Jan. 26
Signature Theatre
4200 Campbell Ave.
Arlington
$40 to $87
703-820-9771
www.signature-theatre.org
It's hard to find flaws in this musical, which offers something for everyone — from silly and sexy entertainment to a touching family drama. Sure, maybe Arthur Laurents could have slightly streamlined his book for Act 1, which lingers in the vaudeville fairground a bit too long. The rather bland numbers toward the end of the first act don't add much to the show, either. But it's hard to imagine anyone leaving any production of Gypsy in any way bored, disappointed or unmoved. And certainly Signature has done everything right here, from James Kronzer's adaptable stage to Frank Labovitz's all-over-the-map costumes to Karma Camp's showy choreography. It's not even quite fair to single out Edelen among the cast, which is superb all around. Among the highlights: Maria Rizzo as Louise and the three "You Gotta Get a Gimmick" girls played by Signature vets Donna Migliaccio, Tracy Lynn Olivera and Sandy Bainum. And through it all Jon Kalbfleisch leads a 10-piece Signature orchestra, which at times sounds twice its size swinging through Styne's sharp, brassy score.