Ryan Rose started his career as a porn actor a bit over two years ago, when faced with unexpected unemployment.
"When the company I was working for closed their doors suddenly, overnight, I didn't have very many other options, especially in this struggling economy," he says.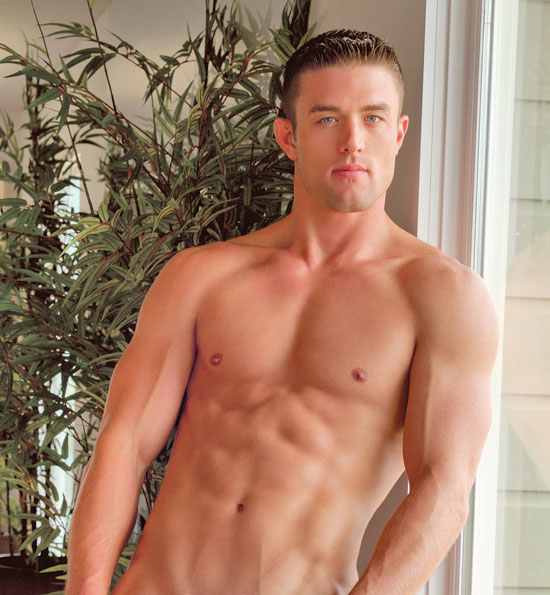 Ryan Rose
(Photo by courtesy Falcon Studios)
Would you believe that bankrupt company was in the residential construction business — and that Rose was a real-life construction worker? Chicago-reared Rose had moved to Southwest Florida for the job, "an on-site supervisor in residential construction." Rose has not yet appeared in a porn with a construction theme, "but I wouldn't be opposed to that."
Certainly, that's not the only hot scenario from Rose's résumé ripe for shooting.
"I'm a former Marine and I wouldn't mind having sex in that uniform," he laughs. While enlisted, Rose was even stationed for a couple years at Washington's Marine Barracks. Most of his friends from those days no longer live in the area, and of course any that still do won't know him as Ryan Rose, the porn pseudonym he chose in part as a tribute to Derek Rose of the Chicago Bulls. Rose played football during the brief time he attended college. "It really just wasn't for me," he says, "so I left college and joined the Marines to try and get some discipline and structure in my life."
This Saturday, Jan. 25, Rose returns to Washington, this time as an in-demand porn star making his Town Danceboutique debut. At Town, Rose expects "to be dancing a couple sets, signing autographs, taking pictures, mingling with the crowd. Just having a good time."
Rose got his start with the Sean Cody brand, but now is an exclusive with Falcon Studios, which celebrated Rose as its "2013 Man of the Year." The 28-year-old, who films a couple scenes a month on average, is tall, smooth, hung, sexually versatile — and yes, gay. "I've been out for a while now, since I was like 19."
His parents have even mustered some tepid support for his porn career. "At first it was kind of rough — they thought I was in the hotel, sucking off camera guys and stuff," he says. "But once they realized it's not like that, and I'm safe, they kind of eased into it a little bit more." When asked if he has similar support from a boyfriend, Rose declines: "I don't have any comment on that one."
Ryan Rose performs Saturday, Jan. 25, after 10 p.m., at Town Danceboutique, 2009 8th NW. Cover is $8 before 11 p.m., or $12 after. Call 202-234-TOWN or visit towndc.com.