In The Devil Wears Prada, Miranda Priestly is quick to correct Emily No. 2 when she dared to say she did not care about fashion. She traced the color of her frumpy cerulean sweater from catwalk to clearance rack to explain why Emily No. 2 was wearing it. Once and for all, she set the record straight on the cultural significance of fashion from the point of view of the trickle-down theory.
My goal is to explain in less than 600 words, why this Devil believes the Capital Area Gay and Lesbian Chamber of Commerce, aka The Chamber, is relevant to everyone in the LGBTA community.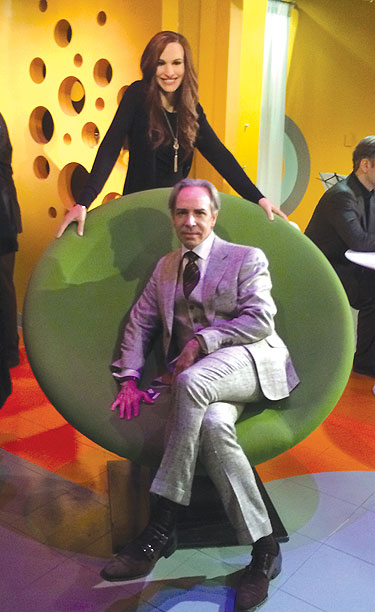 (Photo courtesy Ernesto Santalla)
THE POWER OF CHOICE
There are businesses and there are consumers. One group exists by virtue of the other. It is extremely rare there would be only one source for a product or a service, so we have choices. That means we decide where to spend our money. The Chamber's mission is to advocate, promote and facilitate the success of LGBTA businesses in the metro D.C. region.
THE INDIVIDUAL IS THE FOCUS
To facilitate commerce, The Chamber connects businesses to businesses, and businesses to individuals. Every month, The Chamber hosts networking events members and non-members may attend. These events are attended by business owners and individuals representing their companies, as well as those looking for new opportunities. In fact, people who attend Chamber events range from college students to people with established careers and businesses.
LEARN SOMETHING NEW
To learn how to ride a bike, you have to get on the seat. To network, you have to attend events regularly. In business, you need to be an expert in your industry, but you also have to understand insurance, taxation, hiring practices, and much more. As an employee, it's all about what you bring to your company, and acquiring new skills improves an individual's chances for advancement. Every week, The Chamber offers opportunities for personal and business growth.
GET INVOLVED
The Chamber provides a platform for community service. Our events and programs rely heavily on the hard work of volunteers. To produce more than 100 events a year, thousands of hours are given by individuals like you and me to bring them to fruition. Involvement occurs at many levels ranging from helping for a couple hours at an event, to joining a committee, to being on the board of directors where someday you could be president.
Contrary to Runway, The Chamber is not a place where you have to conform to a stereotype to fit in, even though we have clothiers, hair stylists, plastic surgeons, nutritionists and fitness experts to help you craft your perfect look. We also have IT experts, physicians, architects, bankers, printers, accountants, attorneys, Realtors, event planners, financial planners, travel agents, photographers, graphic designers, interior designers, marketing and public-relations experts, writers, caterers and a film producer. In other words, individuals and companies involved in The Chamber are a cross-section of the LGBTA community in the Washington metro region.
What Miranda Priestly lacks in tact, she makes up with in style. She is emblematic of the need to reinvent oneself constantly to stay ahead of the curve. She claims to have made many a career, which is another thing she and The Chamber have in common, helping others get ahead in business.
The Chamber Means Business. For more information visit caglcc.org or facebook.com/CAGLCC. On Twitter, follow @DCLGBTBIZ
Ernesto Santalla, CAGLCC president, is an architect/interior designer at Studio Santalla Inc. and an unintentional fashionista.