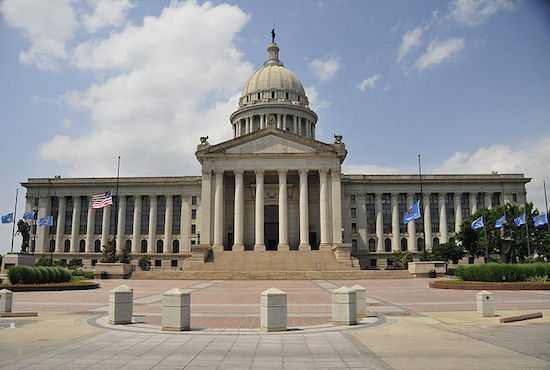 Oklahoma's ban on same-sex marriage was declared unconstitutional by a federal judge Tuesday.
"The Court holds that Oklahoma's constitutional amendment limiting marriage to opposite-sex couples violates the Equal Protection Clause of the Fourteenth Amendment to the U.S. Constitution," ruled U.S. District Court Judge Terence Kern.
Despite the ruling, same-sex marriages will not immediately go into effect in Oklahoma. Although Kern found Oklahoma's ban on same-sex marriage in violation of the U.S. Constitution, he stayed his decision in light of developments in Utah.
"In accordance with the U.S. Supreme Court's issuance of a stay in a nearly identical case on appeal from the District Court of Utah to the Tenth Circuit Court of Appeals," Kern wrote, "the Court stays execution of this injunction pending the final disposition of any appeal to the Tenth Circuit Court of Appeals."
An appeal in the Oklahoma case would go to the 10th Circuit Court of Appeals, which is also considering the appeal of a federal court's ruling declaring Utah's same-sex marriage ban unconstitutional.
The case was first filed by two same-sex couples in November 2004 after 75 percent of Oklahoma voters approved a constitutional amendment defining marriage as between a man and a woman. Portions of the case that originally challenged the Defense of Marriage Act were found to be moot by Kern in light of the Supreme Court's June 2013 ruling striking down Section 3 of DOMA.
According to Human Rights Campaign President Chad Griffin, "Judge Kern has come to the conclusion that so many have before him – that the fundamental equality of lesbian and gay couples is guaranteed by the United States Constitution. With last year's historic victories at the Supreme Court guiding the way, it is clear that we are on a path to full and equal citizenship for all lesbian, gay, bisexual and transgender Americans."
[Photo: Oklahoma State Capitol. Credit: Serge Melki/Wikimedia Commons.]