With my last column of 2013 dedicated to my holiday wishes, the first column of 2014 should obviously be dedicated to predictions.
First up in my crystal ball is a foreseen blend of entertainment and technology. Janelle Monáe has been telling us for years she's an android. In 2014, she'll come out as a lesbian, to boot. A perfect mix of taste and technology. You may remember that Family Guy tried to tell the world in 2009's episode "Hannah Banana" that Miley Cyrus is also an android — but more an alpha-testing model, relative to Monáe's super-sophisticated ArchAndroid/Cindi Mayweather. So, when Monáe comes out as a Covergirl for the ladies, Cyrus will try to again reprogram herself to keep up, announcing a new career direction that moves from "just feels black" to "just feels lesbian-y," spending the remainder of 2014 back in jeans and hi-tops and doing Indigo Girls covers at Olivia events.
Sports will blend with politics as all eyes turn to Sochi and the Winter Olympics. As a visiting U.S. delegate, Billie Jean King will challenge Vladimir Putin to a judo match, his favored combat sport. In 1973 "Battle of the Sexes" style, she will clean his clock. Putin's televised tears will leave his "macho" persona in shambles. King's shout to the crowd as she stands over the weeping president — "You're next, skater boy!" — will land Johnny "I don't pretend to get Russian politics" Weir in protective custody.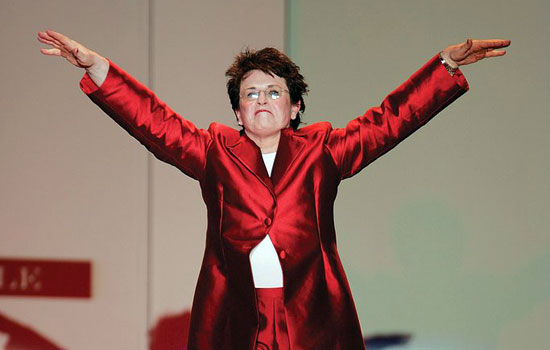 Billie Jean King
(Photo courtesy The Heart Truth)
Politics and economics will also make cozy bedfellows in 2014 as buff Rep. Aaron Schock (R-Ill.) opens a high-end retailer, Het'roMetro. Amid the cute socks and skinny jeans, Schock will cash in on all that coy "Is he or isn't he?" cachet, with dressing rooms dubbed "changing closets," complete with gag glory holes.
Speaking of skinny jeans, the Kardashians will bypass politics to mix money with health. In their case, the family that mastered the art of artifice will brand an engineered variant of HIV to deliver guaranteed weight loss under the tagline, "Get wasted! But just a little." The follow-up, lifelong maintenance cocktail will arrive monthly in coordinated clutches, everything from faux leopard to genuine baby seal (Kim's choice, not Khloe's), to go with that bikini-ready HIVixen look. As a result, the Kardashians will turn HIV stigma on its head, leaving only those plus-sizes not committed to an HIV infection and body dysmporphia feeling the prick of stigma. But there will still be no stigma pricking at those famous for nothing more than being famous.
When it comes to religion in 2014, Pope Francis will have to take a backseat to a new sect spinning off from the Vatican. Socially and fiscally conservative right-wing Catholics will jump from the pope's ship in droves — despite Francis's relative dedication to dogma. Maintaining Catholic women's second-class status just isn't good enough when you keep reminding everyone that Catholic tenets are more Marx than Neiman Marcus. And what upstanding conservative can stomach a pope who reacts to homosexuality with not much more than a superior shrug, compared to some of his predecessors. Pat Buchanan will serve as the new religion's first pontiff, costumed in extremes of silk robes and jeweled accessories. The new sect will dub itself the Reformed Church of Patriarchy and Profit.
Finally, with luck, there may also be some good international crime news in 2014. Iran's Green Movement — including a substantial gay bloc — will win the day in 2014. The country's former President Mahmoud Ahmadinejad of "In Iran we don't have homosexuals (because we execute them)" fame will be sentenced to 30 years for anti-LGBT blasphemy. He'll serve those years in one of his country's gay teahouses, a phenomenon to follow the 2014 revolution, where he'll spend his days tea-bagging and priming patrons' hookah pipes.
Will O'Bryan is Metro Weekly's managing editor. Contact him at wobryan@MetroWeekly.com. Follow him on Twitter @wobryan.