Attorney General Eric Holder was urged Thursday by the nation's largest LGBT-rights organization to federally recognize the more than 1,300 same-sex marriages performed in Utah between Dec. 20, 2013, and Jan. 6, 2014.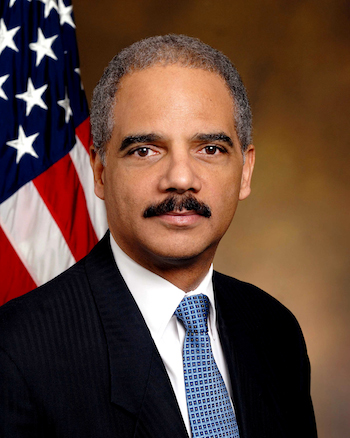 In a Jan. 9 letter to Holder, Human Rights Campaign President Chad Griffin asked for immediate action and the extension of federal benefits to married same-sex couples in Utah.
"There is no legal reason to question the validity of these more than 1,300 marriages," Griffin wrote. "Each was legally performed by a clerk representing the State of Utah, in accordance with the state's statutes and constitution. Even the office of the governor of Utah—whose formal political position is one of opposition to marriage equality—urged state agencies to extend state marriage recognition to these couples during that 20 day period when same-sex marriages were being performed."
The letter comes one day after the office of Utah Gov. Gary Herbert instructed members of his cabinet to place state recognition of same-sex marriage "on hold" following a decision by the U.S. Supreme Court to stay a district court's decision striking down Utah's ban on same-sex marriage.
"Even though the governor's office has now made a political decision to cut off this recognition, it continues to insist that it makes no pronouncement about the validity of these unions," Griffin wrote. "Given this landscape of facts, there is simply no reason for the United States government not to extend federal recognition to these more than 1,300 couples."
Griffin also wrote to the attorneys general in the 18 states that recognize same-sex marriage — California, Connecticut, Delaware, Hawaii, Illinois, Iowa, Maine, Maryland, Massachusetts, Minnesota, New Hampshire, New Jersey, New Mexico, New York, Oregon, Rhode Island, Vermont and Washington — urging them to declare their intent to recognize those same-sex marriages performed in Utah.
"Should any of these couples be residents of, travel through, or relocate to your state, there is simply no reason to treat their marriage differently from any other, and I urge you to issue an advisory opinion declaring that treating all legally-conferred marriages consistently as a matter of equal protection and basic justice is consistent with the public policy of your state," Griffin wrote.
The Justice Department has not yet indicated whether federal benefits will be extended to those same-sex couples married in Utah.
[Photo: Eric Holder. Credit: Department of Justice.]