Freda Payne has absolutely no trouble channeling the big voice of Ella Fitzgerald, and it's actually quite remarkable. Payne, who had a pop hit in 1970 with "Band of Gold," hits all the right notes singing, scatting, even occasionally ad libbing in MetroStage's latest bio-musical, Ella Fitzgerald: First Lady of Song. Her achievement will no doubt delight and surprise anyone who has ever listened in awe to Fitzgerald, one of the greatest singers America has ever produced.
That is, when Payne is singing. Turns out, she isn't much of an actor. Or, at the very least, Payne lacks confidence in filling Fitzgerald's shoes, walking and talking like the mid-20th century jazz legend, a Newport News, Va.-native who was an early success at Harlem's Apollo Theater and came to fame in the wake of the Great Depression. The enthusiasm Payne has performing as Fitzgerald is often lacking when merely portraying her, delivering lines from Lee Summers's book as if unsure of their veracity or her memory, or both.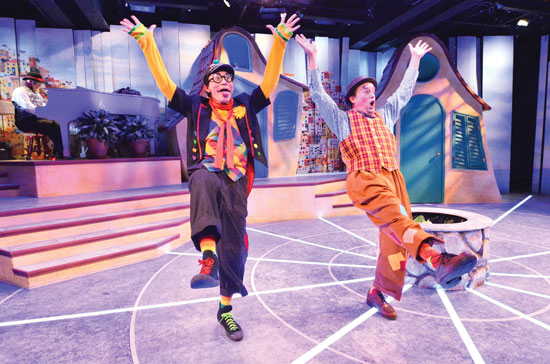 Scapin
(Photo by Stan Barouh)
MetroStage's relatively barebones production doesn't give Payne much wiggle room either. Two seasons ago Maurice Hines pulled out all the stops at this Alexandria theater with an excellent, extravagant world-premiere production of Josephine Tonight that made you forget where you were, even giving you visions of Broadway. This time around director Hines is giving us what feels like an also-ran — a second production of Ella Fitzgerald: First Lady of Song a full decade after the first in New Jersey, with seemingly no larger ambitions than that. Granted, he's surrounded Payne with a top-notch supporting cast, including superb MetroStage regular Roz White, who steals scenes as Fitzgerald's cousin and assistant Georgiana; Wynonna Smith, pulling double duty as Young Ella and Fitzgerald's sister Frances; and Tom Wiggin, aka Kirk Anderson from TV's As The World Turns, who puts the personal story in broader context as jazz impresario and Fitzgerald's manager Norman Granz.
Ella Fitzgerald



To March 16
MetroStage
$55 to $60
800-494-8497
www.metrostage.org
Pianist William Knowles does just fine in the role of music director, assembling a rollicking five-piece band that fills in adequately as the story's larger orchestras supporting Fitzgerald. Unfortunately, the musicians are also asked to sub for some of the show's other incidental roles, including drummer and Fitzgerald mentor Chick Webb and Ray Brown, the bassist who became Fitzgerald's second husband. No offense to Greg Holloway or Yusef Chisholm, respectively, but the show would benefit from real actors taking on these roles.
But then there isn't that much to the main roles here. We don't gain that much insight into Fitzgerald, the notoriously private woman. The show doesn't spend much time explicitly crediting Fitzgerald for turning so many show tunes into Great American Songbook standards in the first place. Instead, it simply asks Payne to sing and swing nearly two dozen songs from Fitzgerald's repertoire, including her signature renditions of "A Tisket A Tasket," "How High The Moon" and "Mack The Knife." And precisely because of Payne's mastery at performing as Fitzgerald, you're sure to leave the show on a good note, singing a good tune.
Scapin




To Feb. 16
Source
$25 to $45
www.constellationtheatre.org
YOU'RE SURE TO LEAVE SOURCE LAUGHING after taking in Constellation Theatre Company's latest twist on a classic. Certainly Constellation's production of Scapin, a farce originally from French playwright Moliere that Bill Irwin and Mark O'Donnell adapted two decades ago, ranks as one of the company's most gleefully delightful. The outlandish story revolves around two servants in a coastal Italian town conspiring against their masters in pursuit of love and money. Kathryn Chase Bryer of Imagination Stage applies her expertise in putting on shows for children to make this far-fetched story crazier and yet more entertaining as it goes. From A.J. Guban's cartoon-like set to Kendra Rai's whimsy, fantastical costumes to the way choreographers Kelly King and Matthew R. Wilson have the actors move or fight in exaggerated, comical fashion, the playful, physical comedy is as escapist — and as active — as live theater gets. It's all further embellished by the laughter provoked by the music Travis Charles Ploeger plays live from the piano, little well-timed riffs drawn from some of Hollywood's biggest blockbusters, from Titanic to Chariots of Fire.
But ultimately what keeps you most delighted is the strong acting ensemble Constellation has assembled, led by Constellation regular Michael Glenn as the crafty Scapin and Keegan Theatre's Bradley Foster Smith in a strong Constellation debut as Scapin's dim-witted sidekick Sylvestre. Among the strong cast, Nora Achrati deserves special recognition for the way she steals focus every moment she's onstage as Zerbinette. You don't want to miss anything she says or does, making even the tiniest move or gesture entertaining.