In 2012, Robert J. Priore made a splash on these very pages.
"That was kind of when I was single, and just trying to put my face out there, get some recognition," says Priore, who made it clear in his 2012 Metro Weekly Nightlife Coverboy profile that he was a dancer and choreographer. And that was very much the point of the exercise. Ever since Priore moved to the D.C. area in 2010 for a job with CityDance, the Buffalo, N.Y., native has made it his mission to increase exposure to local dance and dancers, especially among the gay community. "The LGBT community plays a large part in contemporary dance," he says. "I want to get people more knowledgeable and involved in the really budding talent that we have here."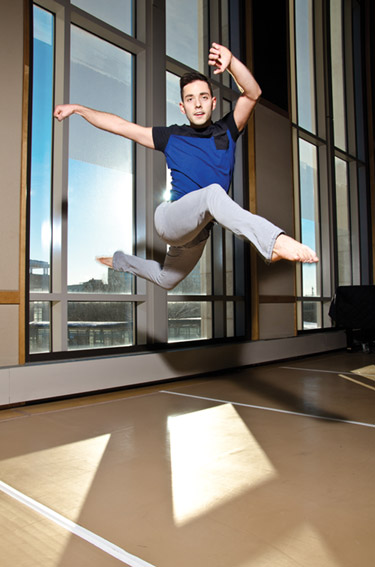 Robert Priore
(Photo by Julian Vankim)
Next weekend, Priore will debut a new work, Emergence, as part of a full program celebrating his choreography and the many dancers he's taught and worked with at CityDance, both current students and alumni. The show, at the CityDance Studio Theater at Strathmore, also features professional dancers from Ohio's Dayton Contemporary Dance Company, where Priore worked before moving to D.C. The son of a theater costume designer and an accountant for a large food company, Priore has always had great support as a dancer from his family. Case in point: "I have 15 relatives coming from Buffalo to see the show."
In recent years, dance pieces by Priore have been performed by students he's taught at CityDance as well as at annual events such as VelocityDC Dance Festival and the MetroDC Dance Awards. The 27-year-old is also a member of the modern dance group Company E.
You might also recognize Priore if you've ever eaten at B Too, the 14th Street restaurant started by former Top Chef contestant Bart Vandaele. Priore serves as a host. Clearly, Priore has plenty of energy. So much so, even a recent root canal couldn't slow him down. "I've always had bad teeth, since I was a little kid, so I'm used to having work done," says Priore, who was feeling fine and ready for an interview a mere hour after the dental procedure. Need a break, Mr. Priore? "Oh, no, I like to talk too much."
METRO WEEKLY: Let's start by getting personal. You're originally from Buffalo?
ROBERT J. PRIORE: I'm from Buffalo, New York. Western New York. It's a very interesting place to grow up and a really good place to go back and visit, because so much continues to change. Every time I go back, it's amazing. It just seems like it's becoming such a more vibrant place from what I remember as a kid. Theater is going really well. There's a dance company now in Buffalo that's doing really well. I have a couple friends that dance there. '
MW: Did you play sports growing up or were you set on dance from the get-go?
PRIORE: Oh, my God, my poor father. He tried every sport. I played soccer, I played baseball, I played basketball, I played tennis. I swam. I did everything until I was about 12, and then I was like, "I really don't like this." And my dad was like, "You know what, you've been a trouper, you've tried it all. So you can go dance." And now my mom and dad are my biggest fans. But it's funny. They definitely tried me in everything before they let me really start to dance. Sports-wise, I think I played everything but hockey and football. I was in Little League for baseball. I played tee ball before that. I played indoor soccer, I played outdoor soccer. I skied for a year. I tried ice-skating and speed-skating.
It was important for my parents for me and my sister to be active. And my sister was a dancer and she was a cheerleader. In school, I played instruments. Both of my parents wanted us to play instruments. So I played the clarinet, then I played the saxophone, then I played the bassoon, then I played the bass clarinet. I tried each one for a year and I sucked at all of them equally. So by the time I got into eighth grade, when I got into high school, I was like, "I'm not playing an instrument anymore, I'm not good at it." When I say I tried a little bit of everything growing up, I really did. I think it was my parents trying to make me to be well-rounded.
MW: It sounds like you were also just curious enough to be willing to try a little bit of everything.
PRIORE: Yeah, even as an adult I really like to try everything. Like, I don't eat seafood, but I usually will try it if I'm out with people. And it's not just with food. When I was in Peru, I went parasailing — or paragliding? I don't remember, I'm sorry. It's where you have the parachute strapped to your back, and then someone's in it with you, so there's a professional with you. I went with my co-workers in Company E, and they all were like, "Let's go parasailing." Of course, I'm the last one to pay and somehow the first person that they make jump off the cliff. So you put this backpack on, basically, and you have a Peruvian man standing behind you in the same harness. Basically sitting on top of you. And he goes, "Okay, run." Just take a couple steps and you jump off one of these cliffs on the seaside, and you just float, and it's crazy. I'm so happy I did it, because it was definitely something that's going to stick with me forever.
I was with my two best friends in the company in Israel, and we said, "We want to go to the Dead Sea." None of us spoke Hebrew. A lot of people spoke English there, but we had no idea where we were going. We just got in one of the public buses and started asking people how to get there and we ended up like in the middle of nowhere, like a very secluded part of the Dead Sea. No tourists, it was way off the beaten path. We met this young Israeli couple and they showed us how to dig through the mud and we covered ourselves in this really black Dead Sea mud and then just floated for four hours. It was amazing. But five years ago I would have never just left somewhere with no idea where I'm going, and just tried to find the Dead Sea, which seems so crazy now that I look back on it.
MW: Would you call yourself an adventure-seeker?
PRIORE: I'm a very anxious person. Being a choreographer, you are often in control of the situation. It's your job to take control. So I feel like I'm a control freak. When things are out of my hands, I start to freak out.
Honestly, if I wasn't working with the people I was working with, who basically forced me to [paraglide], I probably would have never done it, because it's just not my personality. I'm way too stressed out for that. Finally, they said, "No, do it, do it!" And I went for it. That broke a couple walls for me, really pushed me to try new things and let go a little bit.
MW: Has that informed your choreography?
PRIORE: Yeah. As a choreographer, it's about trust. So the hardest part of the work is with a group of people you don't know or you don't trust. That's why I'm lucky because everyone I'm working with I can really trust. I think that putting myself in a situation like skydiving has really helped me kind of let go a little bit and learn that I don't have to be so demanding and can be a little bit more collaborative. Because, really, as a choreographer you feed off your dancers, and they should feed off of you.
But that whole diving off a cliff, it's really opened me up to not being so anxious about things and really trying new things. And it's definitely helped my choreography, because you get set in ways. You get really set in the things you like. And even in dance, there are so many different genres. Two years ago we were working with the Israeli Embassy, and all these Israeli choreographers, and there's this Israeli form of dance called Gaga, which is not Lady Gaga. [Laughs.] It was created by this man, Ohad Naharin, and it was so foreign to me. I hated it. I didn't want to do it. And now a year later, when I'm not really practicing it as much, I'm saying to myself, "Wow, that changed my life." And I didn't even know it while I was doing it. I think because it was being forced down my throat. And now that it's had some time to resonate, it's really changed me. Of course I was resistant, didn't want to try it, didn't want to do it. But I wouldn't be the dancer or the choreographer I am today if I didn't have the cerebral experience with Gaga.
MW: So it sounds like it takes some sort of push to get you to do new things or see new ways of doing things.
PRIORE: Definitely. I rely heavily on my peers and my family and my loved ones. I think it's just realistic to say that, sometimes it takes someone else, putting a mirror up or shining a light back at you to make you see, "Okay, I need to do this, I need to try this."
I was really pushed into this show. It really took both of my bosses here at CityDance to say, "We want to give you this opportunity. We know that you know you're ready, but you're scared. We're just going to push you off the ledge." So that's kind of what happened. I'm so nervous, but exponentially excited. It's going to be, hopefully, everything that I wished and dreamed it would be. But, again, it wouldn't have happened without this push from both of my bosses and mentors here at CityDance. They really just said, "This is your year, this is your shot." And they pushed me to do it.
MW: How do you find the dance scene in D.C.?
PRIORE: I think there's a huge lack of support in the dance community here. We have the Washington Ballet, which is thriving. But there are quite a few really great dancers and dance companies that are here in D.C. and it's really difficult to get an audience that's going to continue to support and watch art. It's not as accessible here.
I guess what I'd like to see happen is someone really succeed in contemporary dance in the D.C. area — really push the envelope. I mean that's what it all comes down to for me. Because D.C. could become a really huge dance city. There are a lot of artists here who do amazing things, and I don't feel like they're getting the amount of exposure they should. '