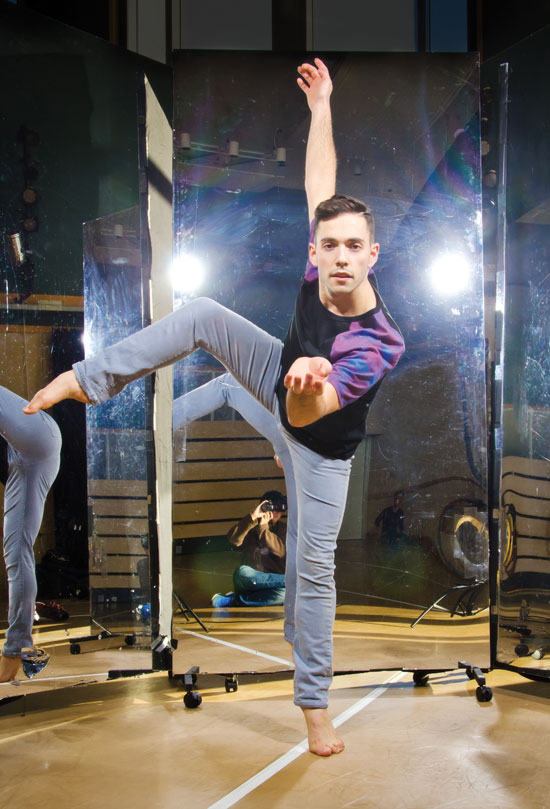 Robert Priore
(Photo by Julian Vankim)
The hard part is sustaining a career based solely in the arts. I work three jobs. I am a choreographer in residence and an artist in residence at City Dance, I dance with Company E and I work at a restaurant, because I want to be able to live. [Laughs.] And it's really difficult to do that here, honestly it is. There are very few companies that allow you to do that. There are a handful. But wouldn't it be amazing to have more than a handful? To have 10? To have 12? To have a city full of thriving art as well as politics? I just really want to help push us to become an arts capital, because I think D.C. has all the potential. There are so many beautiful theaters. There are so many people here that are just willing to get started and work and make this their home in dance. It's just really difficult right now because I don't think we get the right amount of support — especially financially, but just in general — to thrive. We're not getting enough young people into the audiences, people my age, people early 30s, people late 30s, enjoying dance as a night out just as they enjoy going to a movie or going to see a show at Arena Stage. We don't have enough people wanting to go out just to see a night of dance. I think it's because we haven't found what the niche is that D.C. wants. And I think people are afraid to try because a lot of times people aren't successful.
I can only hope that this show propels me into a place where people are going to say, "Oh, I want to see more of that."
I want to see something presented downtown in D.C. I want to do something in a smaller venue. I want to do something that is maybe a show that talks about LGBT-community issues. There are endless possibilities, but what it all comes back to is that the arts community really needs to come together and help each other out to put D.C. on the map as a dance headquarters. We definitely have the talent and we have the drive and the desire, it's just a whole bunch of other things that are not really allowing that to happen.
MW: The theater scene in D.C. has certainly come into its own. Do you ever work in theater, choreographing shows and such?
PRIORE: Yeah, when I was in college, I got my Equity Card. I did an [Actors'] Equity [Association] show. I did West Side Story at the Pittsburgh Civic Light Opera. But I haven't gone back to that. I think it's amazing, I love going to the theater, but it's not really what I want to do. I'm really into contemporary dance, and more that side of dance as opposed to musical theater and theater. I'm not saying I would never go back to it, but right now I'm not driven to make that happen.
MW: Do you think TV talent shows, such as So You Think You Can Dance, are stirring up more general interest in dance?
PRIORE: Yeah. Shows like So You Think You Can Dance and Dancing with the Stars — they're not quite what I do, nor do I really like either show. But it's at least making dance more accessible to the average American. I feel like before it was so inaccessible, but now at least some people have some interest. So maybe if they like So You Think You Can Dance, they go see a contemporary show. They may not love it, but they go, "It's kind of interesting," and they want to see more. And it sparks more and more and more.
Last year, Kennedy Center did this Nordic Cool festival. They brought in six companies from the Nordic region and every show was sold out. I went to every show. It's like, why can't we get people that excited about people who are living and breathing in D.C.? Why can't we get them that excited to see people who are doing the same kind of work here? That's where I'm at right now.
MW: There's also the annual VelocityDC Dance Festival, which seems like another great step in helping build exposure, particularly locally.
PRIORE: The Velocity dance festival is great because it gives audiences, who maybe aren't familiar with dance, a chance to see a lot of different dance that's happening here. A cool thing about D.C. is how much cultural dance we have here. That's not very common. I work with a woman [Asanga Domask] who is one of the only people left who is still recreating and working with Sri Lankan traditional dance. And it's beautiful. And she's one of the only people in the world, not just in D.C., doing that. What other city can say they have one of the only interpreters of traditional Sri Lankan dance?
On top of that, at Velocity you'll have a showing from the Washington Ballet, which is always great. And other bigger companies here, and then Step Afrika and some of the hip-hop teams. There's a tap company that does it almost every year, and flamenco. So we're really rich with talent here. I just would love to see a stronger community. Maybe it's up to the community of dance to combine more. Maybe part of it is that everyone's afraid to support each other because they don't want to lose the support that they're getting. But a lot of times when you make a collective, when you unite together, you become stronger as a community.
MW: You mentioned your sister was also a dancer. Did you pick that up from her?
PRIORE: Yeah, she's four years older than me. She's a nurse. Once I started dancing, I kind of fizzled her flame, so to speak. [Laughs.] I really went right into the spotlight, because it's always easier for boys, because there are not as many of us. I was good, so I think it kind of discouraged her from continuing on.
I think my parents in the past nine years — since I went to college at 18 — my parents have maybe missed two shows out of the hundreds I've had. With the exception of ones out of the country, they've been to almost everything. My sister's probably been to 75 percent of them.
MW: You talked about trying other sports and activities as a kid. But still, it sounds like you knew dance was to be your lifelong pursuit.
PRIORE: I think when I was a little, little kid, I probably dreamed of being a doctor, then a hairdresser — I changed my mind all the time. But my mom always tells me, when I was like 5 I would force my sister to learn dance and wear makeup. I remember it was "Macho Man." I had the record of "Macho Man" by the Village People. My mom and dad had all these old records and a record player, and I remember jamming out to the weirdest songs. Michael Jackson…. My mom had a ton of Etta James. And I didn't even dance then. I started dancing when I was 13 — I did gymnastics a year before that. And I started to really train correctly when I was 18 and in college. I went to an all-boys high school that surprisingly had a really, really strong theater program. So I was the featured dancer in every musical, and I always had the star dance parts in show choir.
I probably could have done a lot of other jobs. I loved math, I was always good in math. I could have gone and probably done the same thing my dad did (accounting). But I knew, pretty much the first year in high school, I was like, I want to be a dancer. And I've never really looked back since then.
MW: Was coming out as easy as that? Or was that a struggle?
PRIORE: I mean it's not one of those things where I've ever really had to have that conversation with my parents. They've always just been very supportive. I remember in high school, my mom was like, "If you ever want to talk…." I was like, "Mom, stop." It just kind of goes unspoken. My grandparents, we probably kind of sugarcoat it for them because I only have two left. I've never really had to feel like I couldn't be myself. I've been very fortunate. So for me that was easy.
I never had to have that "I'm gay" conversation, because I feel like it was just always assumed. I don't know how to say this without sounding conceited, but I've always just been like the little star of the family. Everyone just kind of loved me because I was fun and crazy and they didn't really care what was going on with me. They just loved me. You know, I don't keep my personal love life from my family, in the sense that they've all met my boyfriend, they all love him. But it's not something that — whether it's my parents or my friends — I do try to keep that really to myself.
MW: How long have you been with your boyfriend?
PRIORE: I've been with Vinh a year and a half.
MW: Do you want to have kids?
PRIORE: Eventually. [Laughs.] But they're expensive. And at this point in my life I can't even afford my own life, let alone a child. But, yeah, I've always had the paternal gene. But I don't know when. Probably not for a while. If this is my career just starting at 27, really taking off the ground, I need at least a solid five or six years to really make it work before I can concentrate on anything other than myself and my work.
MW: Living in D.C. has certainly gotten more expensive in recent years, for sure.
PRIORE: Well, luckily, I won the housing lottery. I just moved into City Center. I'm of low income, so I live in the building [but] pay much less than the people who live there and pay market rate. I was really fortunate to have won that lottery.
MW: Is there an LGBT angle to the show coming up?
PRIORE: Not this show in particular. Some people might look at the show and say, "Oh, well, there are LGBT topics touched on." The whole mission statement to my work is played off of human touch, and I love to create partnering. A lot of my work isn't just one person dancing. I'll have one or two solos in a show. But a lot of times it's two females partnering or two men partnering, and it gets very intimate. Dance is one of those things that is what you make of it.
MW: When did you realize that was your mission, human touch?
PRIORE: It goes back to my control issue. [Laughs.] I'm kind of a stocky guy. I'm not very tall. I'm 5'7. I'm not the skinniest person. My friends all say I have body dysmorphia. As a dancer, I was relied on more as the go-to guy to partner. Especially in Company E, I'm always, to put it lightly, throwing bitches. [Laughs.] Picking up and throwing them around. I really love it. I love to know that I'm making someone else do something because of my strength and my body.
When I started to really get in touch with my choreographer side in college — my first piece I ever did in college was called Positive, and it was about HIV/AIDS awareness — It was all partnering based on some vague innuendos. Oh, the touch could be the transmission. When the show happened, people were crying, the audience was on their feet. My mom lost her shit because she was like, "I've never seen a crowd react that way, and I can't believe that my son created this." So that right there, I said, "Okay, I got to keep going with this." Because the piece was almost all partnering. There was a lot of human touch involved because, again, there were some underlying messages there, but nothing too literal. And then from that point forward I'm like, well, this is something I'm clearly good at.
I also think it's because I'm a big cuddler. I'm just kidding. [Laughs.] But, no, I'm a person who needs affection. I think that is another big reason as to why I go with so much contact in my work. I mean there's a whole bunch of subliminal things that come through in your choreography that a lot of choreographers don't ever care to admit or explain or wonder why, but I've had a lot of time to reflect on why I like partnering. I think a lot of it just comes down to the type of person that I am.
MW: So you're a social person. Do you consider yourself an extrovert?
PRIORE: I actually think I'm an introverted extrovert. It depends. If there's a situation where I feel really comfortable, I probably will be the most annoying, talkative person you could meet. But a lot of times, especially if I'm in a surrounding with people I don't know — or if I'm feeling self-conscious about what I look like — I can be very, very shy. Especially when I'm first meeting people. But I definitely like to go out. I love to be merry. I like to be with friends. I like to be surrounded by people. I'm very social.
MW: Early on in the conversation you mentioned that you don't eat seafood. Is that because you just don't like it, or is there more to it?
PRIORE: I think I was scarred as a child. My family is all Italian, so we just do this thing on Christmas Eve where they would make like 12 different kinds of fish. And I just hate fish. So they wouldn't make extra soup for me. I would just have plain noodles and bread. I was also a really picky eater as a child. Now, I'll have shrimp every once in a while. B Too is a Belgian restaurant so we have mussels. I don't like them — they taste good, but that's not my cup of tea. I'd just rather eat a piece of chicken. It's not a dietary thing. I just can't do it.
Robert J. Priore's Emergence is Saturday, Jan. 18, at 8 p.m., and Sunday, Jan. 19, at 4 p.m., at CityDance Studio Theater at Strathmore, 5301 Tuckerman Lane, North Bethesda. Tickets are $25. Call 301-581-5100 or visit citydance.net.