"It was very heartbreaking for our whole company." Marissa McGowan is recalling the 2012 death of storied American composer Marvin Hamlisch. "He meant so much to everyone."
At the time, McGowan was the lead actress in The Nutty Professor, a musical adaptation of the original 1963 movie that now registers as Hamlisch's last musical. Hamlisch died a mere week into the show's world premiere run in Nashville.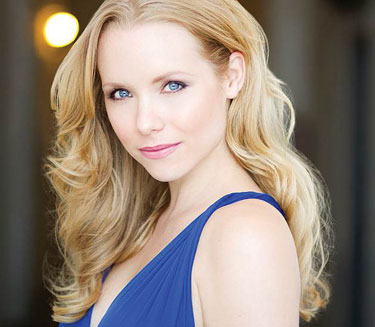 Marissa McGowan
(Photo courtesy BSO)
Next weekend McGowan will perform as lead soloist in the Baltimore Symphony Orchestra's tribute to Hamlisch, the BSO's former Pops conductor. "We're doing a lot of Marvin's big hits and the songs that people know and love him for," she says. The composer's most notable Broadway hit is the superb A Chorus Line. Ultimately Hamlisch achieved wider fame as a composer for films, ranging from The Sting to The Spy Who Loved Me and The Way We Were. "Yes, a little pressure," McGowan concedes after noting she'll sing that last film's hit title tune, a Barbra Streisand classic. But McGowan will be bolstered by 10 additional vocalists and the BSO, all led by the BSO SuperPops conductor Jack Everly. "I think the version and the arrangement that Jack has for this concert is really unique and special and very different from Barbra's arrangement."
A native of Long Island, McGowan made her Broadway debut in last decade's revival of Les Misérables. She subsequently performed on that show's national tour and more recently appeared on Broadway as part of the casts of the 2009 revival of A Little Night Music and 2011's Bonnie and Clyde.
As to the future, Broadway or otherwise, of The Nutty Professor, which to date has only been seen in Nashville, Tenn., McGowan expresses confidence: "There's definitely going to be a life because it really is one of Marvin's best scores."
Marvin Hamlisch: One Singular Sensation is Thursday, Jan. 23, at 8 p.m., at the Music Center at Strathmore, 5301 Tuckerman Lane in North Bethesda, and also Friday, Jan. 24, and Saturday, Jan. 25, at 8 p.m., and Sunday, Jan. 26, at 3 p.m., at Joseph Meyerhoff Symphony Hall, 1212 Cathedral St. in Baltimore. Tickets are $29 to $109. Call 410-783-8000 or visit bsomusic.org.