According to most pundits, Heather Mizeur is the clear underdog in her bid to win the Maryland Democratic Party's nomination for governor in the June 24 primary. The lesbian delegate from Montgomery County doesn't have the millions raised by Attorney General Doug Gansler, who's had his eye on the state's top office for quite a few years. Nor does she have the blessing of party's political establishment, like Lt. Gov. Anthony Brown, whose chief backers include Gov. Martin O'Malley, both of the state's U.S. senators, four U.S. House members, the Maryland Senate president, the Speaker of the House of Delegates, and dozens of General Assembly members.
Yet despite her status as the potential dark horse who will need to come from behind, Mizeur seems to take it all in stride. Relaxed, always smiling, and highly optimistic, Mizeur maintains her focus, staying on message and enunciating her policy proposals and vision for the state. It's a tall agenda, and an unabashedly liberal one at that. Mizeur has proposed a millionaire's tax, a living wage, earned sick leave for workers, the legalization and taxation of marijuana to pay for universal preschool, a moratorium on hydraulic fracturing — aka "fracking" — for natural gas until a full environmental-impact study is complete, and campaign-finance reform.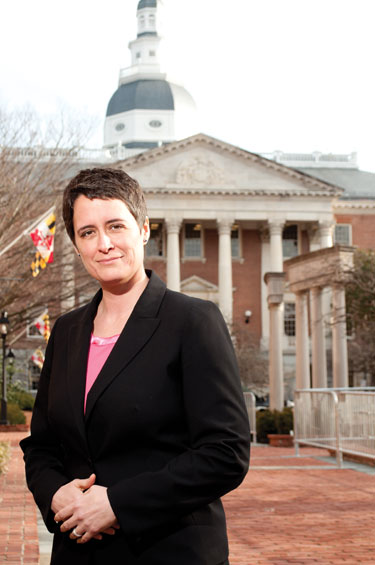 Heather Mizeur
(Photo by Todd Franson)
Flagged as a rising political star since her election to the House of Delegates in 2006, she has served as a campaign surrogate for major causes, from the fight to legalize marriage equality in Maryland to passage of the state's DREAM Act granting in-state tuition to undocumented students. As a campaign surrogate for President Obama and Democrats, Mizeur found herself debating former Gov. Bob Ehrlich (R) — and "outperforming him by many accounts," she adds — on WJLA's NewsTalk with Bruce DePuyt. DePuyt even joked after the debate that his show had featured a showdown between the "former governor and the future governor."
"This is where I think being an openly gay person has impact on your world outlook and how you present in the world," Mizeur says of her fearlessness. "When you have to learn at a young age to tackle your biggest fears and walk from a place of truth, when you learn how to reconcile those religious questions about external opinions versus your own, using your own heart's North Star, when you get to a place of being out of the closet and stepping forward — we have a skill set that we can apply towards all kinds of situations that are similar.
"The external forces that have been telling me for months that there was no way I could be a viable candidate for governor because it wasn't my turn," she continues, "and because I wasn't next in line, and I wouldn't be able to raise the money, and I wouldn't be able to convince people that I was a candidate that could go all the way — nobody's saying that anymore. You just learn to close down fear, and naysayers and your own doubt, to go in and have confidence in what speaks through you and yourself."
Mizeur's life experiences have prepared her for her political career. Growing up in the 1,100-person village of Blue Mound, Ill., Mizeur was the eldest daughter of a United Auto Worker and welder at the local Caterpillar plant and a member of a fifth-generation farming family growing corn, soybeans and wheat. She vividly remembers being 9 years old and accompanying her father to the picket line when workers at the Caterpillar plant went on strike, forcing her family to eke out a living on $45 a week in strike pay.
"It was an early exposure for me to the political process, to Democratic values of sticking together to fight for fairness for all our families, to have the courage of our convictions, to work together to ensure that everyone's struggles became a united common purpose, and I carried those lessons with me for a lifetime in the General Assembly in my work," she says.
It was during the strike that Mizeur remembers meeting one of her political idols, Penny Severns, an unsuccessful congressional candidate who went on to be elected to the Decatur City Council and the Illinois State Senate. Watching Severns talking to the workers on the picket line made her aware that politics could be a way to improve people's lives.
But the dawn of Mizeur's political awareness predates the picket line.
"I was always the weird kid that liked to watch the presidential debates," she says. "When I was 8 years old, I was taking notes on the 1980 presidential debates, and I'd always make up my own palm cards for my family. My dad has 11 siblings, and I would put together 'Heather's Recommendations' for who you should vote for at every level for the family on recipe cards, and would give them to each of my aunts and uncles. I'd individually write them out, and give those to my family, encouraging them to see how to vote."
And how was such advice received?
"I don't come from a political family, and I had a lot of conviction about why I was supporting people, and could explain it," she says. "I was into trying to understand policy issues from a young age, so I would defend and talk about why I thought somebody was the best candidate, and, fortunately, my relatives would treat me with the kind of respect that you would normally afford an adult for that kind of conversation. And they would take the cards with them, so I joke that I've been voting since I was around 8 years old."