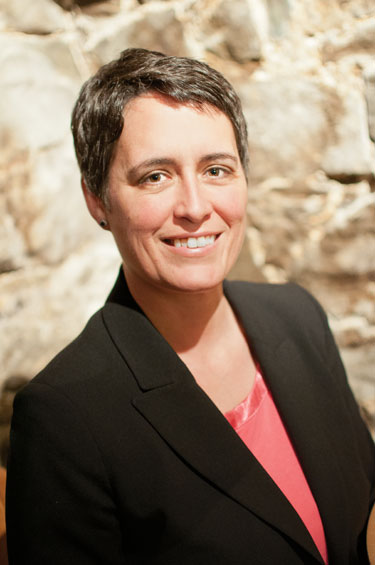 Heather Mizeur
(Photo by Todd Franson)
Mizeur adds that she even got special permission from her high school principal to take off a half day of school on her 18th birthday in order to be able to drive to the county courthouse and register to vote. On most days — though not on the day of her interview, per the request of Metro Weekly photographers — she even wears a necklace with a gold medallion that reads "VOTE."
"I was more excited about my 18th birthday than a lot of kids, who couldn't wait to be 16 to drive, or 21 to drink alcohol," Mizeur says. "For me, it was all about turning 18 and being able to vote, because I had started to volunteer on Penny Severns's campaign, and other races in my area, and was never able to actually exercise the right to vote."
It was also an age when sexual orientation more routinely enters the conversation, ready or not. Mizeur knew she was attracted to women since elementary school, but says it was clear that most people disapproved because of the way her classmates would talk about being gay. Or course, she did come out, when she was a sophomore in college. Although her parents did not take the news well at first, they eventually decided that they did not want Mizeur's news to destroy their relationship with her.
"If you think about the time period, it was the early '90s," she explains. "There was no Ellen Degeneres on TV, Melissa Etheridge hadn't come out. It was still something that people were scared about. And parents were scared about what it meant for your child's future when you found this out. It was still discussed as something that would ruin your kid's life, and take away their happiness, and I was standing firm to show them that what was going to make me happy was living my truth."
Even after coming out, however, Mizeur struggled to reconcile her sexual orientation with her Catholic faith, which remains to this day an essential part of her identity.
"My Catholicism for me was a connection to my social-justice values, of caring for the sick, housing the homeless, feeding the hungry, and volunteerism," Mizeur says. "The epistle from James that says, 'Faith without works is dead' — we have to put our faith into action. That's what my Catholicism meant to me.
"And when I would try to reconcile the teachings of the church," she continues, "I would come to a place where I realized that every time I would discern being gay, the only time that I was receiving messages that it was wrong was coming from external places. Inside of myself, and in my own deep relationship with God, I always knew it was okay. The church itself teaches the primacy of your own conscience. While there are teachings from the church to guide, and I certainly disagree with the church on other teachings as well — I'm pro-choice — that, at the end of the day, what mattered was my own conscience and my own discernment with Christ. … That was very liberating, when I got to the place of realizing that I was torturing myself, and living in fear and having to struggle, only because I was listening to external forces trying to dictate to me what was right. And that was at odds with what I knew in my own heart to be the right thing."
Mizeur went on to work in politics for three different members of Congress, focusing on domestic issues, particularly health care, before going to work at the National Association of Community Health Centers, a nonprofit organization that advocates for improved access to health care for the uninsured. She later returned to Capitol Hill to work for four years as John Kerry's director of domestic policy — when he was a senator from Massachusetts — before, during and after his 2004 presidential run. During her time working for now-Secretary of State Kerry, Mizeur ran for public office, winning a seat on the Takoma Park City Council in 2003.
Working on the Hill, she also met the woman she would marry, Deborah, with whom she's so far spent a decade. Initially, the two only knew each other as fellow health care policy analysts, and the relationship was purely professional.
"There came a period where we were each single, but I never knew that she was gay," Mizeur recalls, smiling from ear to ear. "I had a lot of respect for her professionally, but I thought she was a straight woman, and the thought had never really crossed my mind. Meanwhile, she had harbored a three-year crush on me and never bothered to tell me. Finally, when she did tell me that not only was she gay, but that she had this massive crush on me, it was like the sun and the moon and the stars all aligned."
After a year, they were engaged. After another year, in 2005, the couple married in a small ceremony on Maryland's Eastern Shore, where the two make a second home on an organic herb farm in Chestertown.
"While we knew we weren't going to have the law recognize our marriage in Maryland at that time, we wanted to make a statement that we were going to get married in our state, that we were going to work really hard — for the rest of our lives if necessary — to make sure that the state not only protected our marriage, but the marriage of every other family like ours," Mizeur says of marrying in Maryland prior to marriage equality becoming state law.
She and Deborah legally wed in California in 2008 prior to the passage of Proposition 8, which banned same-sex marriage in the state. Because their California marriage was legal at the time, a 2010 opinion by Maryland Attorney General Doug Gansler recognized their marriage as legal in Maryland, even though Maryland had not yet passed its own marriage-equality law.
"Deborah and I had a conversation early on, after I was elected," Mizeur says. "We felt together that we could make a difference in moving the needle on marriage equality in Annapolis after we got here, that it would be a lot harder for my colleagues to have a negative view of marriage equality once they got to meet a lesbian couple with such a strong marriage.
"Deb came with me to a lot of social functions to get to know my colleagues. People always invited us with them, to go out to dinner and to engage in social activities, because they liked us as a couple. And we could just see the shift, that we weren't just the 'token lesbian couple' that they were inviting to come around, but that they honored and respected our marriage. And then it became important for us to slowly and respectfully educate those colleagues about how differently we were treated under the law, and how protections that anyone else might take for granted in their marriage wouldn't apply to us."
Throughout the long-term battle to have same-sex marriages treated as equal to opposite-sex marriages under the law, Mizeur says she and Deborah never took personally some of her colleagues' reticence or refusal to support marriage equality. In fact, the couple offered some of Mizeur's fellow legislators a "safe space" and the opportunity — off-the-record and behind closed doors — to ask any questions about homosexuality or same-sex marriage that they might have had. She adds that there were some "smaller victories" that she and her fellow legislators in the legislative LGBT Caucus won in the run-up to the passage of marriage equality in the state.
"Legislators' spouses all get badges, and they get access to the garage for parking the cars. They get to come in the side door, and not have to go through one door of security. We really pushed the envelope early on, saying, 'This is my wife and she deserves a spouse badge,' Mizeur says, recounting the conversations she had. "'Well, but the state doesn't recognize her as a spouse.' 'Well, we need to figure out a workaround on this, because you're treating me differently than all of my other colleagues.'"
She continues: "There were consistent things that we would need to point out and try to change, but I think those little things build on each other. First, it's the recognition from the gallery. Next, it's the badge that gives you access. Then you're trying to make sure that the state employee health plan covers our spouses the same way as every other legislator's. For every new breakthrough, as tiny as it might be, they were all building blocks that helped lay another brick in the pathway towards full equality."