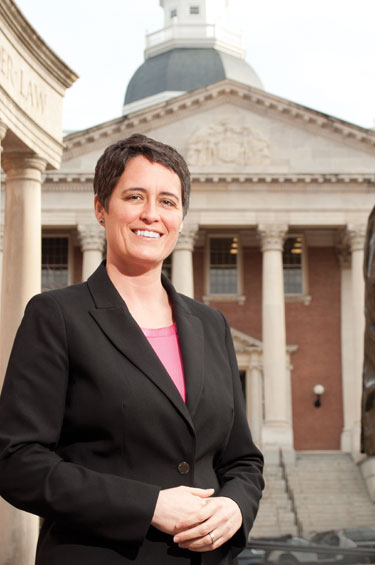 Heather Mizeur
(Photo by Todd Franson)
Despite the progress that Maryland has made in legalizing marriage equality, Mizeur says there is still work to be done on LGBT issues. Specifically, that means a law to prohibit discrimination in employment, housing, credit and public accommodations for people based on their gender identity. Mizeur notes that while the state has dragged its feet on the issue, a handful of counties — including the very socially conservative Baltimore County — have made their own inroads by passing nondiscrimination legislation that protects transgender residents.
"It was ironic that in the same year, in 2011, where the Senate passed marriage equality and the House failed to pull the votes together, the House passed gender-identity protections and the Senate failed to pull those together, so nothing got done," Mizeur recounts. "Then in 2012, we came together and we were able to win on marriage equality, but, unfortunately, what then happened politically was this sense that 'We did a gay bill already.' And that's frustrating, because at a policy level, marriage equality and gender-identity protections are two totally separate issues. They're championed within one LGBT community, and they both deal with protecting people, but for us to wait one more day, one more week, to protect people who are losing their jobs, losing their homes, or being harmed in public accommodations because of their gender identity or expression is something really wrong that we need to step up to correct."
Mizeur is hopeful a gender-identity protection bill will pass the General Assembly in the current session, but says if politics prevents the bill from passing, she will dedicate time and resources to ensuring a bill passes once she becomes governor.
To that end, having served as a longtime proponent of LGBT rights, Mizeur remains "puzzled" that official LGBT groups are not rallying behind her candidacy. Though Mizeur has racked up support from several women's rights and pro-choice groups, the state's primary LGBT civil rights organization, Equality Maryland, recently announced it was backing her opponent, Lt. Gov. Anthony Brown, and his running mate, Howard County Executive Ken Ulman, in the Democratic primary.
"I saw it as a puzzling choice, based on our records," Mizeur says of that endorsement. "There is no ticket in this race that has done more for the LGBT community than the Mizeur-Coates team. On top of the work that Deborah and I did during our years in the General Assembly, not just on marriage equality, but on health insurance protections, gender identity, a whole range of issues important to our community, we were always there, doing everything we possibly could to make it happen. And on marriage equality, we didn't just have to win in the General Assembly — we had to win at the ballot box.
"And I will also say that at key moments during the marriage-equality debate, some of these organizations and members were pushing to be okay with civil unions as a backup strategy. And I never wavered from my advocacy and my voice that we had to stay strong on marriage equality and hold our colleagues accountable to being on the right side of history on this, and that if we pushed it, and made clear that we were going to settle for no less than full equality, we could get there."
Mizeur also points out that her running mate, the Rev. Delman Coates, pastor of the 8,000-member Mt. Ennon Baptist Church in Prince George's County, was a leading pastoral voice in favor of marriage equality, even serving as the "face" of the religious argument in favor of the Question 6 ballot initiative, which allowed Maryland's same-sex marriage law to take effect, by appearing in television commercials and persuading other pastors to support the measure.
"I'm confident that if the selection were based on which team has done the most for the LGBT community, and which team has the best vision for the future of our state, that we would have been selected," Mizeur says. "But I think, clearly, that the selection process was dictated by other considerations."
Similarly, the Gay & Lesbian Victory Fund is a national organization with a mission to get qualified LGBT people elected and appointed to political office, but has not endorsed Mizeur's gubernatorial campaign, though neither has she made such a request.
"I'm not sure yet that we come at this process from the same place," she says. "I think we might have a difference of opinion on how to calculate viability in a race. As we saw with Chris Quinn's race in New York, the candidate with the most money and the most endorsements isn't always the one who wins. But I think that's still the key strategy that's used by that organization to determine who they're going to back."
Pressed further, Mizeur points to Victory Fund's recent endorsement of U.S. Rep. Mike Michaud (D-Maine) in the Maine gubernatorial race. Though Mizeur has tweeted well wishes to Michaud in his campaign, she also points out that he is only recently out of the closet — and came out in the middle of a campaign as he was about to be outed by political foes.
Mizeur is more comfortable when she is talking in-depth about policy matters. Whether it's health care, education or drug policy, her eyes light up as she dives into the nuts and bolts of what makes good legislation. She says her background in health care policy, as a Hill staffer, as an analyst and from her work in the General Assembly expanding insurance to children has prepared her for the current fight over the Affordable Care Act (ACA), particularly the rocky rollout of Maryland's insurance exchange, which was overseen by her top political rival, Brown, in his capacity as lieutenant governor, and the expansion of Medicaid.
"I share Marylanders' frustrations," Mizeur says of the rollout of the ACA. "This has been a colossal failure. And it's hurting families. The Washington Post has called the O'Malley-Brown administration's handling of this issue a 'scandal of incompetence.' My concern is the solutions we put on the table to fix this should be about covering the uninsured, and not covering up our mistakes. … If I had been in charge, this never would have happened, and when I'm governor, it will never happen again."
When asked if she can appeal to people outside of the populous Baltimore-Washington corridor that serves as the backbone of the state, Mizeur says her campaign message is universal.
"My message doesn't change. I'm not someone that promises one set of things to the Baltimore-Washington corridor and talks a different game in the rural parts of the state," she says. "I'm being very clear in what my priorities are for the state, and the vision I'm articulating that I hope people will get excited about. And they are, from every region of the state, because they're excited about candidates who are running with an honest approach toward solving our problems.
"On a personal level, being someone who's as comfortable talking agricultural policy — like the price of soybeans — and being on my tractor on the Eastern Shore as I am going into some nuanced health care policy issue in Montgomery County has its advantages. I think people are excited about someone who's real and not afraid to be open about what I think and believe. … We're running a true grassroots campaign. You don't have to give money to our campaign to have five seconds with us at a big fundraiser."
The past weekend, Mizeur and Coates held a "weekend of action" where they held 18 events in eight different counties across the state in a span of 32 hours. As part of her campaign, Mizeur has also led teams of volunteers in various service projects, fixing up old playgrounds, picking up trash, and holding food drives, which have helped her gain positive press. Through it all, Mizeur wants to ensure she's running a true grassroots campaign.
"I have been moved beyond measure by the number of people who have been 'points of light' in this campaign, who know in their hearts, that this message, that these ideas, that this movement that we are building has an opportunity to transform our communities, the way we interact with each other, and to let Maryland live up to her full potential," says Mizeur. "We don't have to accept that status quo, establishment approach to dictating that the guy who is next in line is always the one that has to win; that the one with the most money is the one who has to win; that the one with the most political-insider endorsements is the one who has to win. No, the one who gets to win is the one that has the support of the people. This is an option for something different. … This campaign is going all the way and is going to win because of that initial army of believers, all across the state, that planted the flag to say, 'Enough is enough. We can do this differently, and we're going to make this happen.'"