Heather Mizeur, the Montgomery County delegate seeking to become the first female governor of Maryland – and first out lesbian governor of any state – on Monday earned the endorsement of two women's groups: the Maryland National Organization for Women (NOW) PAC and Feminist Majority, adding to her list of supporters.
"I could not ask for better partners than Maryland NOW PAC and Feminist Majority as we move Maryland toward a more progressive future," Mizeur said in a statement. "I look forward to working together on expanding women's health coverage, increasing access to affordable child care, and ensuring economic equality."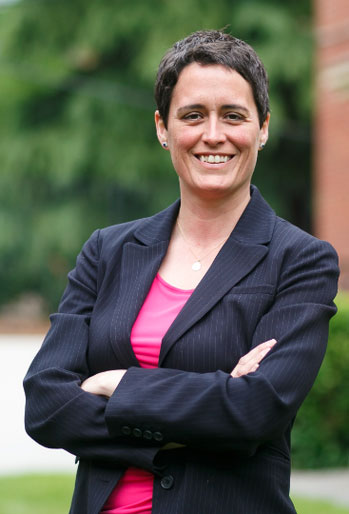 Heather Mizeur
Maryland NOW PAC represents 10 local chapters of the National Organization for Women and thousands of members across the state. The organization, which focuses on reproductive rights, protecting women from violence and ending discrimination, was prompted to back Mizeur because of her legislative record of expanding health coverage, particularly for children, and her support for family planning.
"It's time for Maryland to break the glass ceiling and have a woman as Governor, and they could not have a better option than Heather Mizeur," said Terry O'Neill, president of NOW. "She is deserving of MD NOW PAC's support not just because she is a woman, but because of her vast policy-making experience, her willingness to never settle for the status quo, and constant focus on improving communities."
Feminist Majority, a national organization that seeks to empower women economically, socially and politically, also cited Mizeur's legislative experience in the group's endorsement of her.
"Maryland has a chance to make history by electing Heather Mizeur," Feminist Majority President Eleanor Smeal said in a statement. "I am extremely impressed with Heather's leadership in the General Assembly. If elected as Governor, she will surely win advancements for Maryland's women, working families, young people, and members of the LGBT community."
In the course of her legislative career, Mizeur has established a reputation as both a rising star in Maryland Democratic politics and as a strong liberal voice on a variety of issues ranging from health care to reproductive rights, from LGBT rights to the legalization of marijuana to fund early childhood education, which is one of the planks in her gubernatorial campaign.
Because of her progressive bona fides, she has already earned endorsements from left-leaning organizations such as Blue America and Maryland-based Progressive Neighbors, local officials from Montgomery and Prince George's counties, and Baltimore City Councilwoman Mary Pat Clarke. Her support of women's reproductive rights encouraged national political action committee EMILY's List, which seeks to elect pro-choice Democratic women to public office, to place her "on the list," enabling her to boost her name recognition among prospective donors. She has also earned the endorsements of the Women's Campaign Fund, the Montgomery County Fraternal Order of Police Lodge 35, and former Eastern Shore Congressman Wayne Gilchrest (R).
Despite these endorsements, Mizeur remains an underdog in the fight for the Democratic nomination against Lt. Gov. Anthony Brown and Attorney General Doug Gansler. Despite being an out lesbian and a strong advocate for LGBT rights, she has yet to earn an endorsement from an LGBT organization. Equality Maryland, the state's primary LGBT organization, endorsed Brown and his running mate, Howard County Executive Ken Ulman, in December. The national Gay & Lesbian Victory Fund, with a mission to back qualified LGBT candidates, had endorsed U.S. Rep. Mike Michaud, who only recently came out, in his bid to become Maine's next governor, but has remained silent on the Maryland race. Maryland's Democratic primary election is scheduled for June 24.