It's the one area of public policy that still prompts giggles and bad jokes about junk-food cravings, but the push to reform the nation's laws on marijuana is growing. Much like marriage equality, attitudes about the drug are rapidly shifting, with proponents of decriminalization and legalization in ascendancy. And in light of voter-approved ballot measures that legalized small amounts of the drug in Colorado and Washington state, it is inevitable that Washington, D.C. and Maryland will soon be faced with a decision regarding how to deal with and treat marijuana-related offenses.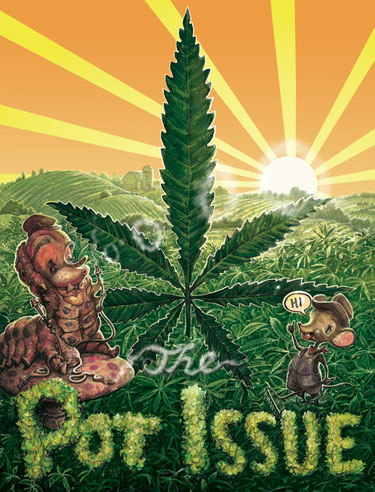 (Illustration by Scott G. Brooks)
Under federal law, using or buying marijuana has, for all intents and purposes, been illegal since 1937 when Congress passed the Marijuana Tax Act. But even though marijuana has a long history of medical use, the United States only began acknowledging any health benefits — and only to a very small, very restricted group of people — in the late 1970s. It was only after advances in cancer and HIV/AIDS treatment that health practitioners began noticing the positive effects for those suffering from serious illness.
California became the first state to legalize marijuana for medical use, via a ballot initiative in 1996, followed by Alaska, Oregon, Washington state and Washington, D.C., two years later. Yet even though D.C.'s referendum for medical marijuana passed in all eight wards of the city, congressional interference attempted to initially prevent those votes from being counted. After they were — with the pro-marijuana side winning 69 percent to 31 percent — Congressional oversight still prevented the District from implementing the law for more than a decade.
HEMP AS HEALER
It was the scourge of the HIV/AIDS epidemic that first convinced Pat Hawkins, a longtime clinical social worker, psychologist, and former substance-abuse treatment counselor, to support medical marijuana.
"For some patients, it eased their dying," she says. "I had patients who were literally wasting away before my eyes, and I was sending out these 85- or 95-pound weaklings out on the street to 'score some weed.'"
While Hawkins could not purchase the drug for her patients or accompany them when they went to buy from local drug dealers — under the threat of losing her license — she decided to partner with other concerned citizens to draft legislation that would allow her patients and others suffering from debilitating illnesses to obtain the marijuana they needed, often essential to reducing nausea and restoring appetite for cancer patients undergoing chemotherapy, or HIV/AIDS patients who were suffering from the toxic side effects of the earliest antiretroviral medications.
"It was very risky," she says of the dangers her patients navigated to get some relief. "Depending on who busted you, you could end up dying in jail."
Hawkins particularly credits former director of the Whitman-Walker Clinic and current D.C. Councilmember Jim Graham (D-Ward 1) with leading the way on the fight to get medical marijuana to the ballot. She says she and other activists knew that Congress would likely try to block the law, but pushed on, feeling it was in the best interests of the District's residents who were suffering.
"I feel very strongly about medical marijuana because I've seen it work with people who have severe pain — not just headaches or whatever — without them having the side effects of the major pharmaceuticals," she says.